Sir Charles Cameron
RCSI is proud to commemorate the centenary of the death of Sir Charles Alexander Cameron (1830-1921).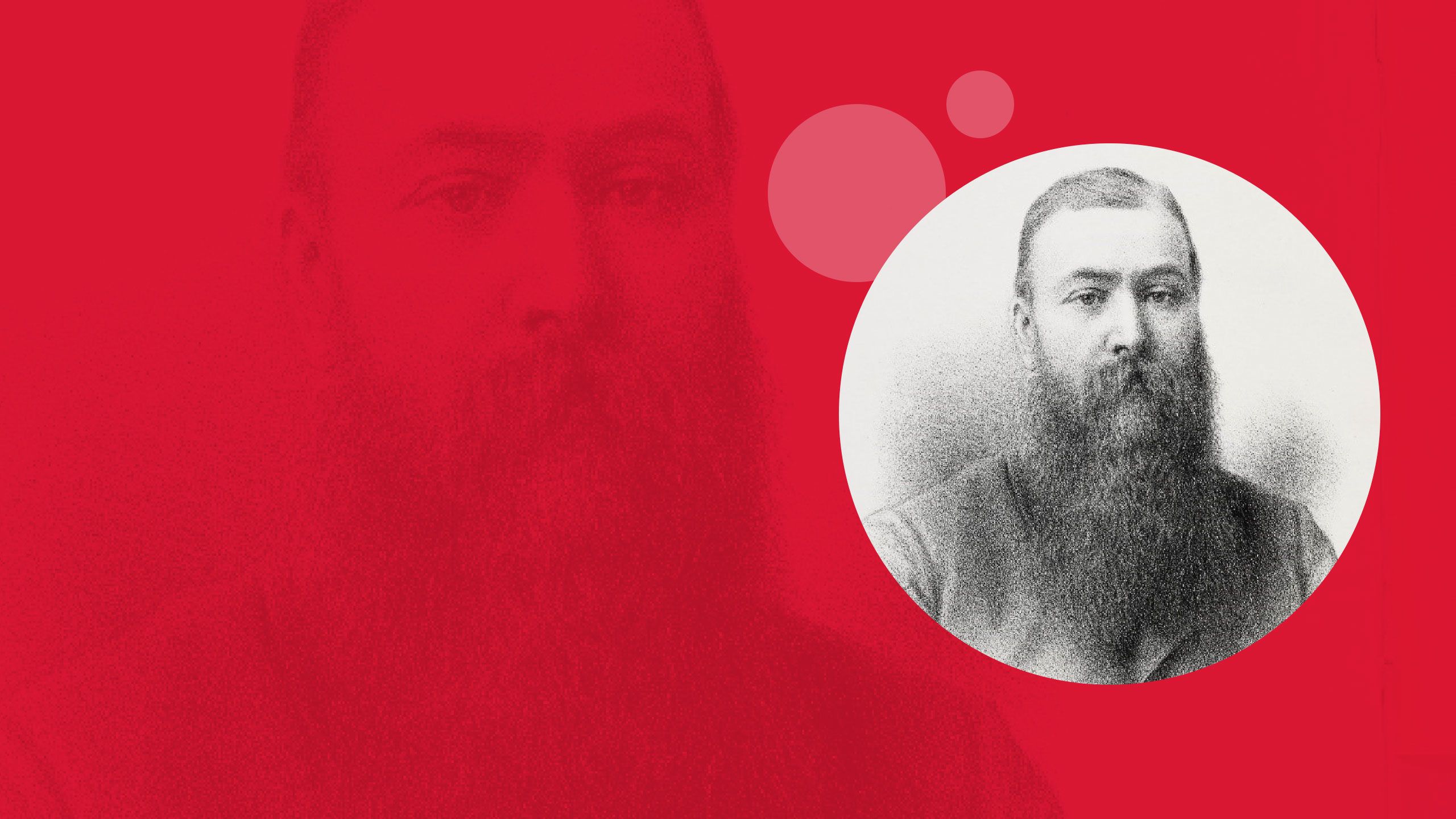 RCSI's Victorian virtuoso
The illustrious Sir Charles A. Cameron was a tireless campaigner for better hygiene, health and welfare for the city of Dublin and its people. His discoveries, research, publications and campaigning led to improved public health during a particularly difficult period in the history of the city. Owing to his ceaseless efforts and flair for inspired insight, the death rate in Dublin between 1901 and 1911 was reduced by a quarter.
As a Fellow, Professor, President and historian of RCSI, Cameron was steadfast in his connection and devotion to the College for over 53 years. We are delighted to honour him on this, the centenary year of his death and we hope that you will enjoy this journey into the life and work of one of RCSI's most famous sons.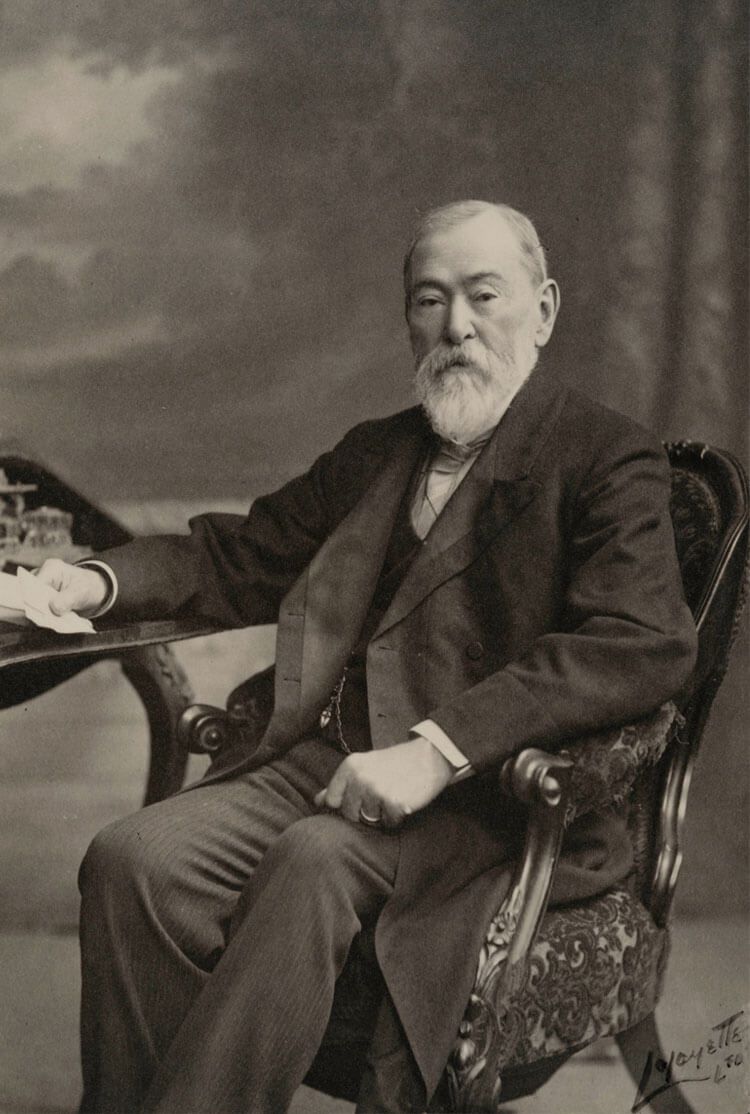 Early life and background
"My ancestors were adherents of the Stuart Royal Family"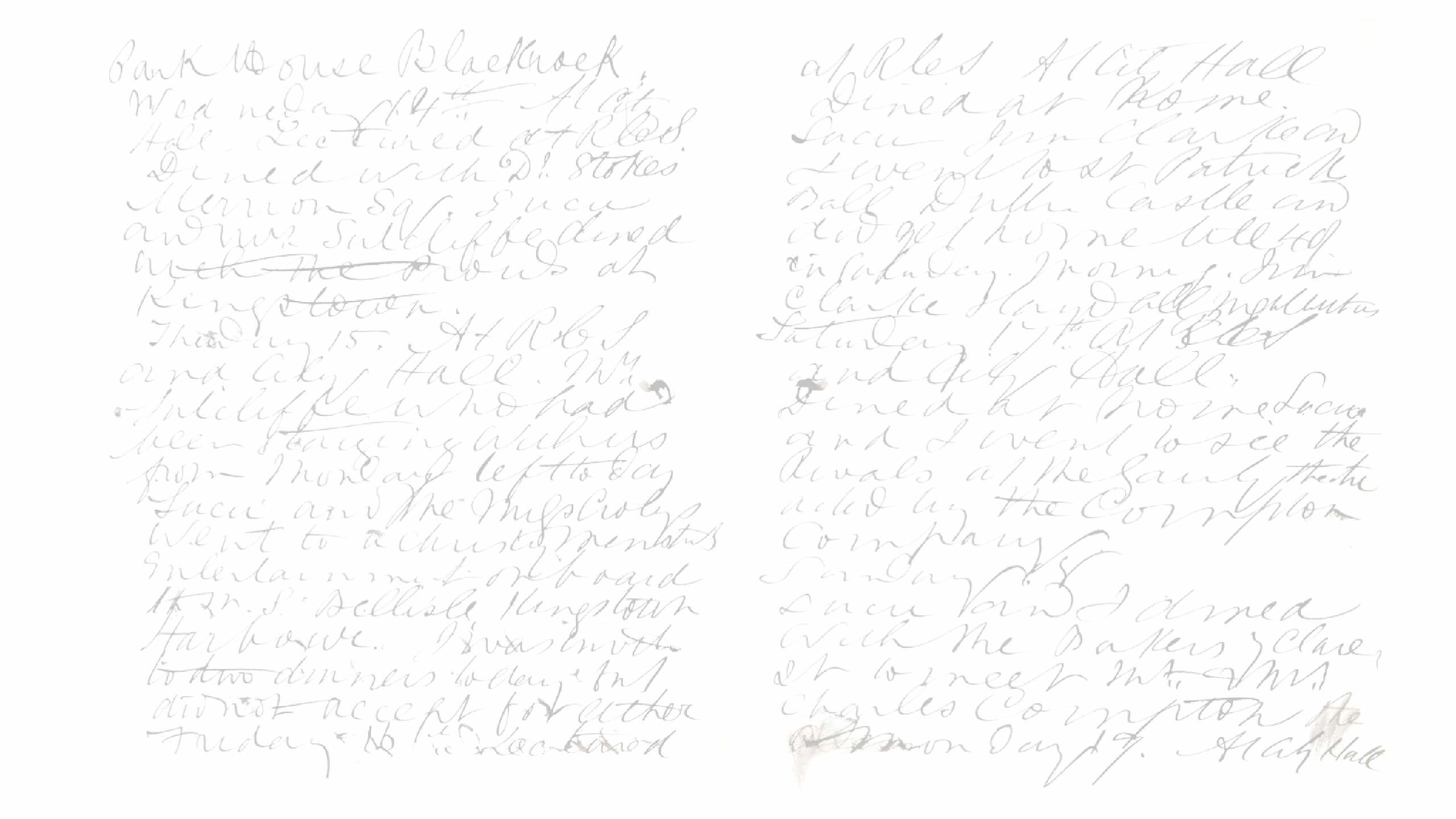 A man of mystery
Cameron was a keen record keeper and wrote about many of his personal and professional events in published and unpublished works, including two autobiographies, Reminiscences (1913) and Autobiography (1920).
However, what is noticeable and remarkable about his accounts of his early life, is that they do not seem to altogether match the facts. One wonders what was the reason for these discrepancies – did he consider his family of origin too humble? Or were there other explanations for his obscuring and altering information?
RCSI recently commissioned Eneclann/Irish Family History Centre to conduct an in-depth genealogical study of Cameron and they found 'a much more complex story than someone trying to scale the social ladder'.
Dublin, born and bred
Charles Alexander Cameron was born in Dublin on 16 July 1830 to Ewen (sometimes Edwin) Cameron and Bridget Smith.  
Ewen Cameron was born in Lochabar, Inverness in 1787, and had a short but active military career as a captain in the 42nd Regiment. He served with distinction in the Peninsular War and the expedition against the United States in 1812, and was severely wounded eight times. Due to his injuries, Ewen 'retired' at the early age of 28 in 1815.  
Little is known about Cameron's mother – Bridget Smith, a native of Virginia, Co. Cavan – and he rarely mentions her in his writing. He does however, for reasons unknown, reinvent her identity, and refers to her as 'Belinda Smith' in  Autobiography. We also know that his mother spoke Irish, and could converse with her husband in his native Scottish Gaelic. 
Cameron briefly writes that he had two older siblings – a brother and sister. His brother, John Cameron supposedly enlisted in the Royal Navy and died in the First Opium War in China 1839-42. However, there is no evidence of a 'John Cameron' in the Royal Navy & Royal Marines Service and Pension Records for that period. Cameron indicated in his writings that an older sister married aged 18, and emigrated to the US, unfortunately however, he never names her.
---
Cameron's birth is somewhat of a mystery in his own writings. He was born in Dublin but records show that he was born before his parents were married, which would mean that Cameron was born out of wedlock. This undoubtedly would have had serious implications for the future life and opportunities for the young boy.
However, Cameron depicts a happy and innocent childhood in his writing. His small family lived in various locations in Dublin – Magee's Court in the city centre in the early 1830s, Palmerstown/Chapelizod in the mid 1830s and back to the north side of the city around 1836.  
---
Tragedy strikes
In 1842, mainly due to Ewen Cameron's poor health, the family moved to Guernsey in the Channel Islands.
However, this move was soon visited by a devastating event for the Cameron family – Ewen Cameron died in 1844, leaving Bridget a widow at the age of 52. After her husband's death, Bridget Cameron returned to Dublin with Charles, and applied for an army widow's pension.
Upon their return, Cameron was offered his first job, through a friend of his mother, in a newspaper agency. The fact that Charles was now the family breadwinner, at just 15 years of age, goes some way towards explaining his determination to earn as much money as he could, from as many sources as possible, throughout his long life.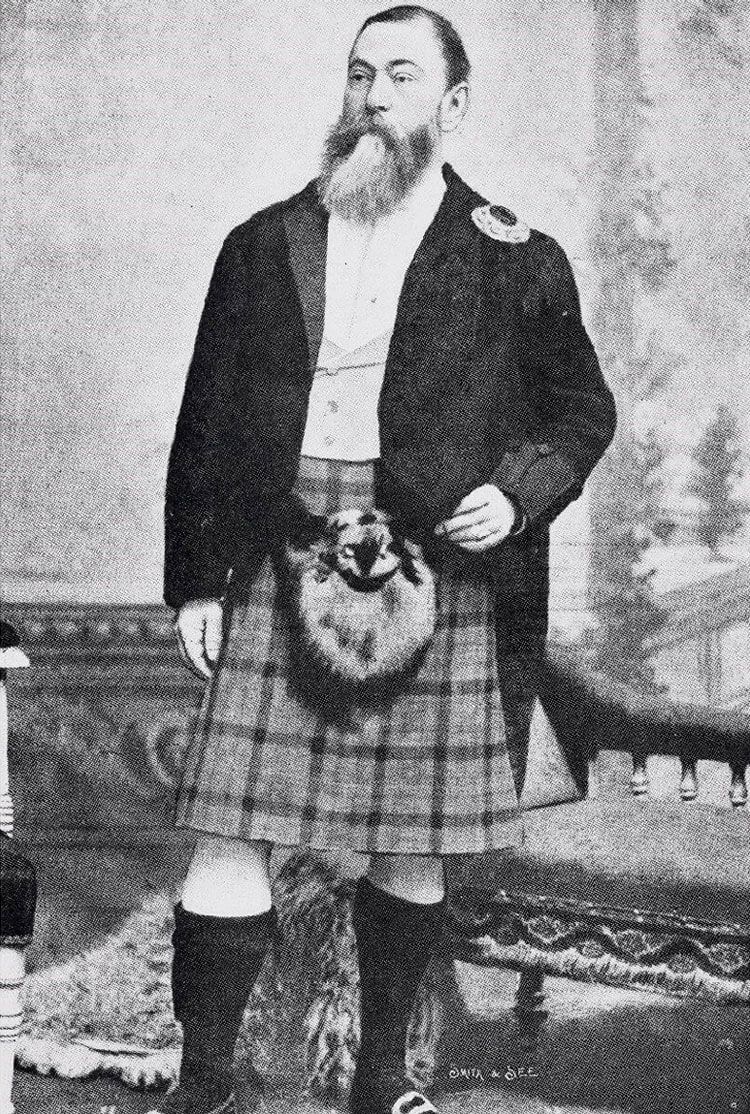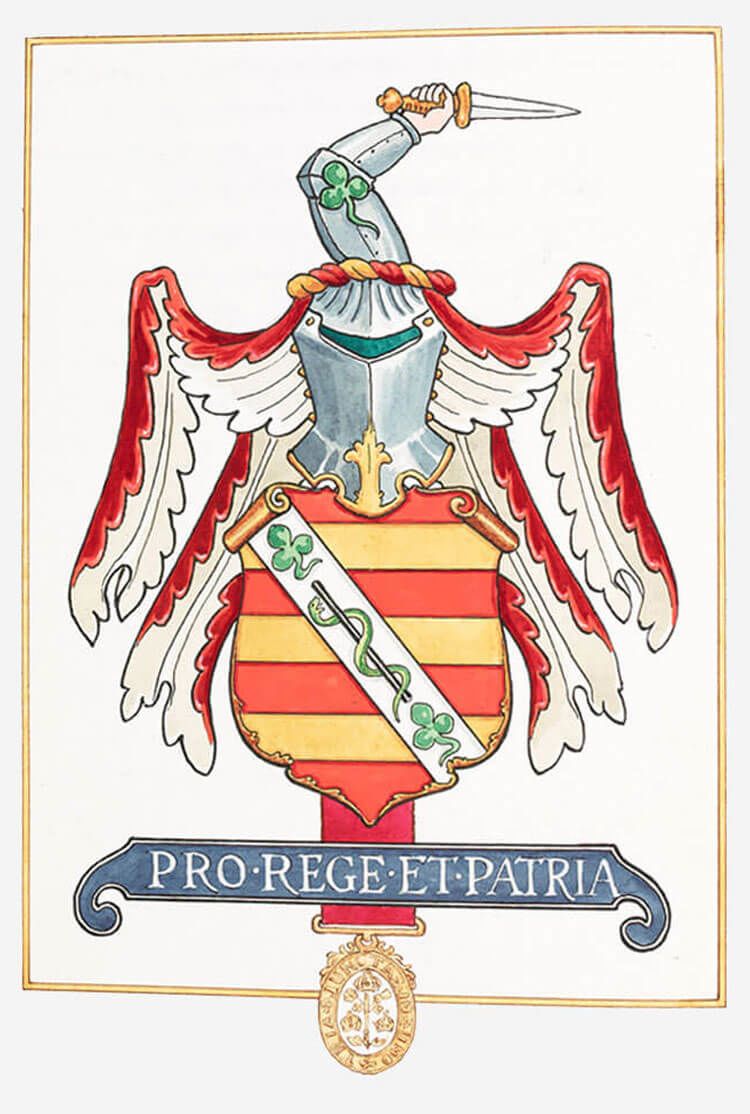 The Clan Cameron
Cameron, was intensely proud of his Scottish heritage and his Jacobite ancestors from the Clan Cameron. 
According to Cameron, his great-grandfather was Archibald Cameron (1707-1753) – younger brother of clan chief Donald Cameron of Lochiel (known as 'The Gentle Lochiel'.) Archibald played an active part in the 1745 Jacobite Rising and was involved in concealing Prince Charles after the defeat at Culloden in 1746. He eventually went to France with his brother and the Prince. The Prince obtained a commission for Archibald in the Spanish army and later the French army, where he served as a physician to his brother's regiment. 
On a visit to Scotland in 1753, Archibald was arrested on suspicion of being involved in the abortive Elibank plot – a plan to kidnap King George II – but was charged under the Act of Attainder with involvement in the 1745 Rising, and was sentenced to be hanged, drawn and quartered. In 1753, at the age of 46, Archibald's sentence was carried out. 
A proud Scotsman
In Cameron's later life, his pride in his Scottish ancestry was evident – he was a founding member of the Clan Cameron Association and regularly attended their gatherings. In a ceremony in 1911 with the Ulster King of Arms in Dublin, Cameron received a confirmation of arms, with mention of descent from the family of Cameron of Lochiel.  
---
Cameron's lineage – a questionable claim
Eneclann's recent study of this ancestry shows discrepancies in Cameron's claims. Cameron linked his Jacobite ancestors through his father. However, there is no documented evidence that Ewen Cameron was a blood relation of the Camerons of Lochiel through Archibald Cameron (1707-53). The social profile of the Camerons of Lochiel is a family of the upper gentry, which is very different from that of Ewen Cameron. 
The research by Eneclann further tells us that on Guernsey, where Cameron and his family briefly lived, there is the headstone of ordained clergyman Alexander Cameron (d. 1873), youngest son of Donald Cameron the 22nd Chief of Clan Cameron of Lochiel, and the Hon. Anne Abercromby his wife. In the 1840s Rev. Alexander Cameron is the only person on Guernsey, of whom it can be definitively said, was descended from the Camerons of Lochiel.  
As Rev. Alexander Cameron was a cleric in the parish of St Peter Port, the parish in Guernsey in which the Dublin Camerons settled, it's possible, even probable, that Ewen Cameron's family knew Rev. Alexander Cameron.
Learn more about the Camerons of Lochiel – download a family tree
Academic career
"I had a taste for chemistry…"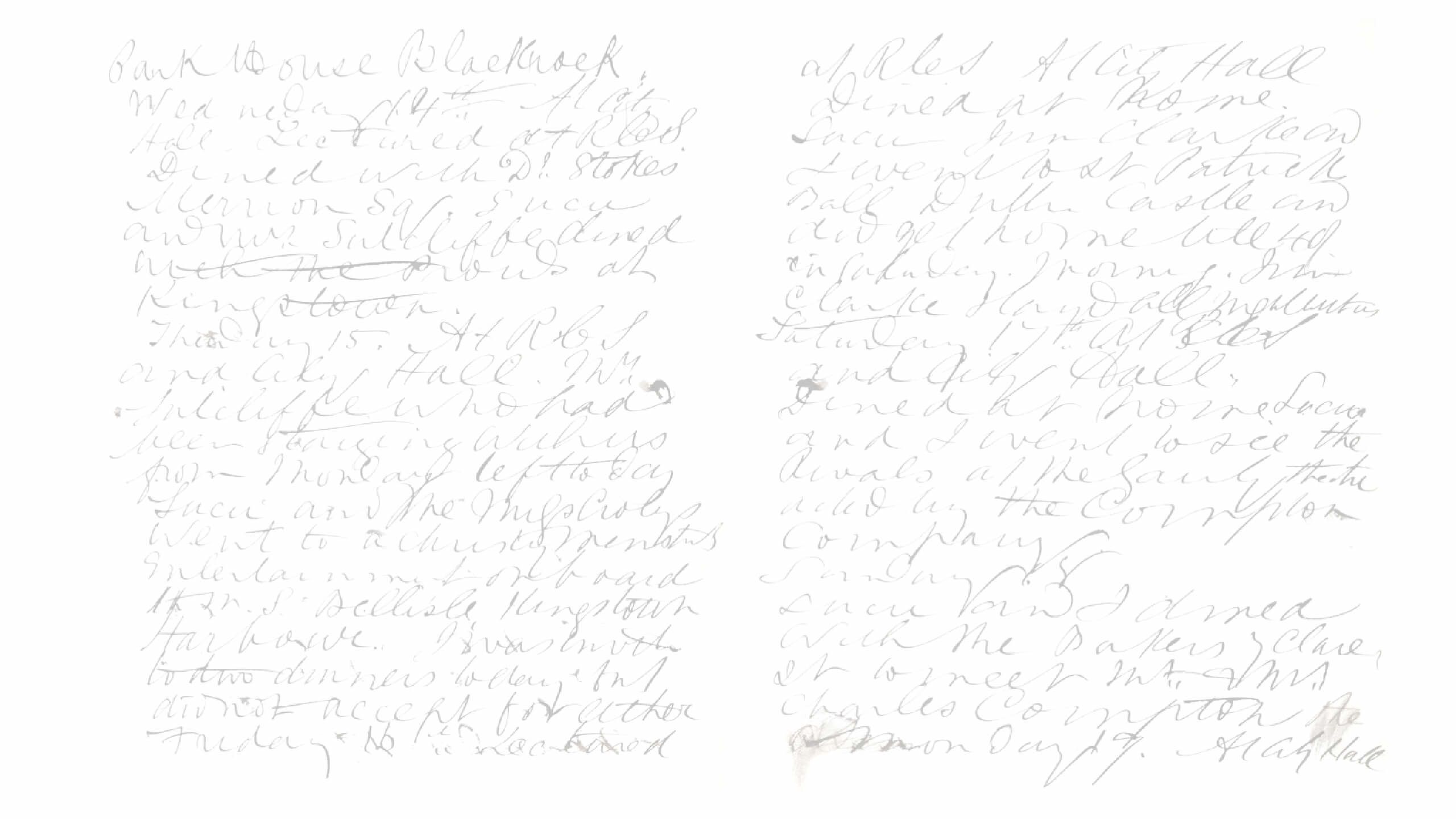 A Renaissance man
Cameron embarked on his extraordinary career in 1846 – at the age of 16 – when he took an apprenticeship in the laboratory of Bewley & Evans, Apothecaries & Chemists, 3-4 Sackville Street Lower, Dublin. 
Within a year he was reading books on chemistry, physics, geology and medicine; attending lectures at the Royal Dublin Society; and receiving instruction in geology from the Director of the Geological Survey Ireland. 
By 1852 Cameron had become a Professor of Chemistry at the Dublin Chemical Society and delivered his opening lecture on 13 December 1852 in its lecture room in Dublin's Capel Street. 
Accounts of Cameron's lectures appeared in the newspapers, and made his name known. His first appointment in a medical school was as a result of those reports. Dr Edward Hamilton – whom he had never met – wrote to Cameron in 1856, offering him the Professorship of Chemistry and Natural Philosophy in the Dublin School of Medicine, which he accepted. 
In the following year, in a similar manner, Cameron was offered the Lectureship in Chemistry in the Original School of Medicine. Thus began Cameron's lifetime association with many of the rival private medical schools in Dublin.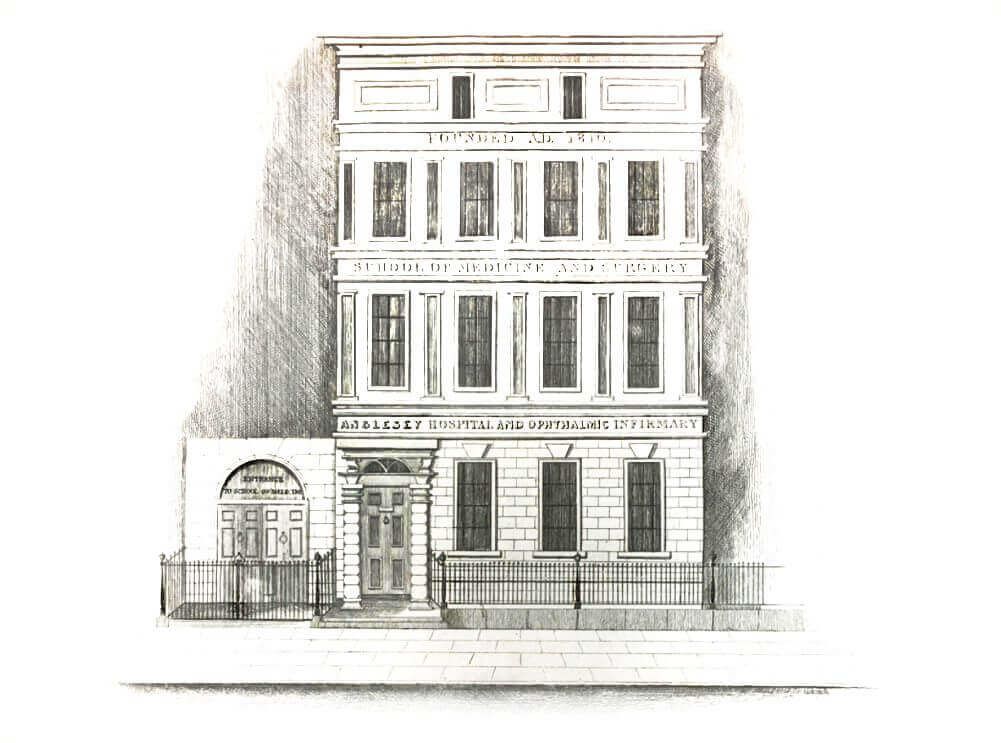 "What was the most congenial way of making an income? I resolved to make it in every way I could: chemistry, physics, geology, hygiene, medicine, and even journalism might be combined to make an adequate income for me."
A profitable time in Germany
In 1854 Cameron travelled to Germany where he stayed for a number of years to complete a PhD and MD. 
While in Germany, Cameron encountered Baron von Liebig. Referred to as the 'father of fertilisers', Liebig 'made significant contributions to the analysis of organic compounds, the organisation of laboratory-based chemistry education, and the application of chemistry to biology (biochemistry) and agriculture'.  
Cameron states that it was von Liebig's writings that first inspired him with a love for science. Many aspects of chemistry established by Liebig became perennial topics of Cameron's own research: the application of chemistry to agriculture; the analysis of manures; the fertilising value of the sewage of Dublin. 
Cameron's original research paper 'Contributions to our Knowledge of the Inorganic Constituents of Plants', published in Chemical News in 1862 was, in the words of Baron von Liebig: "An extremely laborious production, and evidencing not only an unusual extent of knowledge, but sound judgement." 
Cameron and RCSI 
Cameron had a deep connection with the Royal College of Surgeons in Ireland throughout his life.
His RCSI journey began in 1868, when he was appointed Professor of Hygiene (Political Medicine) at the College – a role focusing on the science relating to the physical condition of humankind and to the means by which good health may be sustained.  
In the summer of that year he delivered a course of 12 lectures on public health, which attracted considerable attention in the press and were attended by large crowds.  
On 18 March 1875 Cameron was unanimously elected Professor of Chemistry and Physics at RCSI, a role in which he delivered 60 lectures annually.  
He was steadfast in his connection with and devotion to RCSI and in 1884 he was elected Vice-President of the College – and subsequently, in 1885, became President.  
It was during Cameron's tenure as President that women were first admitted to RCSI, when Agnes Shannon enrolled in Chemistry in 1885. This move was a watershed moment for the College and all the Royal Colleges in Great Britain and Ireland, and was a result of a clause in the second supplemental Charter moved by Cameron, then Vice-President. 
Some years later in 1893, Emily Winifred Dickson became the first female Fellow of RCSI and Cameron, who then served as Secretary of the College, was one of the signatories to her Fellowship.
Image: Surgeons' Hall on St Stephen's Green, RCSI Heritage Collections.
"I think that his heart was greatly bound up in the old College."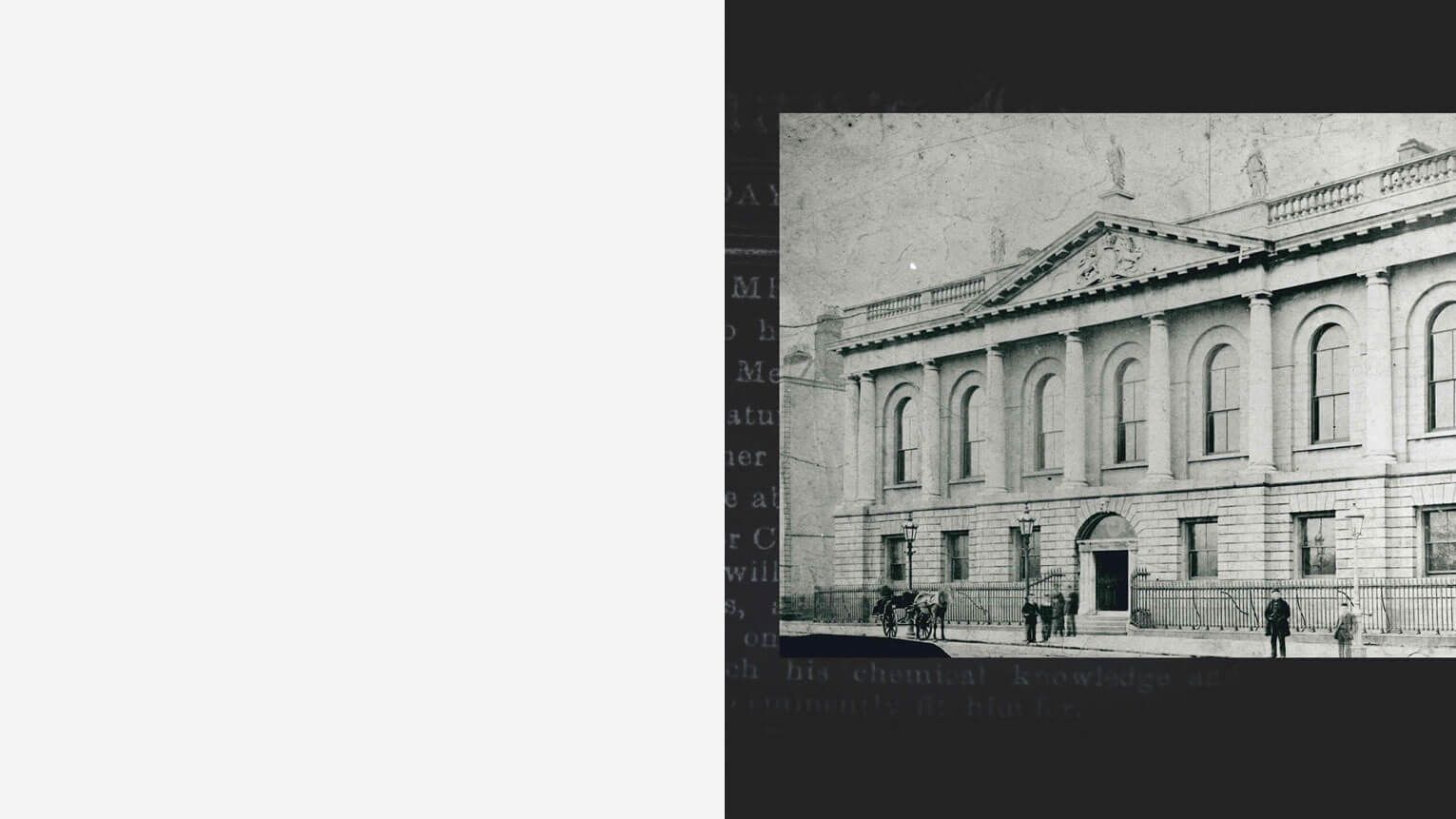 A distinguished historian 
During the period 1884-1886, Cameron dedicated a large part of his time and efforts to his writing. Recently bereaved of his wife Lucie, Cameron devoted these three years to compiling the first edition of his History of the Royal College of Surgeons in Ireland and of the Irish Schools of Medicine. 
The first copy of Cameron's History of the Royal College of Surgeons was presented to the Earl of Aberdeen, Lord Lieutenant, on 28 April 1886 at a large banquet presided over by President Charles Cameron.
The book cost a total of £75 to print, a price not reflective of the size of this tome. 
According to an early reviewer:
"… the untiring exertions of Sir Charles Cameron to make the work a complete history of his College. In conclusion, we may honestly congratulate … the publishers, on the success which has attended their effort to render the work worthy of Sir Charles Cameron …"
The end of an era 
In recognition of his illustrious career at the College, Cameron was presented with the RCSI Presidential Badge in 1889.  
In November 1920, at the age of 90, Cameron resigned from the RCSI Chairs of Chemistry and of Public Health due to ill-health. He was subsequently made an emeritus professor, the first person in the College to be so honoured.
Learn more about Cameron's academic background – download a list of societies, institutions and committees Cameron was involved in throughout his lifetime.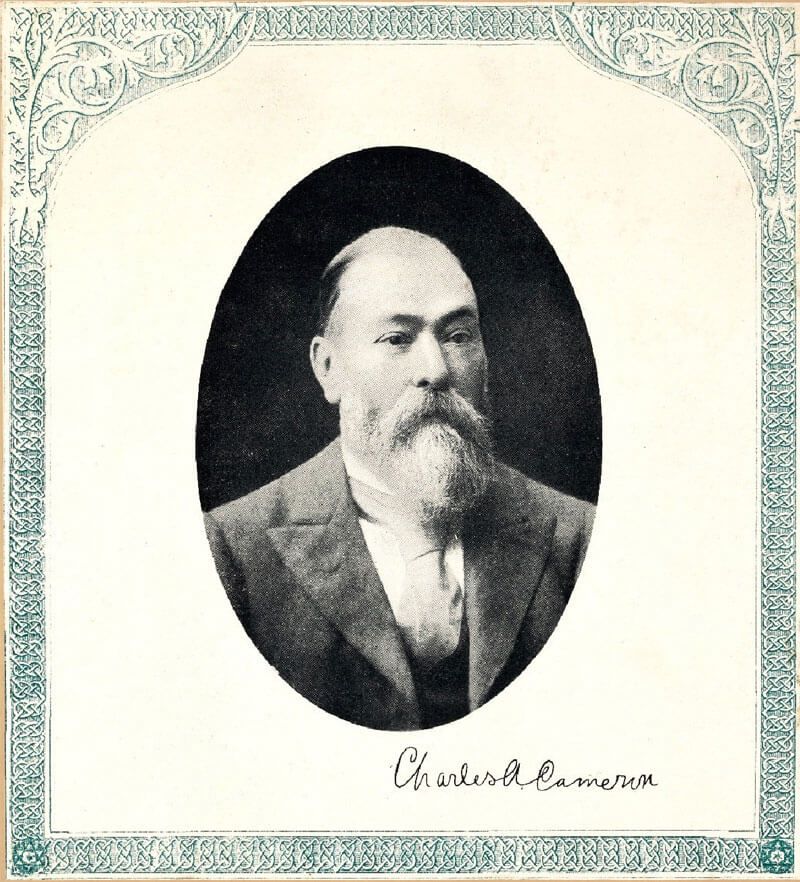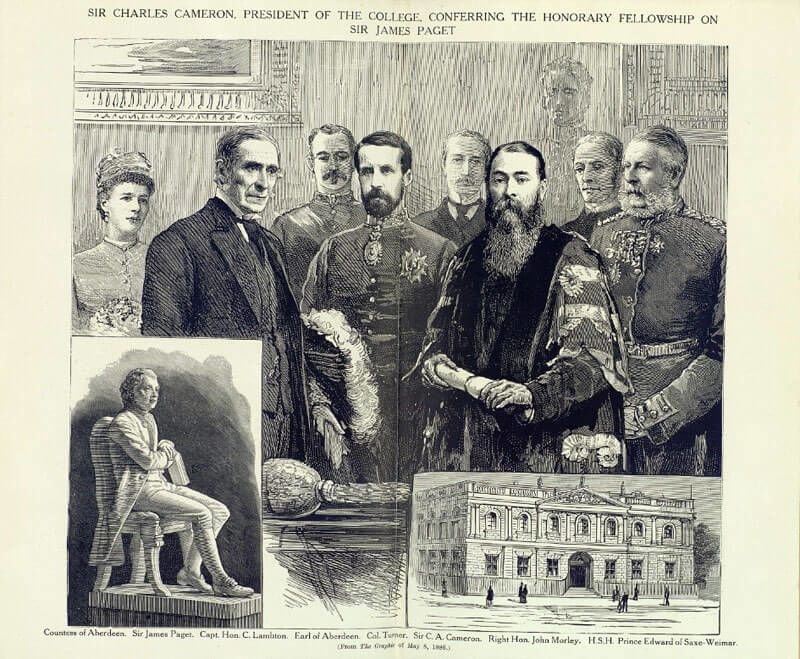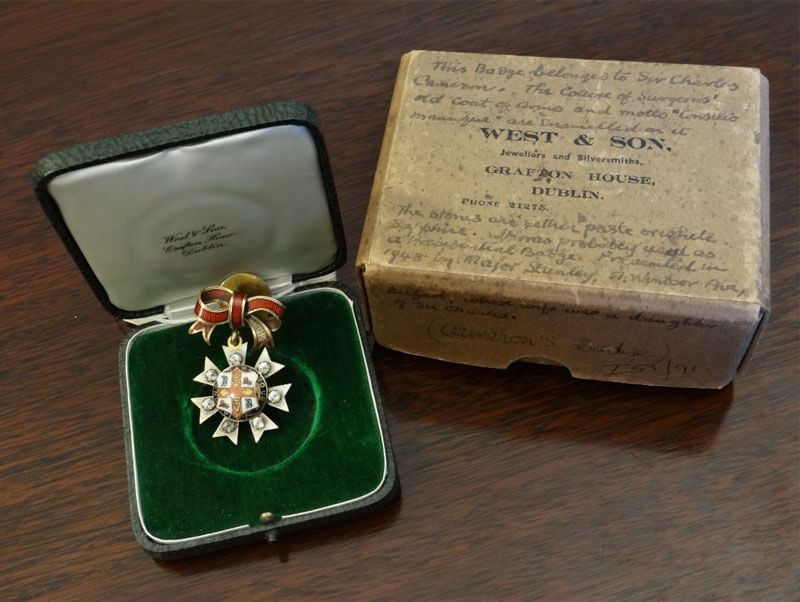 Public health
"In no other city are there so many ruins and waste places."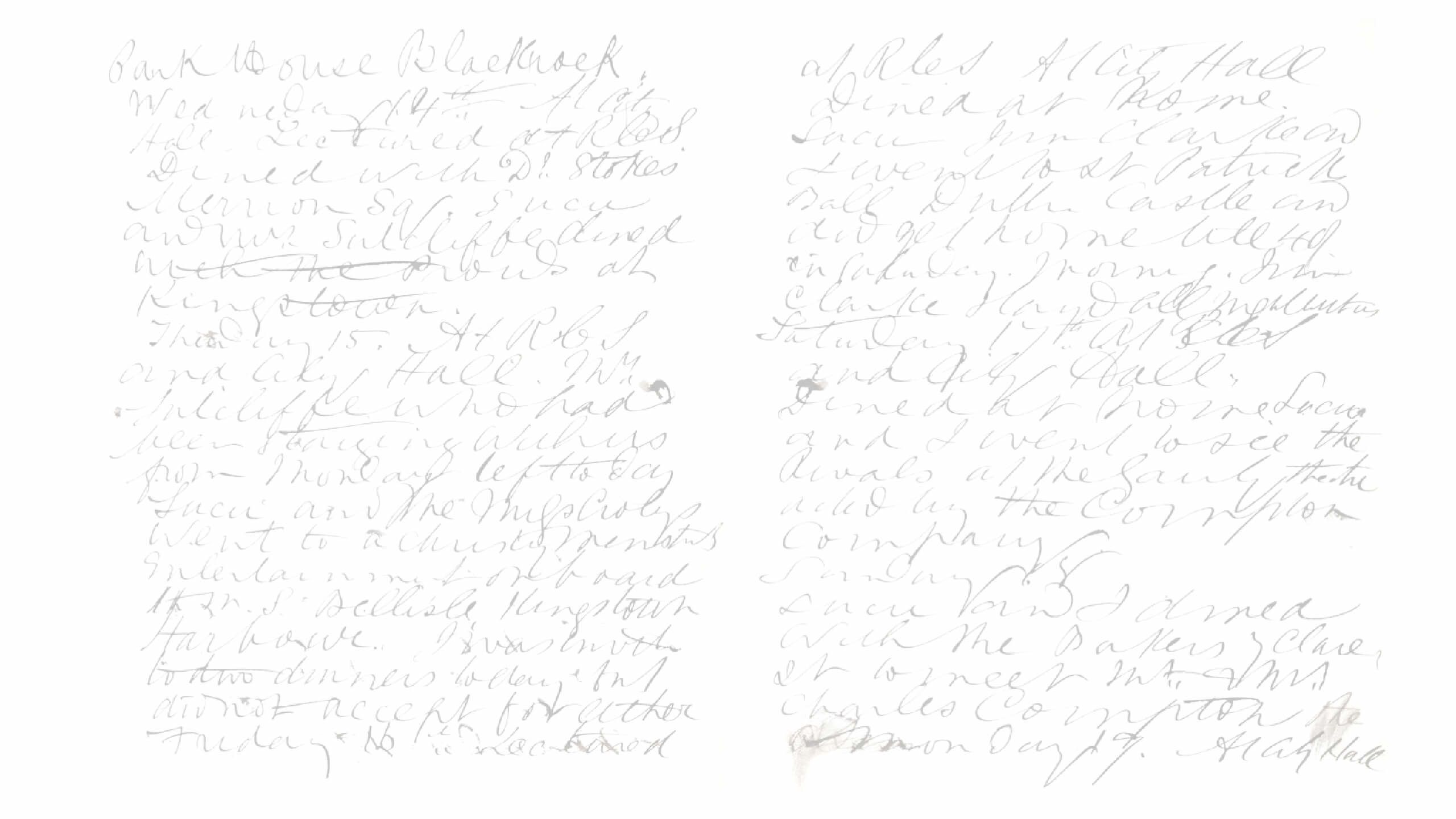 The people's champion
Cameron embodied both the theory and practice of public health medicine. Throughout his career, he created opportunities to influence, at the highest level, on behalf of those at the lowest level of society. 
Cameron was appointed Public Analyst by the Corporation of Dublin in 1862. There were frequent outbreaks of infective diseases in the city during this period and Cameron brought vast knowledge to this specialty, while he kept up-to-date with worldwide literature. The numbers of deaths from measles, scarlet fever, whooping cough, diarrhoeal disease, dysentery, diphtheria, typhoid, typhus and tuberculosis were all reported by Cameron in his annual 'Reports Upon The State Of Public Health In The City Of Dublin'.
Image: East End, No. 1, City Laboratory, Chatham Row, where Sir Charles Cameron carried out his analysis work. Courtesy of Dublin City Library and Archive.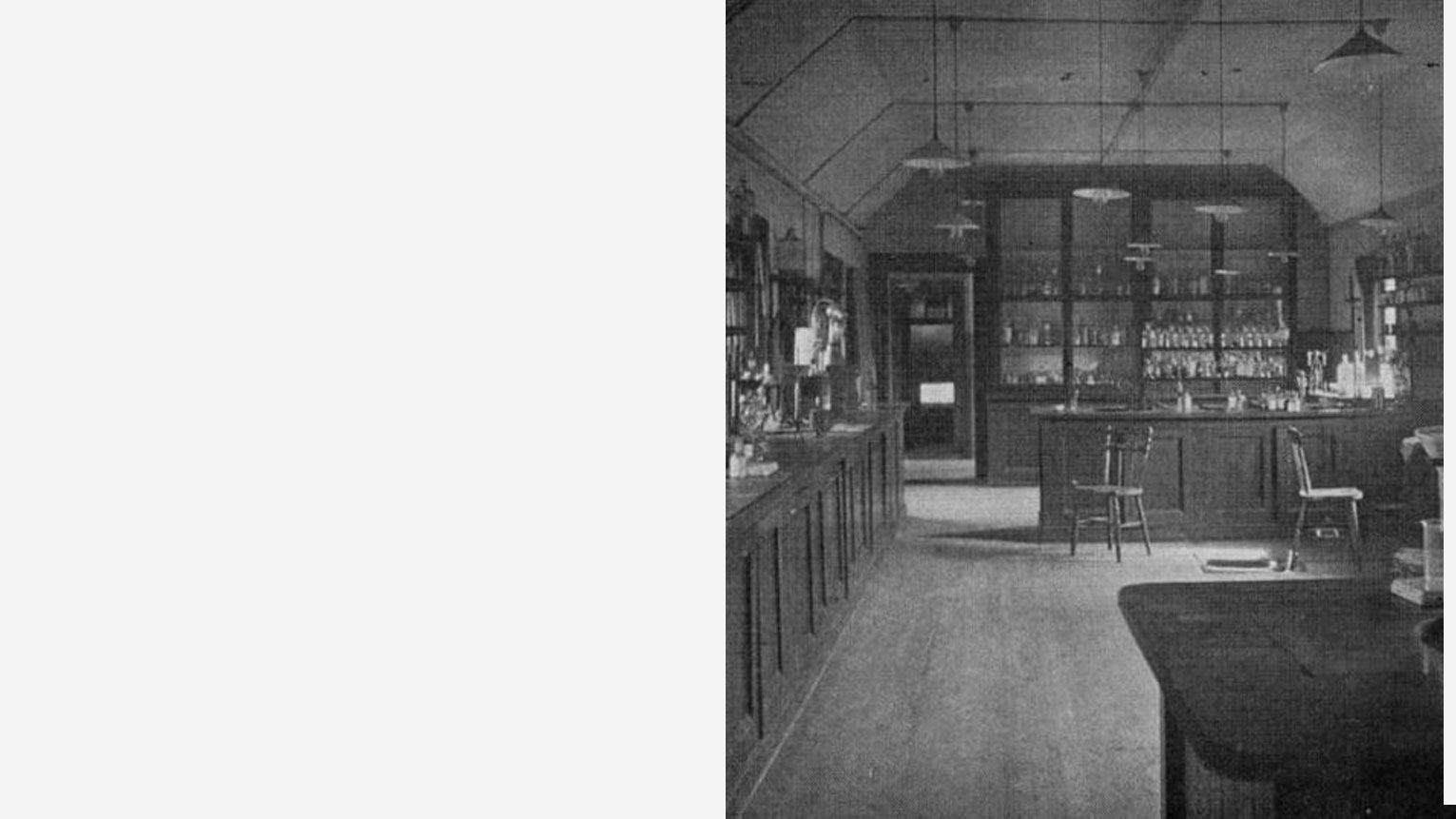 Eliminating disease
In 1874, Cameron was announced as Medical Officer of Health for Dublin. He had acted in this capacity in the absence – through leave or illness – of Dr Edward Dillon Mapother, who had held the position since its inception in 1864.  
During this period Cameron contended with the hazards to health in his proactive, persistent manner and his flair for inspired insight, making connections and innovation. He was eminently qualified in the field and later become a Diplomate in Public Health from Cambridge University in 1877. 
Image: Courtesy of Punch Ltd.
"The medical officer of health will be something more than a physician and surgeon – he will, in a sufficient degree, be a bacteriologist, a chemist, a veterinarian, a geologist, an engineer, a statistician, and, so far as the sanitary statutes are concerned, a lawyer."
Tricks of the trade
The adulteration of food and drink was widespread for much of the 19th century, and was a major contributor to the national public health problem. Drawing on his vast expertise, Cameron produced ample reports from his analysis of milk, sugar, confectionery, alcohol, medicines and water – all of which were commonly found to be contaminated or adulterated by those supplying and selling them. 
Before the German physician Robert Koch had established the germ theory, and while ideas about contagion were still much debated, Cameron was already examining samples for signs that diseases were contagious, and for identifiable particles that might be agents of transmission. 
Cameron was one of the first Irish doctors to investigate the transmission of human and animal diseases by the medium of milk and meat. As Cameron saw more diseased cattle being sold for food, he focused on the possibility of  cattle disease being passed to humans through meat. His work contributed significantly to the debate on germs and disease during the late 19th century.  
Similarly, milk stored in unhygienic conditions often carried typhoid. Cameron conducted numerous investigations of milk, herds and dairies, with one of his papers on an epidemic of fever caused by infected milk declared 'a classic' by science journal, The Lancet. It was the first paper of its kind in which higher mathematics were used in proving that the milk was the cause of the epidemic. 
Read this article in which historian Juliana Adelman presents Cameron as a zoonotic pioneer in a disease-ridden Dublin.
Image: Asylum Yard, Mark's Court, Dublin. Courtesy of the Royal Society of Antiquaries of Ireland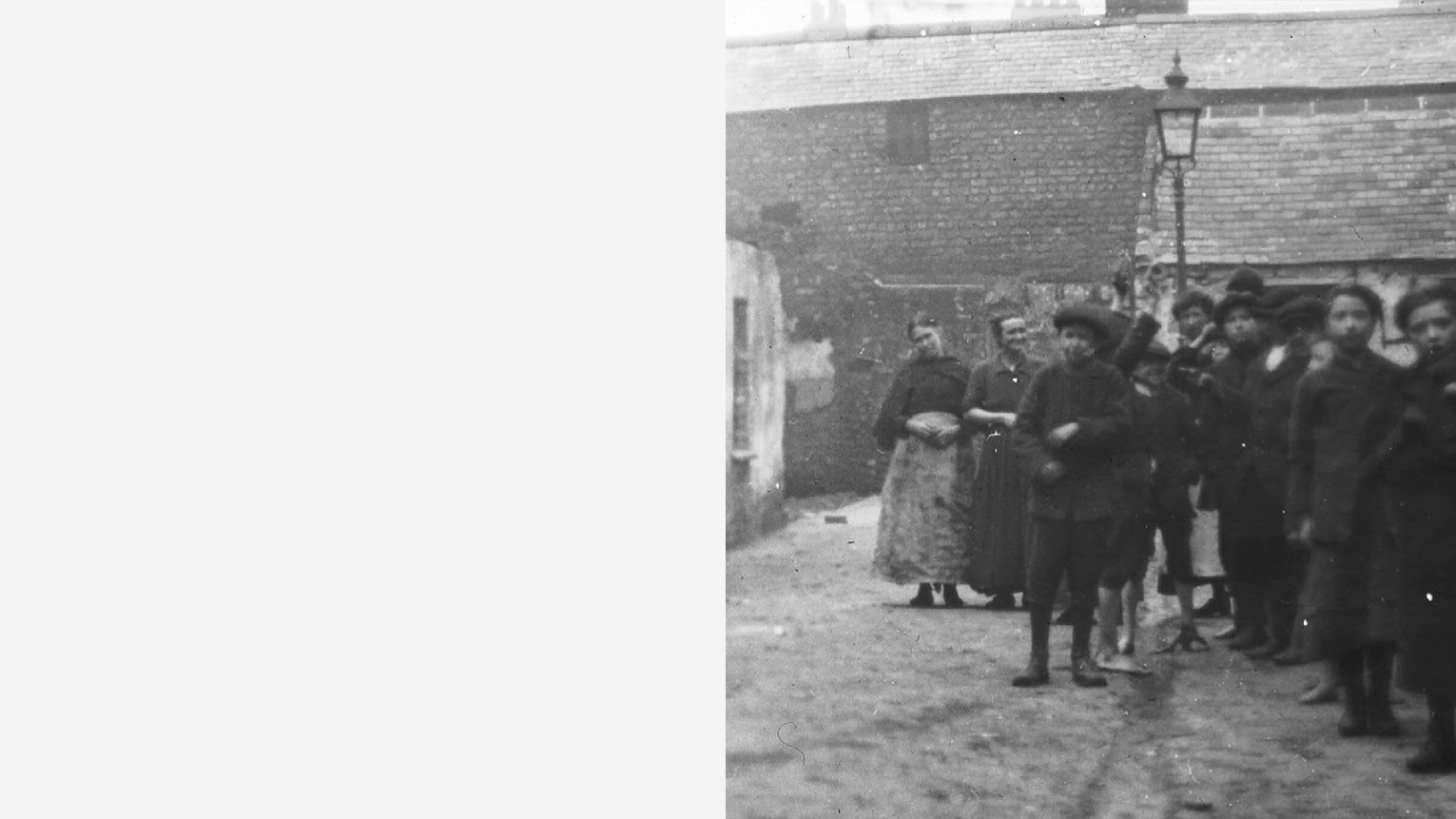 Dublin's deadly sweet tooth
Sugar cane has always been one of the most profitable legal crops cultivated. However, it too had been commonly adulterated. In his report on poisonous and adulterated confectionery, Cameron records his findings on analysing sugar confections from 13 Dublin establishments. Cameron found that the colouring agent used in these sweets accounted for a high level of lead poison. Only three of the 13 confectionary shops surveyed manufactured pure products. The common sugar-stick, sold at 1½d per two ounces, contained the largest proportion of chromate of lead. Anything edible containing more than a grain of chromate of lead per ounce may be regarded as a slow poison. Cameron did not have 'the slightest doubt but that the use of confectionery coloured with chromate of lead produces a large amount of infantile disease'. 
Image: Courtesy of Punch Ltd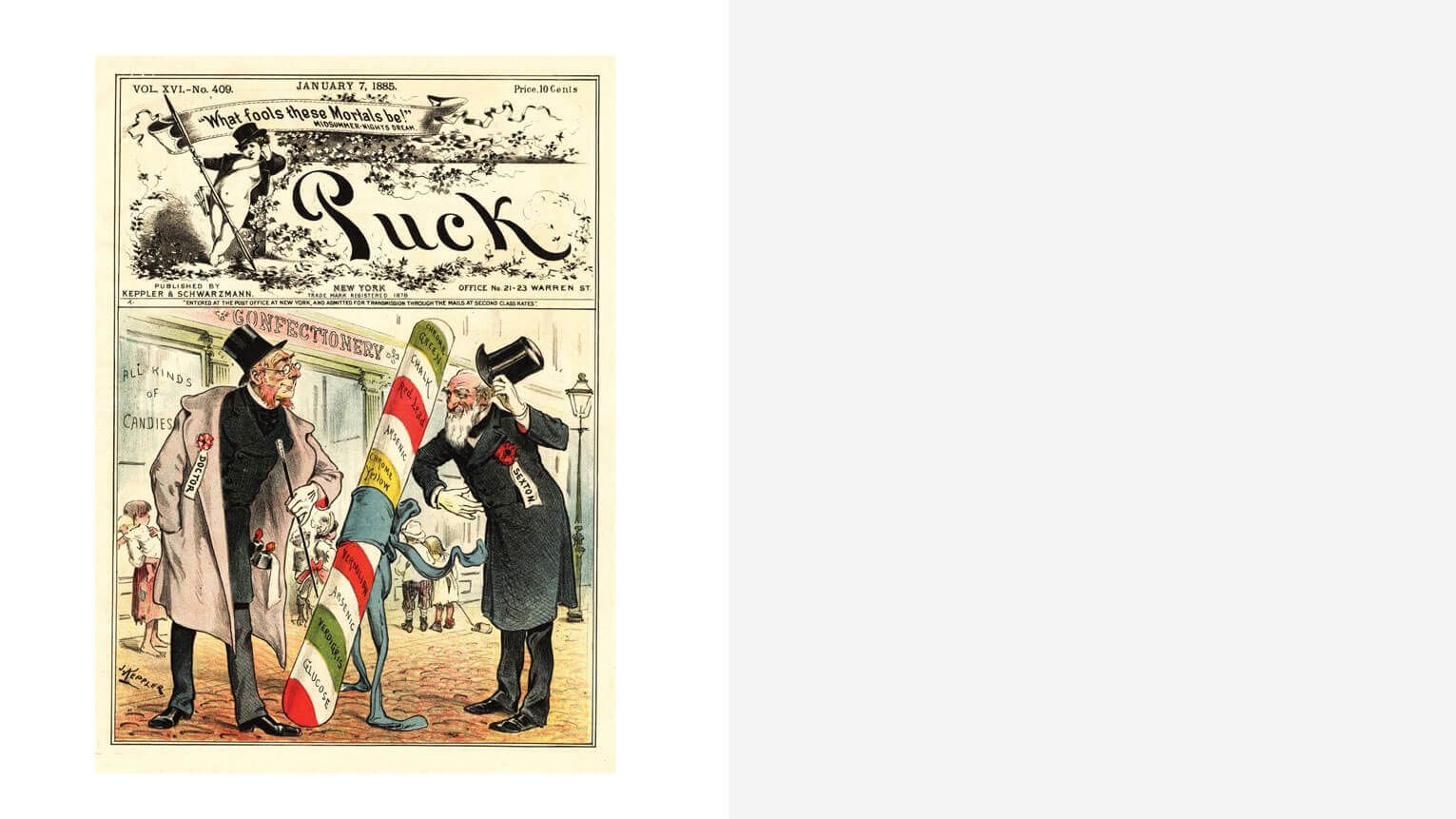 The great divide
In 1879 Cameron succeeded Dr Mapother as Medical Superintendent Officer of Health and in 1881 was elected Executive Sanitary Officer.   
Cameron believed that a myriad of causes stole people's health, such as a lack of sanitary provisions, clean water and effective sewerage. Greed resulted in people being packed into grim, filthy slums, where infectious diseases were rife; sparse work meant hardly enough money for food. In his book with a deceptively simple title How the Poor Live (1904) Cameron lays out the complex problems.
Dirty old town
Strong evidence was emerging internationally that the water people used was the source of various infectious diseases, such as cholera and typhoid fever. Cameron examined and reported on water samples taken from wells, pumps and rivers from all over Ireland and became a leading voice on the Dublin City Corporation committee to demolish slums, build houses, and construct sanitation and water supply systems where the issue was most acute.  
The replacement of water pumps, slaughter houses and contaminated dairies identified by Cameron, put an end to the consumption of cholera-bearing water, diseased meat and infected milk. 
Cameron also campaigned for public baths and wash-houses to be built and saw to it that all new houses had adequate facilities for personal cleanliness. 
Promoting individual and public hygiene was a major part of Cameron's duty. In this, as in everything else, he was resourceful. He initiated a campaign on one vector in the transmission of infectious diseases: the fly.
Cameron went on to receive the honour of knighthood in May 1885 in recognition of his efforts to improve housing for the poor of Dublin.  
"When in August, 1879, I became Superintendent Medical Officer of Health, I resolved to personally inspect every tenement house in the city. It was this ... which led me to form the opinion that the wages of unskilled labourers were inadequate to their wants; that the difference between them and those of the artizans was too great."
Dealing with a pandemic 
Cameron was 88 when an initially mystery illness turned into a pandemic: the Spanish Flu. Despite his age, Cameron still strove to protect the public; in letters to the newspapers, posters and leaflets he issued alerts and guidance on what to do and what to avoid. 
"If the public only carry out to the letter the directions which his department has extensively placarded over the city, and particularly avoid houses of public entertainment for a few nights, the present visitation will soon have disappeared." 
Personal life
" ...the more cheerful you are, the quicker you are to convalesce and become ultimately restored to health."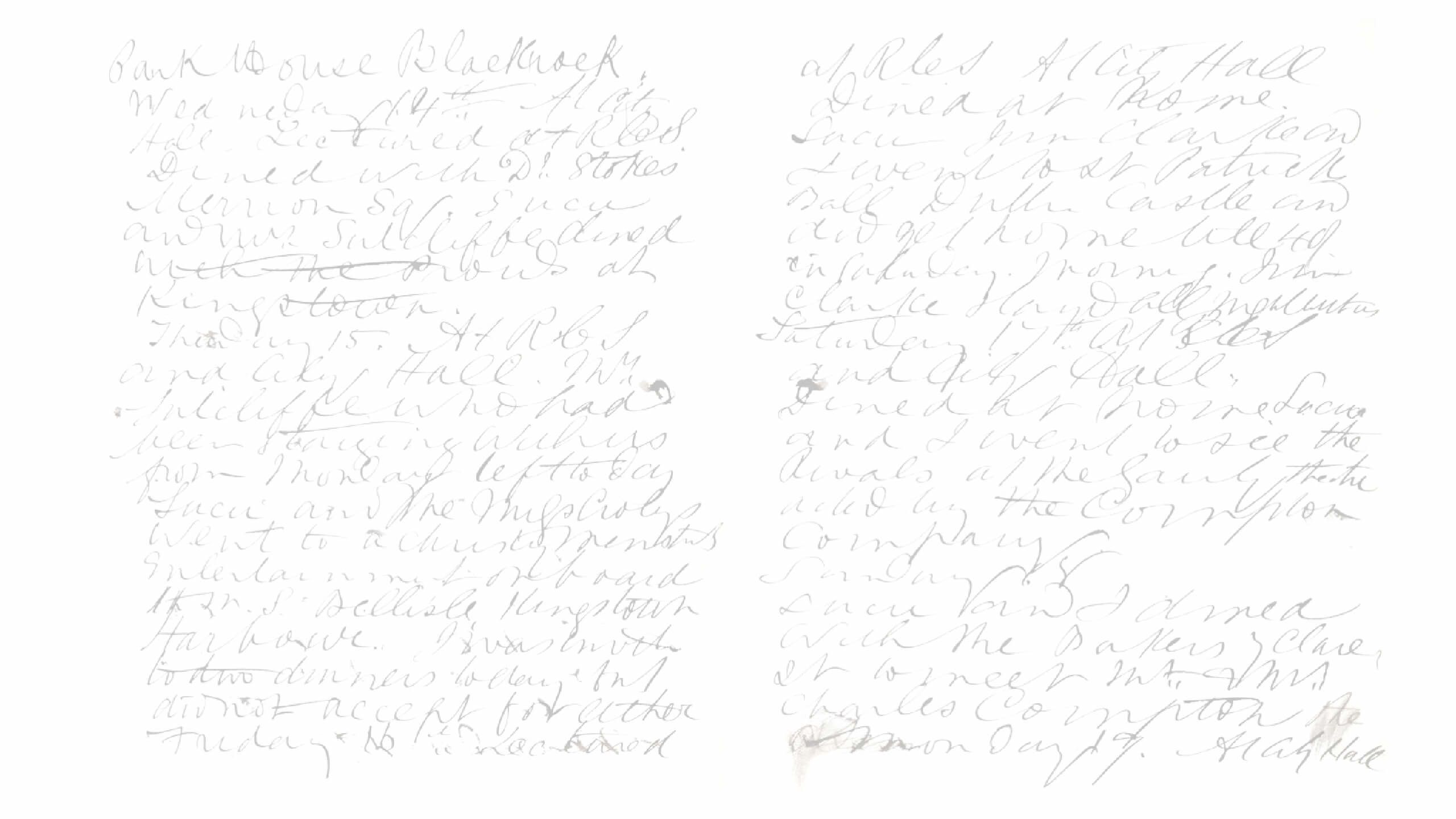 A family man
Charles Cameron wrote in detail of his close family life and his diaries show that, although his professional life was of great importance to him, his family was his bedrock.
On 16 October 1862, in St Mary's Church of Ireland in Donnybrook, he married Lucie Frances McNamara, the only daughter of a Dublin solicitor and cousin of playwright W.G. Wills. This was a doubly significant day for Cameron, as it was the same day that he was appointed analyst 'of all articles of Food and Drink purchased within the City of Dublin'.
Charles and Lucie had eight children and were dedicated parents. Alas, at the age of 53, Cameron was left a widower, with seven children ranging in age from one-year-old to 16, when Lucie died of heart disease. 
The Cameron children 
Sadly Cameron's family life was touched by tragedy more than once. Out of his seven children, only three survived to old age.
The eldest of the Cameron children, Charles was in the army and throughout his career served in various battalions ─ the Enniskillen Fusiliers, the 3rd Battalion of the Royal Dublin Fusiliers and the 3rd Battalion of the Cameron Highlanders. Tragically, Charlie died in a boating accident on the River Shannon on 3 January 1913 at the age of 47. 
Cameron's second son, Ewen died before his 8th birthday from scarlet fever. 
Edwin, Cameron's third son followed his father and worked in the Corporation laboratories as his private assistant. However, along with his younger brother Mervyn, Edwin contracted phthisis (pulmonary tuberculosis) at a young age. When neither son's condition improved, Cameron sent them to the Canary Islands in 1894 in the hopes of improving their health. Edwin's condition deteriorated faster than his brother's and in April 1895 he died at the age of 24. Mervyn travelled back to Dublin to be sent on two further trips in the hope of recovering his health. Unfortunately, he too died of the condition in January 1899 at just 23 years of age. 
According to Cameron's diaries, it appears that Lucie – his eldest daughter replaced her mother as his companion at official functions. Lucie went on to marry John Denison Gerrard (Denny) when she was 42 and the couple resided in Belmullet, Co. Mayo where Denny had been appointed Resident Magistrate. 
Cameron's second and youngest daughter, Helena married Professor Rupert Stanley, a Professor of Physics and Electrical Engineering in 1903. The couple went to live in Belfast, and had three sons – Rupert, Vivian and Mervyn – who gave Cameron a great deal of happiness in his later years. 
Cameron's fourth son, Ernest also followed in his father's footsteps as an analyst and worked alongside him for many years. However, Ernest's true passion lay in the arts. By 1913 he had left his job in the Corporation and went to Paris, presumably to pursue his singing career; he returned to Dublin after six months. In 1916, things took a turn for Ernest and he was committed to a mental asylum in Dublin. He eventually recovered however and was discharged. When Charles Cameron died in 1921, Ernest was his only surviving son.
Ernest died on 13 May 1949 aged 79. His death cert records that he died in Grangegorman Mental Hospital, indicating that unfortunately his mental health issues recurred throughout his life. 
The youngest of the Cameron children, Ewen, was just a year old when his mother died. Shortly after his older brother's (Mervyn) death, Ewen fell ill with pneumonia. However, unlike Mervyn, Ewen made a full recovery. Unfortunately, Ewen's life came to a tragic end in 1915. On 27 August, while travelling on a train between Bray and Greystones, Ewen 'went to the lavatory and shot his dear head with his revolver'; he was 33-years-old.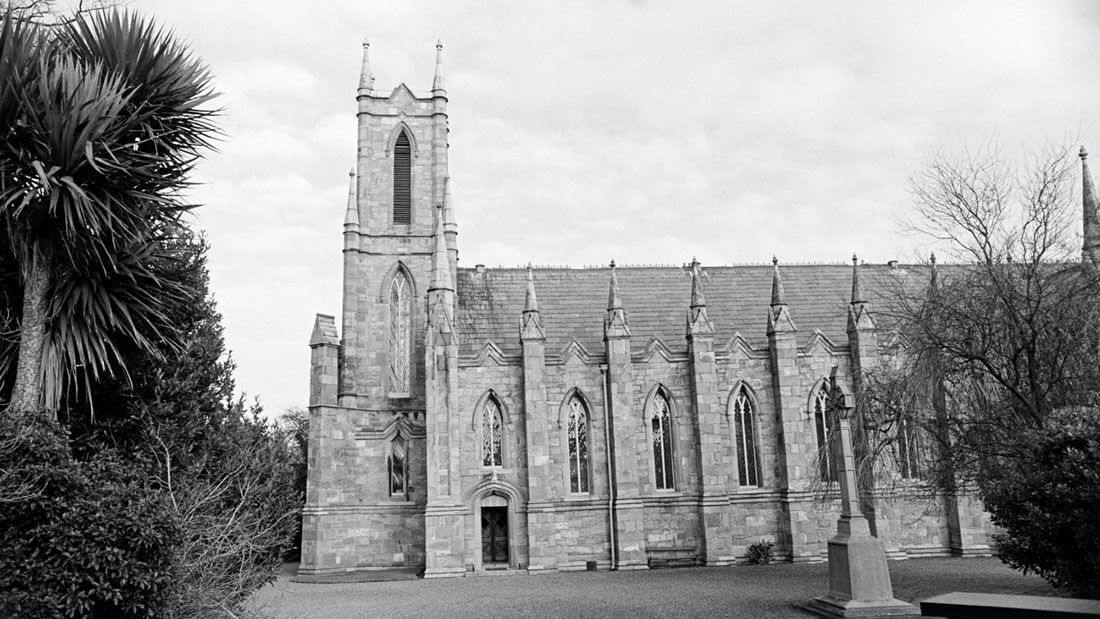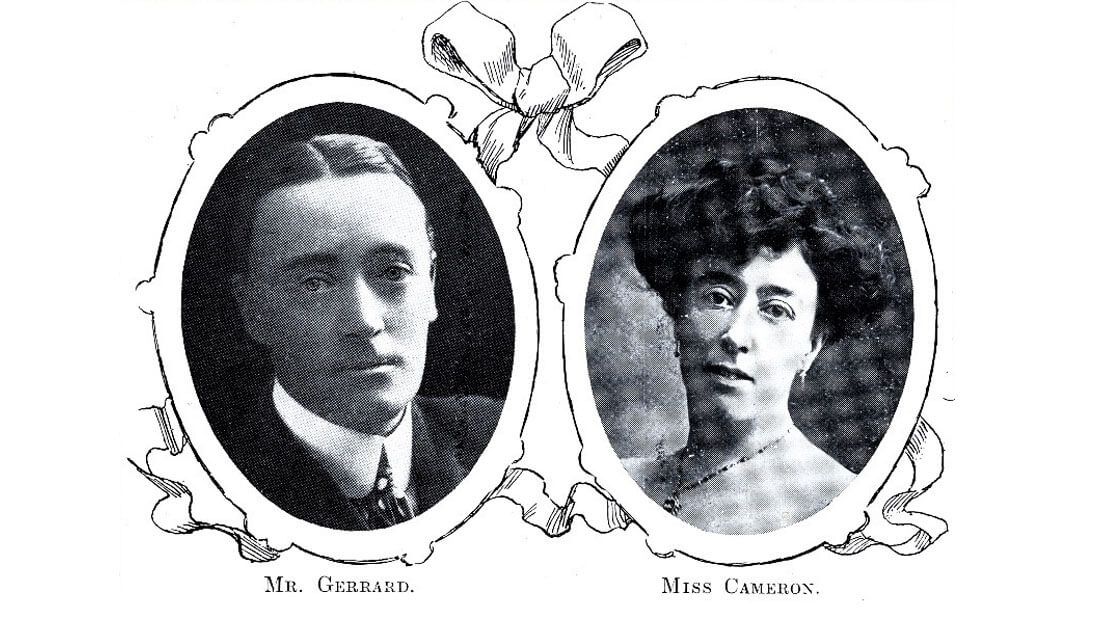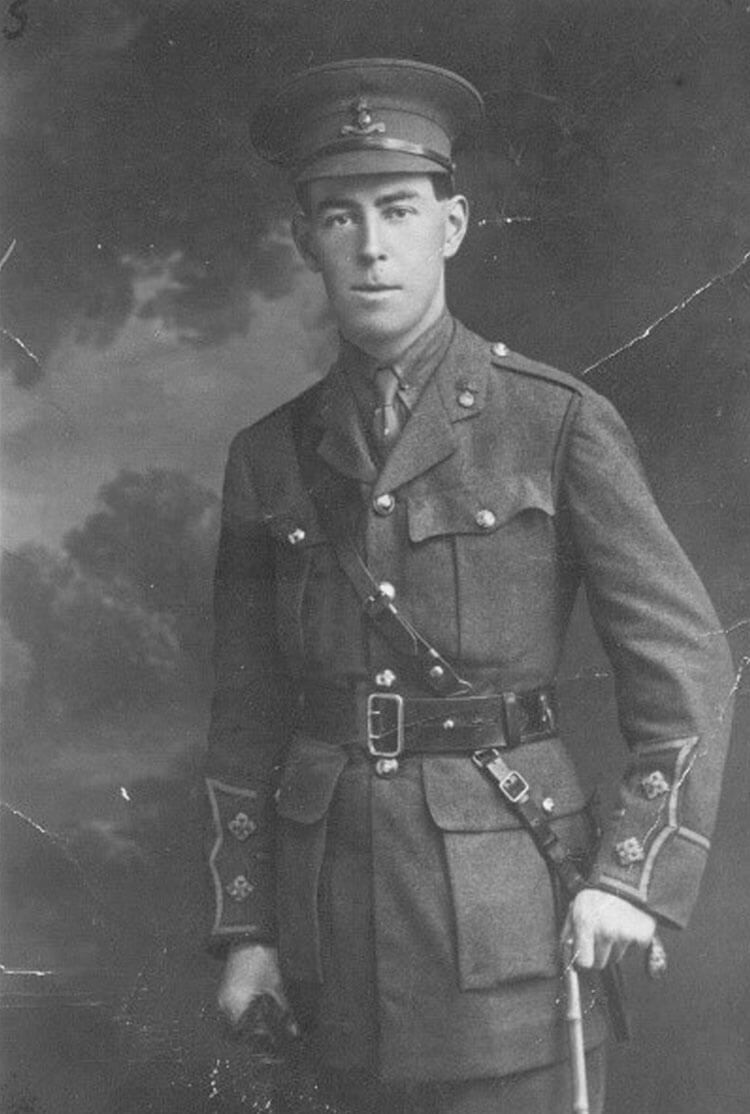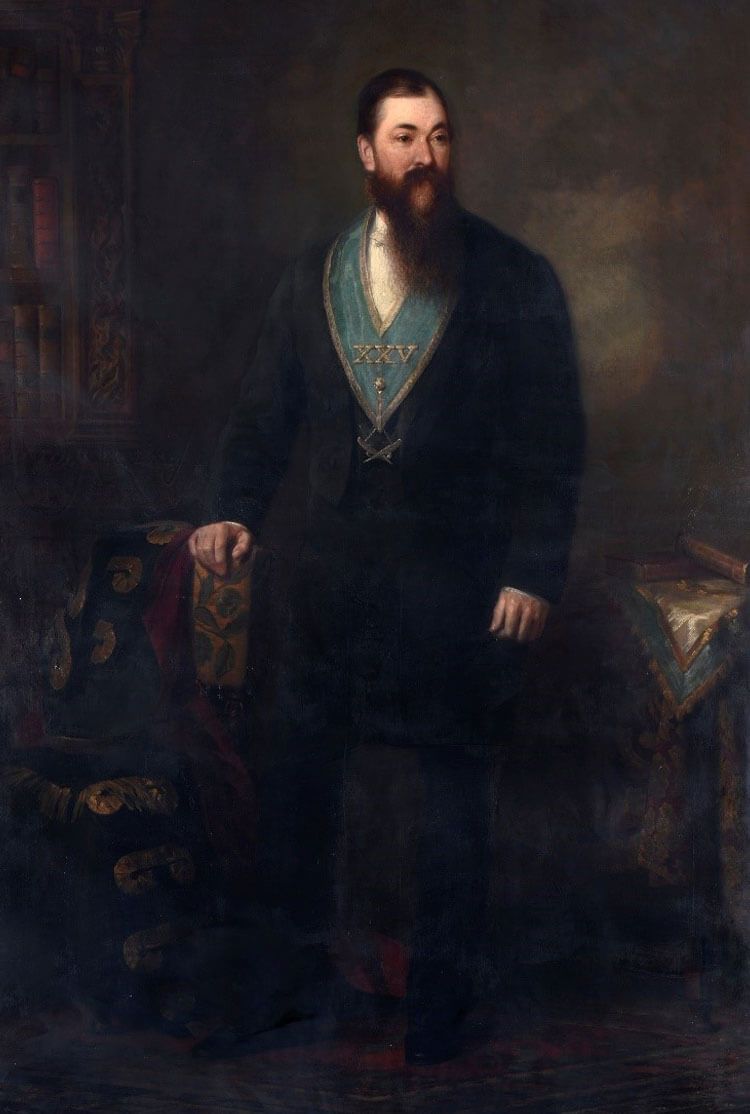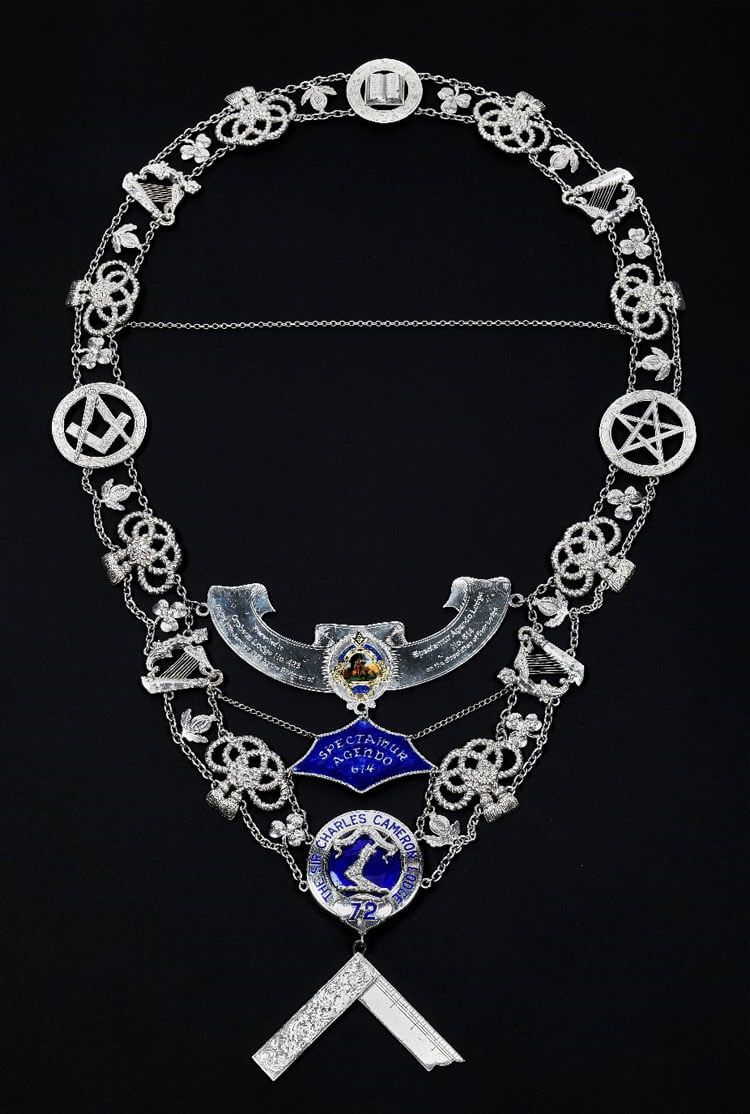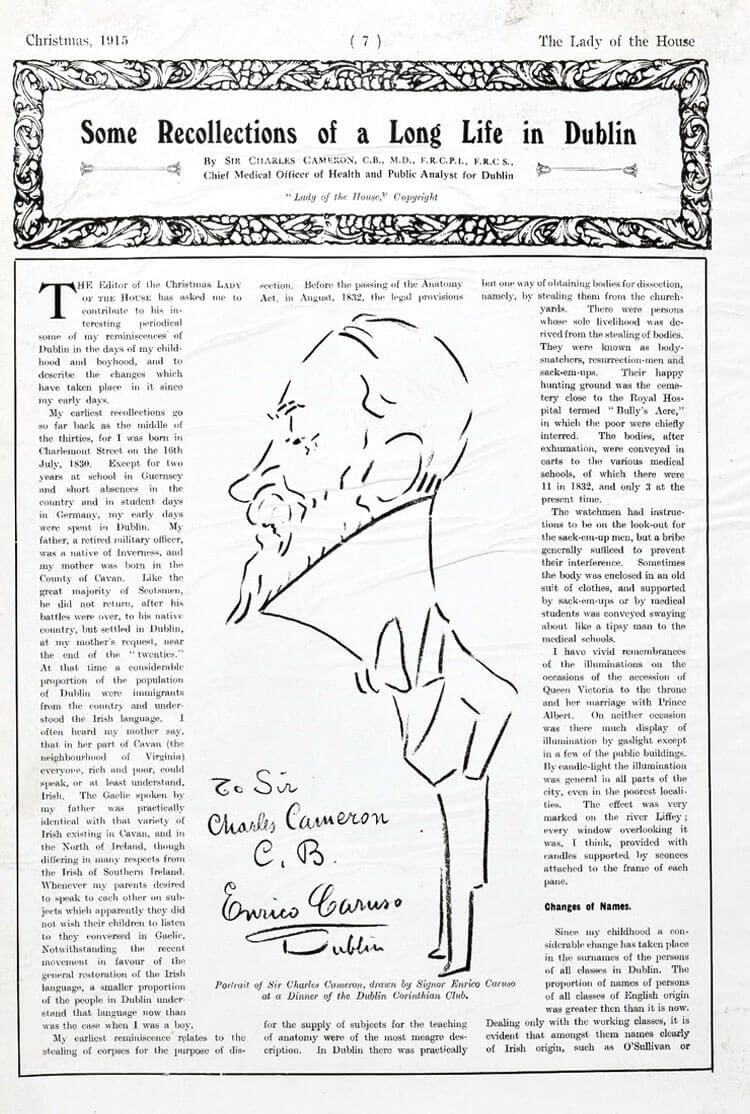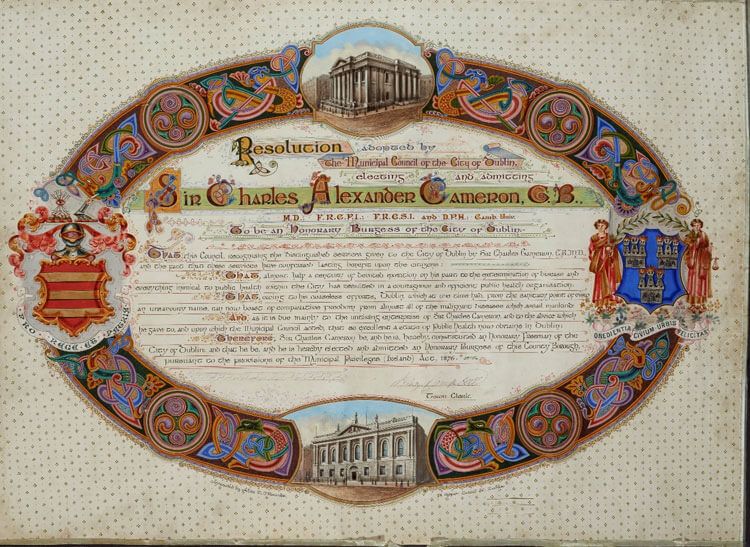 A masonic interest
Despite the challenges of his family life, Cameron had a passion for life and was involved with many clubs and societies. 
Significant sections of Cameron's Reminiscences and Autobiography are dedicated to his membership of the Freemasons, which seems to have filled a real need in his personal life, as well as helping him in his career and professional circles. 
Cameron's Masonic life began in 1858 when he was initiated into Fidelity Lodge 125, Dublin. He went on to join Lodge 25, Dublin in 1866 and was its Secretary for 50 years. He first took Office in Grand Lodge, the Order's governing body, in 1870, becoming Deputy Grand Master in 1911. 
In some ways his Masonic associations acted as another family, giving him encouragement and support, a forum to express his witticisms and be praised for them, a place where his talents were recognised and rewarded, and an inexhaustible source of occasions for congenial gathering. 
The Order grew and prospered in his time – two Lodges were named for him: Sir Charles Cameron Lodge No. 72 in Dublin in 1907, and Lodge No. 353 in Belfast in 1913. 
By the time of his resignation in 1920, aged 90, due to failing physical health, he was recognised as a Freemason all over the world. He was honoured and respected within Masonic circles and without. His successor talked about his possession in a most extraordinary degree of the gift of personal magnetism and was quite sure that nobody ever quarrelled with him, and if they did for not more than a minute or two and then they were sorry for it afterwards. 
A club gentleman
Cameron equated having a social life as an important element for one's happiness, health and well-being.  
Cameron's diaries record a hectic social life; a constant round of balls, musical evenings and visits to the theatre. He entertained regularly at home and often did so ostentatiously.  
An ardent admirer of drama and a friend of leading actors, Cameron became a noted theatre critic, writing for his own paper the Agricultural Review and The Irish Times. 
He was also a member of the Savage Club in London – a gentlemen's club with members drawn from the fields of art, drama, law, literature, music and science – and was asked to preside over several of their Saturday night dinners. 
Eager to establish a club in Dublin on the lines of the Savage Club, Cameron founded and was president of the fashionable Corinthian Club in 1899 which remained a permanent feature in Dublin's social circles. 
The club entertained a wide variety of guests, including three Lord Lieutenants, Winston Churchill, Sir Ernest Shackleton, Chief Secretary Gerald Balfour, John McCormack and world-renowned opera singer Signor Enrico Caruso. 
Freeman of Dublin
Cameron was made an Honorary Freeman of his native city on 24 February 1911. The ceremony took place at a meeting of the Corporation, presided over by the Lord Mayor.  
Alderman Thomas Kelly, leader of the Sinn Fein party in the Corporation at the time, remarked that he 'found him (Cameron) to be a man whose earnest wish was to lift the city from its notoriety of having the highest death-rate in Europe … it was not because of Sir Charles's charity, not because he was a Unionist or a Protestant, but because he believed Sir Charles had done more than a man's part trying to combat disease in Dublin, that they wished to honour him'. 
Death and legacy
" ... Dublin has lost one of its most useful citizens, a man who had a kind and cheery word for all who came in contact with him, and whose place it will be difficult to fill."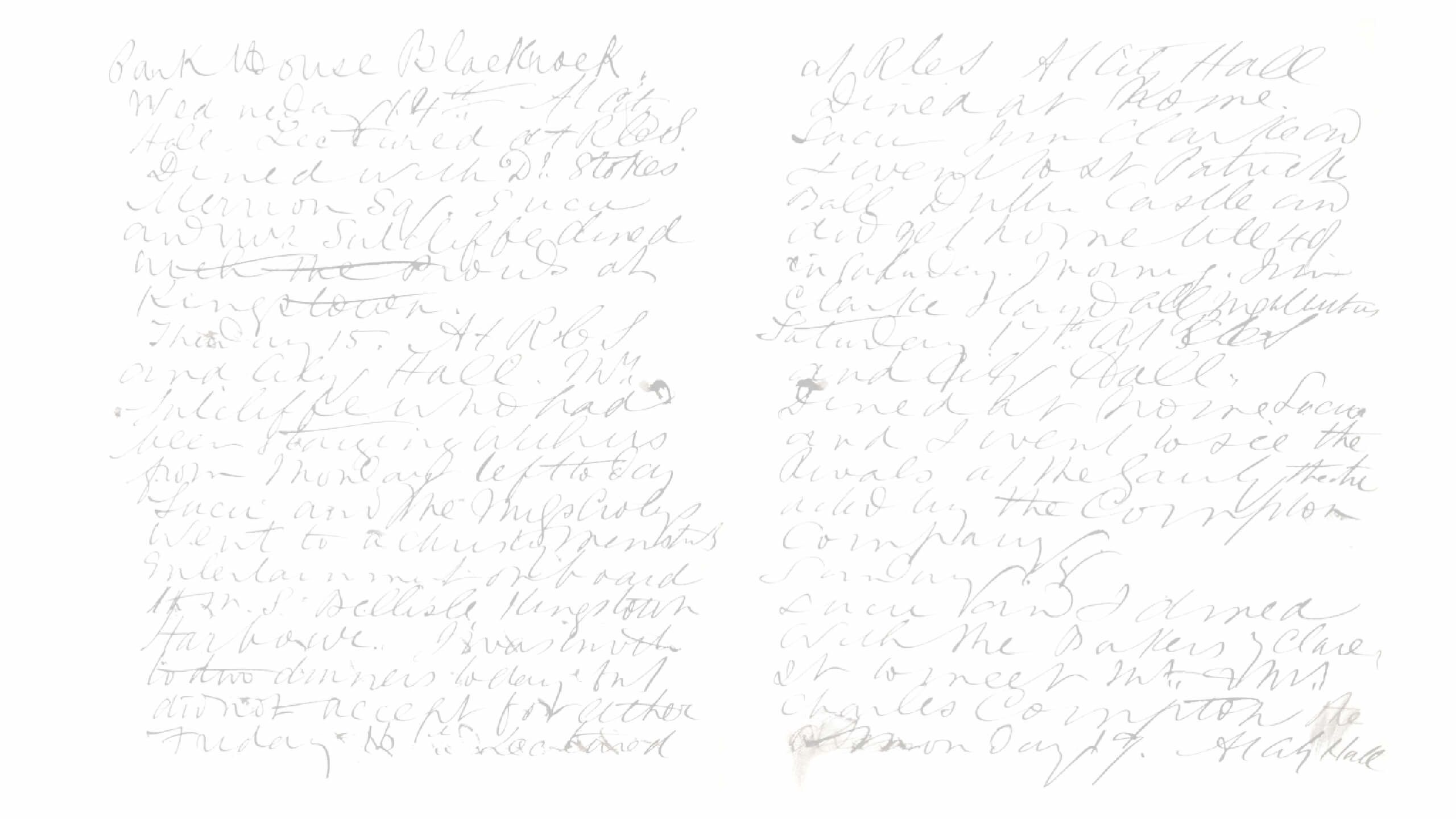 In memoriam
Less than three months after resigning from his positions at RCSI, Sir Charles Cameron died at this home on Raglan Road on 27 February 1921, in his ninety-first year. 
His funeral took place on 2 March 1921 in St Batholomew's Church, Clyde Road and he was laid to rest in Mount Jerome cemetery. RCSI Vice-President Sir William Ireland de Courcy Wheeler and other RCSI Members of Council followed the funeral procession preceded by the College Mace bearer.  
His last will and testament was executed by his two sons-in-law, John D Gerrard and Major Rupert Stanley. Cameron left the majority of his possessions to his one surviving son Ernest Stuart Cameron and his two daughters Mrs Lucie Gerrard and Mrs Lena Stanley. Some money went to his long-time housekeeper Miss Annie Webber and some property to his sons-in law.
Image: Vice-President Sir William Ireland de Courcy Wheeler and other RCSI Members of Council followed the funeral procession preceded by the College Mace bearer. RCSI/IP/Cameron/2/2. RCSI Heritage Collections.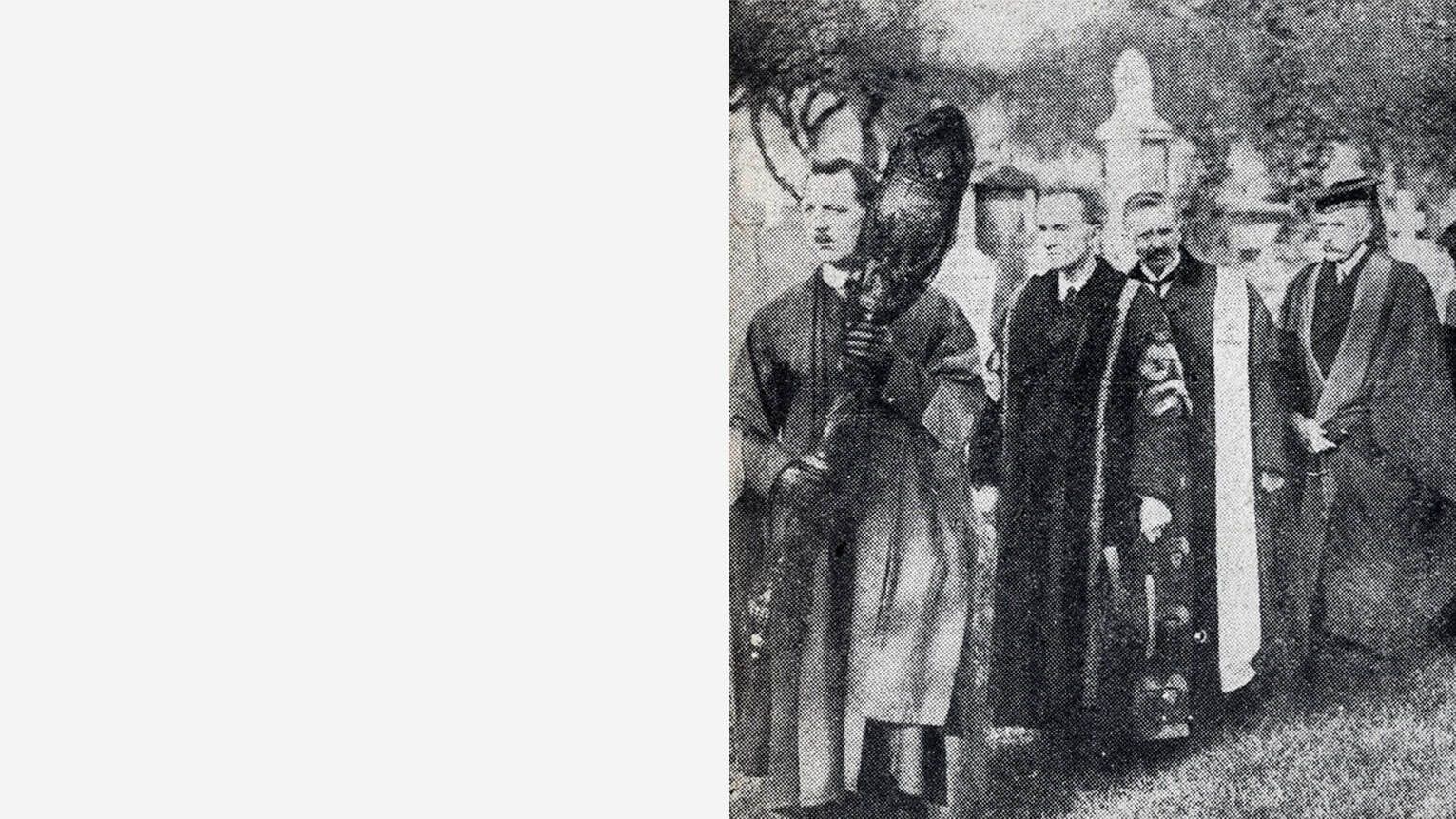 Lasting legacy
Any consideration of Victorian Dublin, its people and development, inevitably involves Sir Charles Cameron.  
His breadth of specialist knowledge, his skill at making connections and improvising, and his relentless drive to improve the life and lot of the city of Dublin and its citizens feature still. From slum clearance to the building of new houses, filth-ridden yards to homes with toilets and running water, the possibility for cleanliness meant the possibility of lives less burdened with disease.  
Cameron's proactive methods undoubtedly extended the scope of the offices he held. He was appointed the second only Medical Officer of Health for Dublin, having also worked alongside his predecessor Professor ED Mapother, so that for the future of such posts the parameters were broadened to their maximum – everything in the interest of the people came within the remit. 
Another treasure trove left to us by Cameron are his writings – both professional and personal. The data he recorded illuminate aspects of life, death, disease and its conquest. The development of, and his contribution to, the emerging specialty of public health are all there. His diaries, publications and memorabilia are in the RCSI Library and Heritage Collections- RCSI/IP/Cameron'.
He is remembered and immortalised in the street, square and housing estate in Dublin 8 that are named in his honour, and in the immortal words of James Joyce in Ulysses: 'The annual dinner, you know. Boiled shirt affair. The lord mayor was there, Val Dillon it was, and Sir Charles Cameron and Dan Dawson spoke and there was music.'
Image: Marble bust of Sir Charles Cameron by Sir Thomas Farrell, RCSI, July 1893.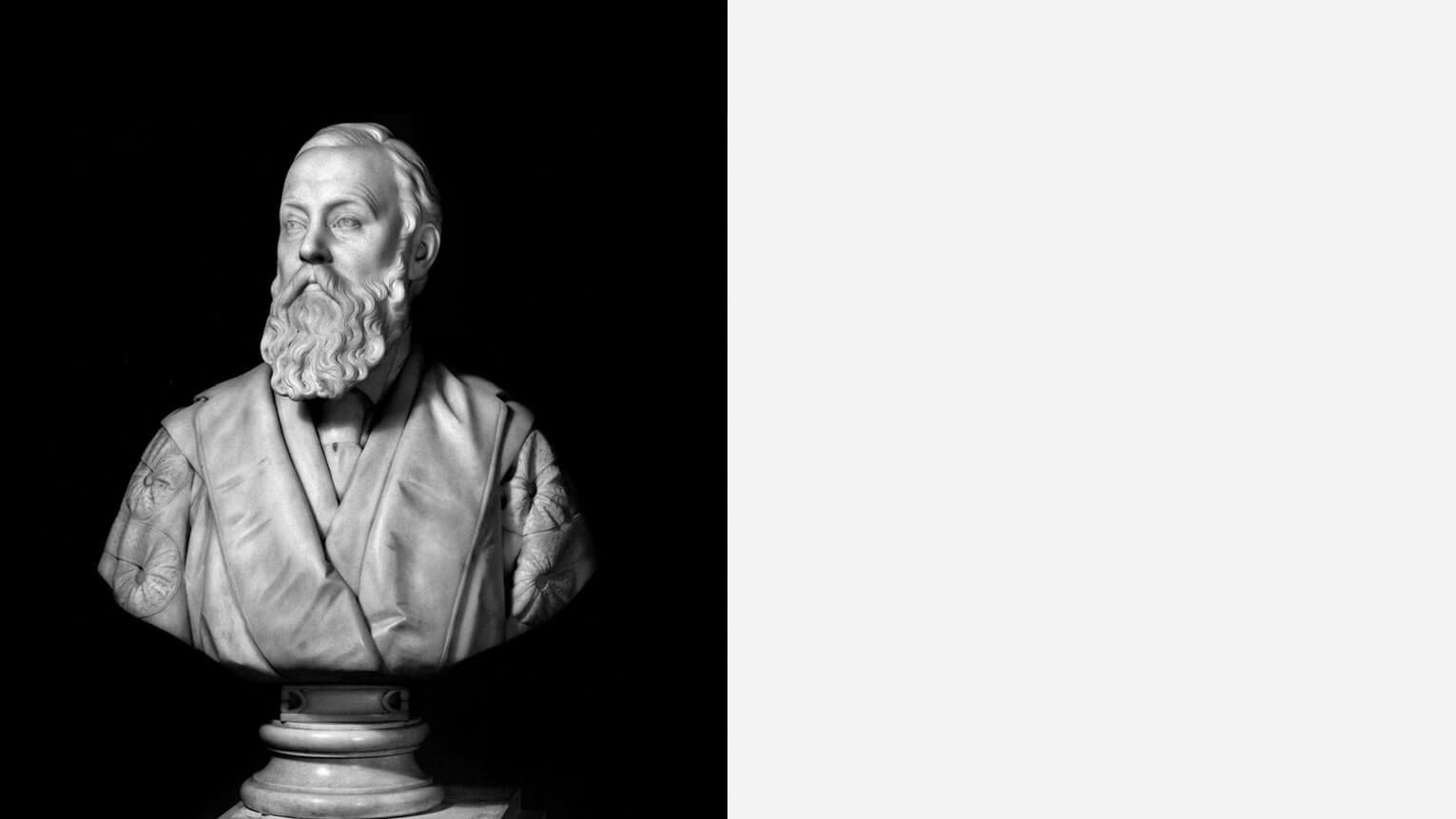 Honoured still ...
The RCSI Cameron Award for population health advocacy has been inaugurated to honour Sir Charles A. Cameron in the centenary year of his death, 2021.

The piece Bunsen's Flame by Jason Ellis brings things full circle back to Cameron's pioneering work as a chemist. Cameron's laboratory experiments, many original, brought irrefutable evidence to bear on the causes of death and disease and thereby their remedies. Chemistry remains the key to all Cameron's evidence-based research and its application in improved public health. This work continues in the RCSI Chemistry Laboratory named for him.

That Sir Charles continues to be celebrated 100 years since his death, is yet another measure of the man.
---
Celebrating the life and work of Sir Charles Cameron – project credits.
Please contact archivist@rcsi.com with any queries.