Advanced Therapeutic Technologies at RCSI
The new BSc in Advanced Therapeutic Technologies will equip students with core future-focused scientific knowledge, laboratory and research skills.
Play Video
The (BSc) in Advanced Therapeutic Technologies at RCSI – which is supported by the Higher Education Authority under the Human Capital Initiative – will have its first intake in autumn 2022. Students will learn a wide variety of skills including, critical thinking, collaboration, communication, project management and teamwork. You can learn more about the programme and curriculum here.
An eight-month industry placement is a key component of the programme. This placement occurs from January-August in Year 3, with the first student placements beginning in January 2025. The School of Pharmacy and Biomolecular Sciences operates an efficient placement system, responsive to the needs of both student and placement provider. Both parties are supported by the RCSI Enterprise Liaison Lead, with regular check-ins determined by employer preference.

How can an RCSI student add value to your company?
BSc (Advanced Therapeutic Technologies) students represent a pool of talented, workplace-ready students who are equipped with transversal skills (team working, project management, critical thinking, communication, enterprise, and innovation) as well as advanced and future-focused technical scientific knowledge.
The eight-month placement requirement ensures students become meaningfully embedded within teams and deliver high-quality outputs.
We expect that placement students will provide a valuable talent pipeline, for you the employer, to recruit upon graduation.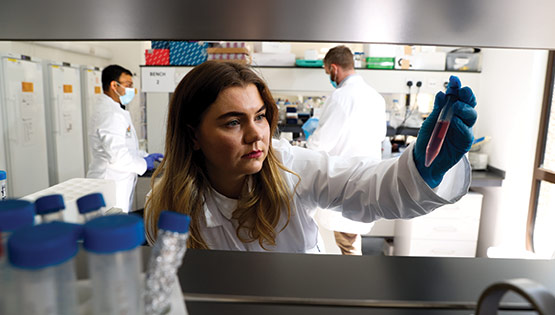 Get involved
RCSI is interested in placements from across the full spectrum of the pharmaceutical and related industries.
Contact us today

Contact us today