The Gathering 2023
Over three days, 17-19 August 2023, alumni will reunite, reconnect and rekindle friendships with classmates returning to RCSI from all across the world.
Play Video
Reminisce with classmates
We are delighted to invite you all back to Dublin for a varied programme of events and tours – this year's Gathering welcomes alumni from the School of Medicine and Faculty of Dentistry who graduated in the following class years: 1958, 1963, 1968, 1973, 1978, 1983, 1988, 1993, 1998, 2003 2008, 2013 and 2018.
Learn more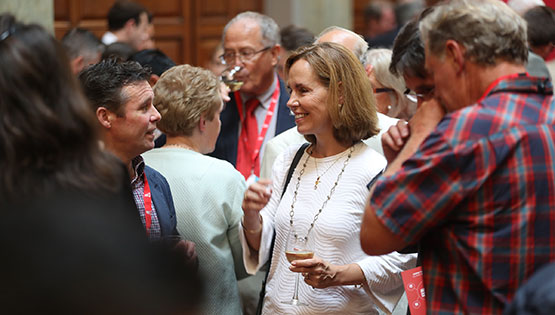 What to expect from The Gathering
Scientific meetings
Watch Professor Patrick Wall (Class of 1986) as he is interviewed by his classmate and current President of the Association of Medical and Dental Graduates, Dr Patrick Troy.
Take a tour of RCSI
Join Alumni Manager, Caoimhe Ní Néill as she shows you around the campus and updates you on all the developments since you were last in Dublin.
Attend a memorial service
At this year's Gathering we will take some time to remember those who have sadly passed. Watch the 2021 memorial service in which we remembered all Alumni who passed.
Plan your trip
While in Ireland why not plan a larger trip – check out Discover Ireland for some inspiration.
Find out more

Find out more