Equality, diversity and inclusion at RCSI
RCSI is committed to embedding equality, diversity and inclusion (EDI) across everything we do. This ensures we can all work and learn in an environment defined by dignity and respect.
We want to ensure that everyone in RCSI is treated fairly regardless of age, disability, family status, gender, marital status, membership of Travelling community, race, religion, sexual orientation or socio-economic status.
EDI Strategy and Action Plan 2018–2022
PDF | 5119.7 KB
This strategy document sets out a road map for our EDI work and serves as a proactive and collaborative approach to advancing the EDI agenda at RCSI.
Download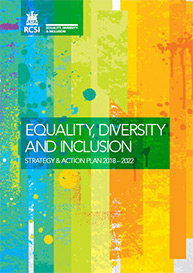 EDI Annual Report 2020-2021
PDF | 30857.1 KB
Despite this being one the most challenging of years any of us have ever lived through, we have achieved some incredible advances in equality, diversity and inclusion at RCSI this year.
Download