Presenting the 2023 RCSI Alumni Magazine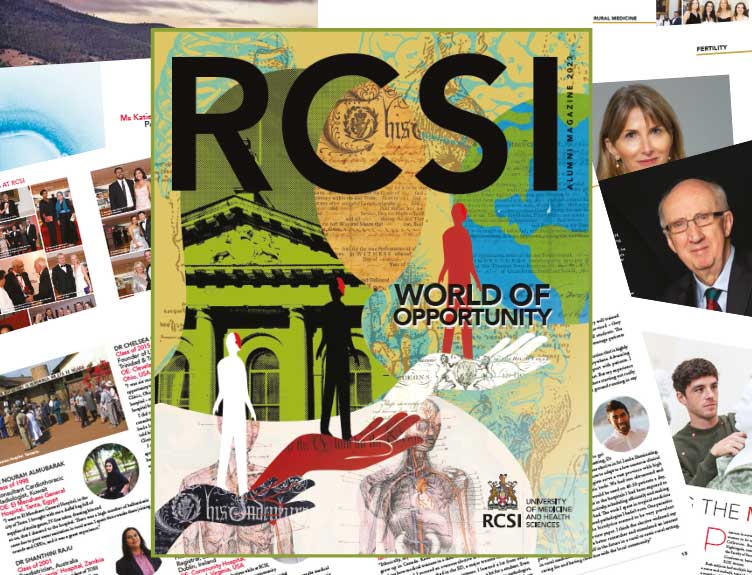 The Alumni team are very happy to share the 2023 edition of the RCSI Alumni Magazine, featuring a specially commissioned cover by illustrator Silvio Severino.
This issue is packed with campus news, RCSI research highlights, exclusive interviews plus plenty of stories and updates from RCSI alumni all over the world.

Features this year include:
Hands Up for a Great Experience: Celebrating more than 40 years of overseas electives at RCSI through sharing alumni memories of this rite of passage
On Fertile Ground: With change on the horizon for the provision of fertility services in Ireland, we hear from RCSI Alumni who are experts in the field
Your Country Needs You: RCSI Alumni share their insights on the current challenges of working in rural medicine
Healing Hands: Marking the 250th anniversary of Abraham Colles, the pioneering Irish surgeon who transformed the teaching of anatomy
Alumni Awards: A specially commissioned series of portraits of our Awardees in 2020, 2021 and 2022, alongside the recipient of our new Inspiring Educator award in 2023, Professor Michael Farrell (Medicine, 1974)
Breaking the Mould: An interview with artist John Rainey, who has created sculpture busts of Elizabeth Farrell and Florence Nightingale for RCSI's art collection
Class Call: Updates and news from your classmates across the decades and around the world
A Life's Work: Alumnus Professor Koon Teo (Medicine, 1978) on a life well lived
If you have opted to receive the printed edition you can look forward to it landing on your doorstep in the coming week, or click below to view our digital edition right now.