Race
RCSI welcomes the increasing ethnic and national diversity of our community, and is committed to equal treatment of all regardless of race.
The University has a long tradition of celebrating cultural diversity and is currently ranked in the top 50 in the world for 'International Outlook' by Times Higher Education. RCSI operates across five international campuses and has 70 countries represented in Dublin.
RCSI statement on racism
One of the many strengths of our University is the truly international nature of our student community. The diversity of our students, with over 84 countries represented on our Dublin campus, is something we are rightly proud to celebrate.
Our multicultural community is one where respect, acceptance and kindness – qualities that you expect from people who are working to enhance human health – is a hallmark.
We understand that students and staff will have been deeply shocked by the death of George Floyd in the United States and the protests that have followed. It has led many institutions and individuals to ask what more can be done to stand up and speak out against racism in all its forms.
RCSI is committed to equal treatment of all regardless of race and we stand with our global community in condemning racism and discrimination.
Our EDI team, together with our Students' Union, is focused on guiding the university and providing support for both our staff and students to take positive action. The EDI Committee, which includes student representation, is responsible for monitoring progress on our EDI Policy and associated actions. As part of this, we assess students' experiences of Campus life to identify any issues around discrimination and how we can best address them.
If you have had a negative experience, are struggling with the current situation and need personal support, please remember that the CoMPPAS Student Welfare team is available. They can link you to a wide range of additional support.
We recognise that there is always more we can do and through the Irish University Association's Equality Network we will be developing more training for our staff around meeting the needs of diverse students in teaching and learning settings.
One area of particular focus for us is in embedding culturally relevant teaching into our curriculum. Our Deputy Dean for International Curriculum Development, Professor Sam McConkey, was appointed in 2018 to ensure we deliver truly international programmes across our multiple international campuses.
Our International Citizenship Programme provides a model that can be used to support the development of cultural and social awareness in our future doctors. The two-year programme aims to develop the specific skills associated with cultural competence and healthcare leadership through a process of civic engagement, mentorship and critical reflection.
We believe that graduates will be more prepared for the increasingly complex and globalised nature of medicine. By making sure that our future healthcare leaders are culturally competent, socially conscious and have a sense of civic responsibility, we hope to contribute to a more inclusive and fair society.
Student societies
We support a very wide range of societies celebrating particular ethnicities, nationalities and cultural identities, including:
American Medical Students Association
Middle Eastern Student Association (MESA)
Canadian Irish Medical Student Association
Caribbean African Society
Irish Society
PIBS - Pakistan,India Bangladesh and Sri Lanka Society
Cultural competency
RCSI has introduced a range of activities to promote cultural competence.
A dedicated RCSI 'Understanding Cultural Competence' online course was launched for staff and students in 2016. This course promotes shared understanding of cultural competence and its value to all professionals.
All new students in RCSI are required to complete as part of our onboarding programme 'Passport for Success'. To date, 420 students and 250 staff have taken the course.
The International Citizenship Award aims to provide an explicit self-development pathway for students to benefit from RCSI's rich multicultural environment. Students engage in extracurricular activities, interacting with others from diverse backgrounds, and formally reflect on their personal development. Mentorship is also provided by RCSI staff.
Cultural Diversity Month
RCSI hosts a Cultural Diversity Month for students and staff each March. Students from the vast array of societies offer events throughout the month, including a Cultural Exhibition Fair and International Food Night.

The culmination of this month-long celebration is RCSI International Night. This is one of the most highly anticipated events in the College calendar, and showcases the culture, traditions, music and dance from RCSI's students' home countries, of which there are more than 60 represented in the RCSI student body.
The best performance receives the coveted Parnell Keeling trophy, decided upon by a judging panel of staff and students.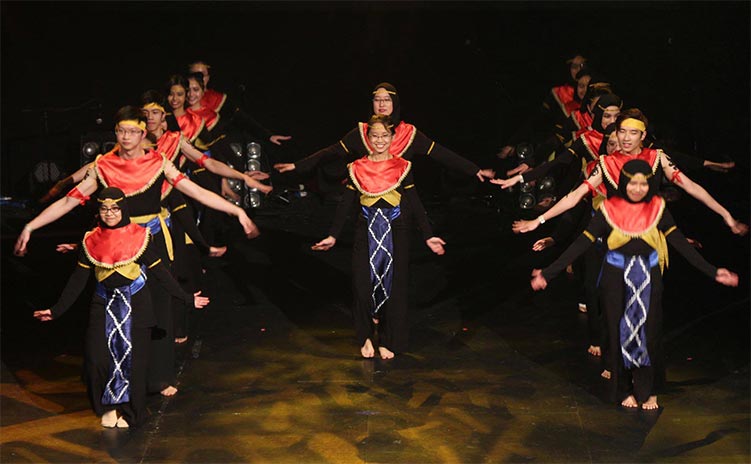 Appreciating culture
RCSI provides a series of engaging events and lectures focused on the theme that we are all 'students of culture'. These events are open to staff and students.
Resources for staff
The College also provides a number of resources for staff engaging with the student body, including a workshop on 'Teaching in a Cross Cultural Environment'. The workshop aims to explore strategies for improving the international student experience in a teaching and learning environment, while simultaneously improving interaction between native and international students. Teaching in an intercultural setting means using strategies to work creatively with different cultural worldviews, and bringing an international perspective into the curriculum.