Danielle Mah
Danielle Mah is the Head Physiotherapist and Medical Manager with Rugby Canada. She graduated from RCSI with a degree in Physiotherapy in 2008.
"My role is to work with coaches and management to build trust with athletes, making the right decisions and getting the best performance from the team. We have to balance team goals and performance with individual player welfare."
Rugby Canada is the national governing body of the sport of Rugby Union in Canada and I am responsible for leading the Medical for the Union as well as working in an operational capacity. I am also the lead/tour physio for the Men's Sevens, overseeing the training environment and travelling with the squad. I used to lead therapy for both the Fifteens and Sevens Men's senior squads, but as travelling with both squads can result in being away for up to 200+ days, I have had to scale back with Fifteens.
After participating in the 2015 World Cup with Canada, where we played Ireland in Millennium Stadium, I stepped out of the Fifteens team operationally, taking on more of an oversight role with it while continuing operationally with Men's Sevens with an Olympic goal.
Sevens is a stripped-down version of rugby union, with just seven players on each team playing a full-sized pitch. Games are very fast-paced and there are fewer scrums and lineouts, but more speed and running. There are two seven-minute halves and just a one-minute half-time break. A proactive approach to player injuries and mobility maintenance is very important. Due to the high intensity and high velocity nature of the sport, the injuries are more frequent and more severe in Rugby Sevens compared to the Fifteens game, as has been shown in World Rugby injury surveillance studies.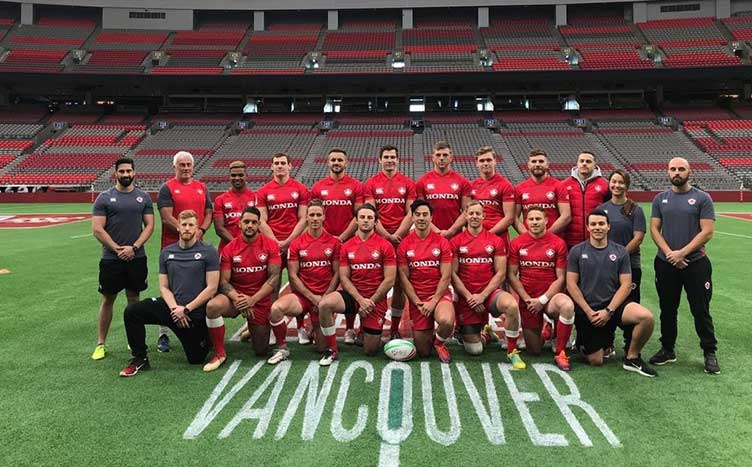 Why Rugby Sevens?
Rugby Sevens is a big deal in Canada and supported governmentally since its inclusion in the Olympics in Rio de Janeiro in 2016. Rugby Canada is a permanent fixture on the global rugby scene and the Sevens version of the game continues to climb the world rankings. We competed in the 2018 World Cup Sevens in San Francisco, and are hoping to qualify for the 2020 Summer Olympic Games in Tokyo. We emphasise the development of junior programmes and encourage younger players to participate.
A 'typical' day
We are based at the Al Charron National Training Centre in Victoria, where we have a rugby purpose-built, medical facility and gym. The morning session might begin with medical check-ins for those carrying injuries so we can modify their training and treatment plans. This would be followed by field speed sessions, then rugby skills before lunch followed by another rugby and weight session, and treatments. We would also look at strength and conditioning plans for those athletes who are returning to play after injury.
Our philosophy is very much geared to prevention; we like to get ahead of the surprises, encouraging players to come to us, to check every niggle. With as little as three weeks between competitions, prevention is key.
Leadership
My role is to work with coaches and management to build trust with athletes, making the right decisions and getting the best performance from the team. We have to balance team goals and performance with individual player welfare. Management of injuries is highly specific, the squad is small and there are very direct performance implications if an athlete is unavailable to play. We take calculated decisions and there is always a strategic plan.
We are sensitive around the issue of injury – not just the action plan for treatment and recovery, but the psychological effects it can have on players. It's important to expedite surgery if needed and to have clear goals and communications. Transparency is so important, I believe, and results in better injury outcomes.
Mental health awareness in sport is very important. Competing at elite level brings a lot of pressure. Myself and my team are aware that our proximity to the team and direct contact with the players puts us in a unique position to recognise when a player might be struggling with personal or professional issues. Our players are all at different stages in their lives and education – our youngest player is 17, our eldest 37 – so we have a very individualised approach.
My journey
I am a Canadian, born and raised. When I was an undergraduate studying sports science, I had a part-time job working in the West End Physiotherapy Clinic in Vancouver, a clinic set up by Mari Walsh, a physiotherapist, originally from Co. Galway and a physiotherapy graduate from Trinity College Dublin. I found her inspiring, not just the way she treated patients, but also her international teaching reputation.
She encouraged me to look to Ireland to study, hence my decision to go to RCSI. I then worked in private practice, and at The Rotunda, and also for the FAI with the Men's Futsal team, and at Bective RFC in Donnybrook. I really enjoyed the two aspects of my work – women's health and sports – and wanted to pursue one of them. Out of the blue, a patient I had treated in Ireland – a fellow Canadian who had a baseball injury – forwarded me the ad for the position with Rugby Canada.
RCSI gave me an exceptional foundation for my career. There was a supportive, collegial learning environment and although I used to return to Canada for the summer holidays, I travelled a lot to other European cities during my time in Dublin.