Keith Swanick
Dr Keith Swanick is a GP, owner of a family practice in Belmullet, Co. Mayo, and has been a Fianna Fáil Senator for the Cultural and Educational panel since April 2016. During his postgraduate training, Dr Swanick worked across a variety of Dublin hospitals in various specialties, then went on to complete GP training in Wales where he gained an intimate knowledge of the workings of the NHS.
"It is my belief that the problems we see in secondary care will never be rectified until primary care is adequately resourced. To that end, we need to re-invest our efforts in training more young GPs, practice nurses and community health nurses."
In 2010, myself and my wife, Aislinn, opened a state-of-the-art medical facility in Belmullet. Having worked in a number of practices, I wanted to bring the best of what I had seen to Belmullet. We are 50km from the nearest hospital with a greater-than-average older population and poor road infrastructure, so my aim was to offer a range of services above and beyond a typical GP service – from DXA osteoporosis scanning to spirometry and audiology and more. Our team of eight includes – two part time GPs; two full-time nurses, one midwife; a part-time occupational health nurse; and two front-of-house administration staff. Aislinn, who has a Masters in Educational Management, is practice manager. The ethos is built on preventative, community-based care for patients.
The future of primary care
I invested in a lot of equipment, which is now unfortunately under-utilised due to the lack of a reimbursement model from the HSE. This means that patients are disenfranchised as they have to travel to acute hospitals to have these investigations carried out, when they could be carried out in the community. I get satisfaction from sorting patients' problems early, preventing the need for them to be treated at acute hospitals. The challenge now is trying to recruit doctors to work in rural areas – their workload and out-of- hours commitment for the money they are paid is just not workable.
The community hospital
The community hospital network should not be seen as a relic of a bygone era. I believe community hospitals have a pivotal role to play in a modern health service as they can fulfill multiple roles. They can prevent admissions to acute hospitals because GPs can admit directly to them. They facilitate discharges from acute hospitals. They work as an interface between the fair deal scheme and the acute hospital sector.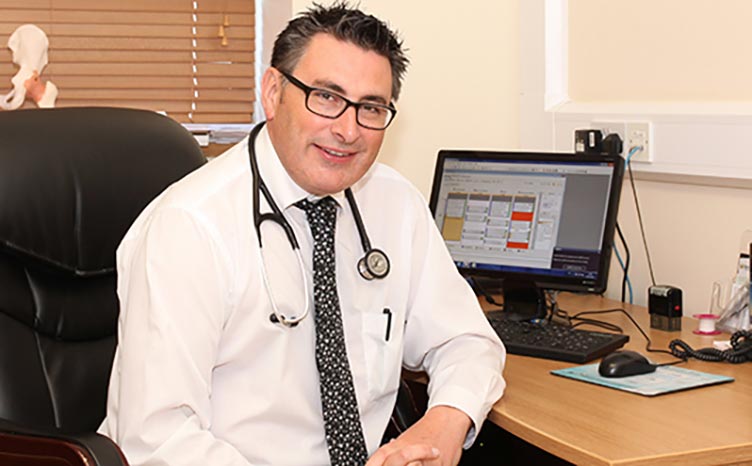 On politics
I grew up in a politically active house, the youngest of six, so I suppose it's no surprise that I believe change comes through the political system. I was delighted to be elected.
You can come and go in politics and never make a mark. Every day in my practice, I see profound mental and physical problems caused by loneliness. As a society, we have grown to accept loneliness as an inevitability – but this is wrong. Even allowing patients to admit their loneliness is a mobilising factor. Patients now would rather state that they are depressed, than lonely. We need a ground-up, government-led loneliness eradication campaign. Loneliness doesn't discriminate, it affects all age groups, social demographics, gender.
When we set up The Loneliness TaskForce, our aim was to seek submissions, conduct research and issue a timely report. In June at RCSI, I launched 'A Connected Island, An Ireland Free from Loneliness' - with specific recommendations and action points to counteract the corrosive effects of loneliness. It has huge detrimental effects on body and mind, and on society, and is also a burden on the economy. Last year, the leading cause of calls to Childline was loneliness. I believe a public awareness campaign will show results. As a nation we are quick to respond to need; I have seen that in our own community in Belmullet.
When we lost the R116 helicopter in March 2017, I was the closest doctor, and provided medical backup to the navy divers and others on the rescue and search missions. The sense of volunteerism was amazing. I witnessed a million acts of human kindness. I accepted a People of the Year Award on behalf of the community in recognition of their extraordinary efforts. But this shouldn't just be mustered in times of tragedy – we need to cultivate a sense of volunteerism to respond to loneliness.
A day in the life
Belmullet is 320km from Dáil Éireann, so there are constraints on my time! I have good support in both roles and work around the clock during the week. At weekends, spending time with family – son Julian, three, and Rosa Pearl, almost two, is a priority.
Having arrived at RCSI with a scholarship from St Anne's Sisters of Mercy Convent and School in Castlerea, with no family members in medicine, I was amazed to be accepted as part of the furniture from day one. RCSI was, and is, grounded in impartiality, fairness and respect. It was also a fun place to be! I remember going on a golf tour of the US and Canada with Professor Paddy Collins, and I recall how Philippa Buckley of Student Services nurtured and looked after us.
Academically and clinically, our training was excellent and was recognised everywhere I went.