Nadeem Moghal
Dr Nadeem Moghal is a Trustee of Friends of RCSI, UK and graduated from the College in 1989.
He is currently the CEO at DMC Healthcare, formerly Medical Director, Barking, Havering and Redbridge NHS University Hospitals, UK.
"When I arrived in Dublin, at RCSI, I genuinely felt I belonged. I still feel at home there – it's calming, welcoming and it's where I met my wife, Gertrud, who happens to be German, also an '89 RCSI alumnus."
My family and I escaped Uganda in 1972. I was nine years of age. My father was politically active. We were refugees from the Idi Amin regime. We left in a rush, and were to catch a flight to Canada, but we missed it and ended up in London. We heard then that we had just missed the ransacking of our home by the military – it was a close call.
We had to rebuild our lives. We were welcome and unwelcome. That experience informed my perspective on life. A refugee, an immigrant, it took me decades to accept Britain as my home. I did not feel rooted until I had my own family. I was sent to boarding school, positively and negatively adding to the life experiences. When I arrived in Dublin, at RCSI, I genuinely felt I belonged. I still feel at home there – it's calming, welcoming and it's where I met my wife, Gertrud, who happens to be German, also an '89 RCSI alumnus.
Coming home
I am now the CEO of DMC Healthcare, an independent healthcare provider employing over 500 staff. We deliver services to the NHS. We are the largest dermatology provider in the NHS serving over 100,000 patients, provide remote radiology reporting, endoscopy, MSK, and responsible for 100,000 people through our primary care practices.
We have grown rapidly and our focus on using technology to transform how we work and how we serve patients is a key enabling strategy. I am responsible for leading the Board and senior team ensuring sustained growth, underpinned by a learning culture. My many diverse roles and development over the last 30 years seem to have been designed to get me to a place where I have never had more fun at work. The best bit about this next stage in my career – I am working with Ravi Gupta, RCSI Class of '90, who with his brother Anil, established the business from their father's single GP practice now over 50 years ago. We shared houses, played snooker, and survived an RTA in Dublin. It feels like coming home.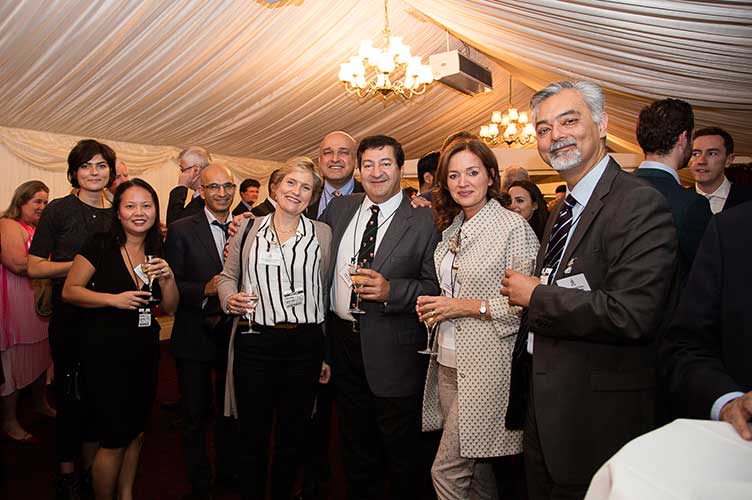 A 'typical' day
No two days are the same. It ranges from working directly with patients to improve services, to redesigning and investing in financial systems to better serve staff. My work takes me across the country, meeting our staff and commissioners, as well as building relationships with hospital providers and local councillors responsible for commissioning local services. I dig out time to write and reflect. I'm currently a regular contributor the Health Service Journal.
Creating positive change
I went into medicine to care for patients and their families. It gave me the greatest buzz. I was a consultant paediatric nephrologist, inspired into paediatrics during my time at Temple Street Children's Hospital as a student. But, I learned that I am also able to effect change on a larger scale. Doing an MBA was a fundamentally different journey but, as well as helping me acquire new skills, it helped me develop a new perspective.
Time spent learning from the Institute of Healthcare Improvement in the US was a turning point. My time at Harvard Kennedy School was the final seal on my rearranged DNA. My job here is about achieving the best clinical standards, patient safety, clinical governance. Within DMC Healthcare, my priority is to build an organisation that is rooted in learning, normalising the skills of quality improvement in all our staff
I believe we must learn from error and harm. By supporting staff, yet holding them to account, and intervening when necessary, we can give patients consistently safe, high-quality, compassionate care.
Developments within the NHS
I spent 30 years in the NHS. I continue to serve the NHS, and NHS patients. The NHS is an extraordinary institution, coming out of a time of massive destruction and serious politics. I know that from working in it and, most recently, from my experience of being a patient. The NHS remains a reflection of this country's attitude to justice and to equality.
But, it needs to build a 21st-century workforce. Look at how patients access knowledge now. Patients go online to get a diagnosis. They consult videos for their care. There are seemingly cheaper but effective alternatives to doctors. There are physician-associates and expert advanced care nurse practitioners. And consultations online. Artificial intelligence will challenge us all, soon. Our patients are driving need, demand and change, and we must respond.
A personal battle
In 2017, I took a cancer sabbatical. Sepsis tried to kill me three times. It reaffirmed my view of the NHS. My experience as a patient made me feel very fortunate. I did not have to worry about access to treatment or bills or insurance. Cancer is a highly emotive condition. I climbed into the lifeboat, captained and crewed by truly excellent professionals. Being a doctor did not afford me any more strength or sense of advantage, but I have become less accepting of the injustices that have always defined my work. The experience of cancer has confirmed why I do what I do, and why I work the way I work.
A team approach
It is possible to undo thinking and build new thinking by engagement on a day-to-day basis. We talk of making the patient the centre of all we do. That is correct. As a healthcare leader, I believe we have to focus on our staff first. They need the right resources – colleagues, tools, time. They must display professionalism – conduct, capability, work collaboratively and be mindful of the cost of care. Since my IHI experience I have worked to enable quality improvement capability in staff. Doing the work is fine. Doing it well is critical. Having the capability to also improve your work is key to continuous improvement. From this comes pride at work.
Leaders of the future
The new generation absorb knowledge differently – they are not 'all or nothing' but are determined to achieve a work/life balance. More are time-sensitive, less vocationally focused. As an employer we need to create a workplace that understands their needs. I believe the way we recruit doctors is overly focused on academic achievement; I would prefer an educational model that included philosophy, literature and history, understanding the human condition. I am doctor. I am a patient. I am a person.
Digital health and innovation – it's everywhere like a rash. What does it really mean, to doctors, and patients is the daily conversation? At DMC Healthcare we are able to take action more quickly than the public sector on deploying technologies. Within three months of a Board decision, we are deploying robotic process automation to take the robot out of the work of humans. We are exploring types of artificial intelligence in our work in radiology reporting. We are assessing Baysean logic based systems to help patient care navigation. .
Whilst working in leadership roles in hospitals, I knew there is a hidden issue of institutional racism in hospitals. I work in the most diverse part of Britain. Every nationality in the world is here, staff are hugely diverse. But racism is a daily occurrence. The staff deal with it and don't raise it as an issue, but our duty as an organisation is to deal with it so that staff do not enable a racist decision out of fear or in response to threat. There has been an upsurge in this challenge since the Brexit vote. As a society we have revealed a very real problem.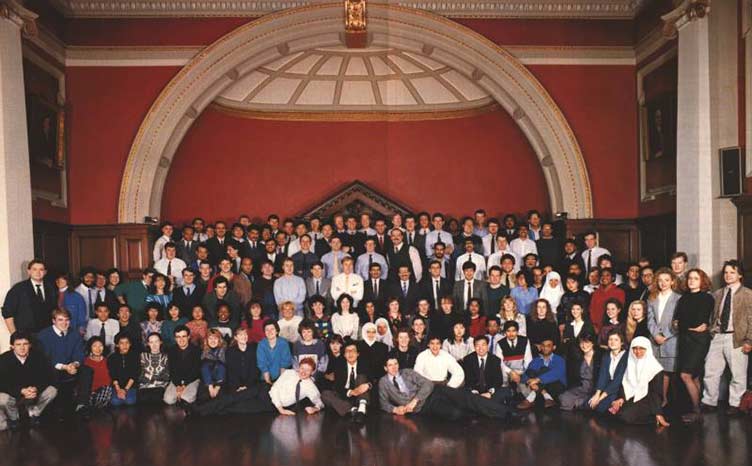 Looking back
They say the best times are student days. So true. Ups and downs. Many more ups. The downs made bearable and resolved by fabulous friends that have endured over the decades.
Lemke, also Class of '89, is godfather to one of our children. Geoff, who is the glue that has kept a lot of '89 connected over the years, is seemingly godfather to all our children; he passed on the medical degree and career, but surely deserves an honorary title! Michael who told me I looked terrible over video chat as I went through yet another cycle of gut wrenching chemotherapy!
David who heard I was sick and reconnected and kept connected and visited. Posting on our '89 Facebook reveals how badly I am ageing, as all the rest still look like they did in 1989. The picture postings say it all!