For any stuffed toys suffering from wear and tear and in need of a little medical attention, the RCSI Teddy Bear Hospital is the place to be.
Started in 2015, this annual two-day event is organised and run by students in the RCSI Paediatric Society, who are passionate about working with and caring for children. It aims to alleviate children's fears about healthcare environments, helping them to feel safe and comfortable with healthcare professionals and when receiving medical treatment or examination.
Children aged 4-10 are invited to bring their teddy bears or other stuffed animals to the 'hospital' in RCSI, where students play the roles of doctors and nurses. The children and their toys are taken through a series of simulated medical procedures, such as check-ups, X-rays, first aid physiotherapy, stitching and surgeries. After they're finished with the educational activities, they enter the arts and crafts area, with face-painting, music, games and other fun.
By the end of the day the teddies are given clean bills of health, but the benefits and impact of the Teddy Bear Hospital extend much further than that.
A healthy lifestyle
For children, the event helps to reduce anxiety and fear around healthcare settings and medical procedures. By engaging with medical students and their stuffed animals in a fun and interactive way, children can become more familiar with medical equipment and procedures, helping them to feel more comfortable and less afraid when they need to visit a real hospital or doctor's office.
Over the course of the event, specific sessions are dedicated to children with disabilities or chronic illnesses who may be dealing with doctors and hospital environments more regularly. These sessions are smaller, quieter and more inclusive, with extra volunteers to ensure the children are supported according to their individual needs.
In addition, the Teddy Bear Hospital promotes healthy lifestyle choices and good health practices to all children, with the students educating the children about nutrition and exercise, and the importance of regular check-ups and vaccinations.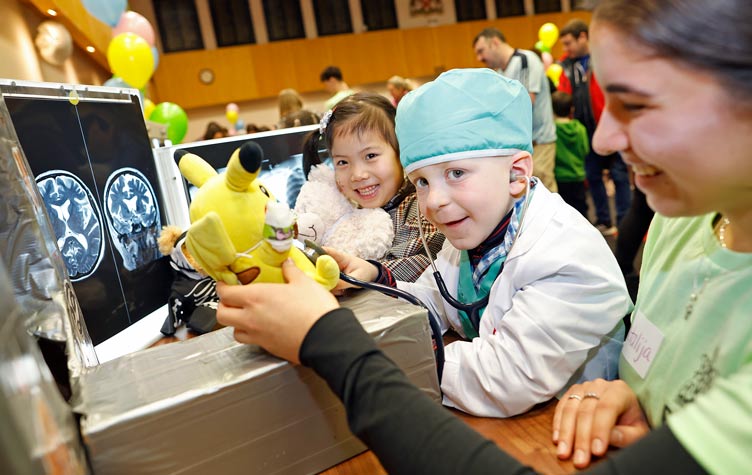 Sense of empathy
For RCSI students volunteering at Teddy Bear Hospital, it is a valuable learning opportunity, allowing them to develop their communication and interpersonal skills for working with children.
By interacting in a playful and engaging way, the students can improve their ability to communicate complex medical concepts to patients of all ages and backgrounds, and help them to feel at ease.
These interactions can also enhance a sense of empathy and compassion in medical students, which is essential for building strong relationships with young patients.
Charity partners
The benefits of the Teddy Bear Hospital do not end there. Parents and guardians attending with the children are asked to make a donation at the event, with a different children's charity in Ireland chosen each year to receive all of the funds raised.
Organisations such as Children in Hospital Ireland, the Children's National Ambulance Service, BUMBLEance, St Michael's House and The Jack & Jill Children's Foundation, among others, have all previously been charity partners of the RCSI Teddy Bear Hospital.
At RCSI, our mission is to 'educate, nurture and discover for the benefit of human health'. And for one weekend every year, that includes teddy bears too.
---
RCSI is committed to achieving a better and more sustainable future through the UN Sustainable Development Goals.