Dr Kate Coleman awarded RCSI Leadership Medal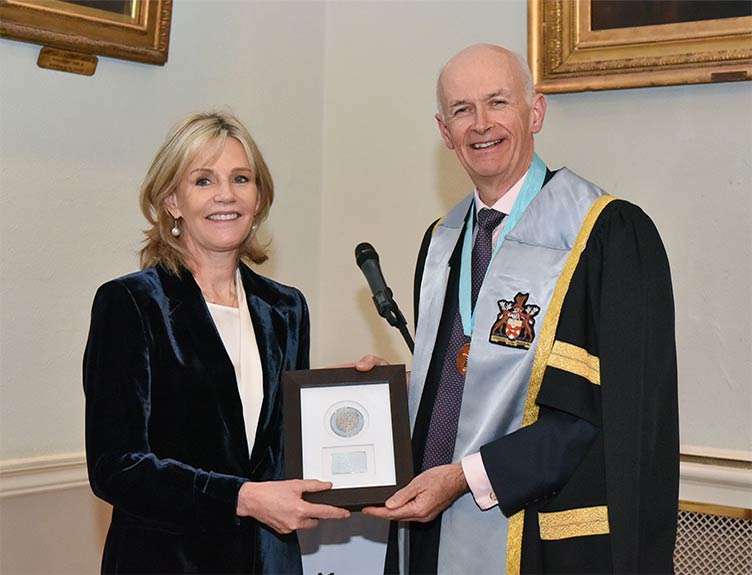 Dr Kate Coleman, consultant ophthalmologic surgeon and founder of Right to Sight, was today awarded a Leadership Medal by RCSI in honour of her work to eliminate preventable blindness globally which has restored the eyesight of over half a million people.
Driven by an interest in the scalability of using leading edge technology and education to ease suffering in developing countries and after many years of trying to identify a way of helping to eliminate preventable blindness, Dr Coleman founded Right to Sight in January 2006.
The social enterprise set about developing a sustainable model to deliver training to African surgeons and support staff, and equipping hospitals and eye care centres with appropriate equipment. Partnering with an Indian system called Aravind, Right to Sight led translational research and adapted models suitable for each country. Right to Sight now has 31 programmes in eight African countries.
Speaking ahead of today's ceremony, Professor Cathal Kelly, RCSI CEO said: "I am delighted to present Dr Coleman with the RCSI Leadership Medal today in honour of her work to eliminate preventable blindness globally. Dr Coleman's extraordinary determination to save people from needless blindness drove her to resolve problems, which many believed, were unsolvable. The impact of her work is profound, directly improving the quality of life of over a million people and their families. I am so proud that RCSI is associated which such a significant healthcare leader."
Dr Coleman undertook her undergraduate medical education at RCSI before specialising in electrophysiology of the eye in carotid artery disease in UCD. She completed Fellowships in Surgery (FRCSEd) and Ophthalmology (FRCOphth) in 1990. She then went to Amsterdam to specialise in Orbital and Oculoplastic surgery. Whilst there, she commenced a PhD in Quantitative Pathology of Uveal Melanoma, with Professor Jan Baak, at the Free University, Amsterdam and completed it with Professor Mary Leader in the Department of Pathology at RCSI.
Dr Coleman completed her consultancy training in Cork and Dublin before working as a Lecturer in Ophthalmology for UCD, at the Mater Hospital, Dublin. In 1995 she commenced working as Consultant Ophthalmologist in St Michaels Hospital Dun Laoghaire, Mt Carmel Hospital Dublin and the Blackrock Clinic, Dublin. In the mid 1990s Dr Coleman became a world expert in the use of Botulinum Toxin in Oculoplastic conditions, writing a textbook on the subject.
Dr Coleman continues her work today adapting cutting edge technology to solve global issues. She is founder, CEO and inventor of IKEY, a patented technology initially developed to screen for needless glaucoma blindness in Africa, while also serving to safeguard children under 16 from access to the Internet and cyber abuse.