Alumni volunteer programme
Volunteering is a very rewarding and fulfilling experience. Not only does it provide an opportunity to help others, but it can help volunteers to further develop their own skillsets.
Alumni who dedicate their time and expertise in support of their alma mater offer a wide range of practical benefits for students. As RCSI alumni, some of the benefits of volunteering include:
Developing and practicing your personal leadership style
Enhancing your communication skills
Staying abreast of new practices and approaches within healthcare
Strengthening your own expertise, knowledge and skills
Exercising emotional intelligence and creativity
Extending your professional/community network
Shaping the healthcare leaders of tomorrow
Become an Alumni volunteer
Volunteering categories
Online mentoring
We are seeking additional alumni volunteers to participate as mentors on RCSI's online mentor network, where they can connect with current RCSI students who are in the penultimate and final years. We are particularly seeking to recruit alumni who graduated from the Schools of Medicine, Pharmacy or Physiotherapy and have experience with/knowledge of training and career pathways in your country or area of practice.
Time requirement: 1-2 hours per month
Guest speaking
We are regularly contacted by student societies and staff to assist in finding alumni who might be willing to speak at events – both online and in-person. If you would be interested in this type of opportunity, please do register an expression of interest today.
Time requirement: 1-2 hours per talk
Champion or Offer Clinical Electives/Placements for RCSI students within your organisation
Clinical electives and placements are an essential part of a student's training, which can help students develop their skills, equip them to make the best use of resources and enable to become increasingly patient-centred in their approach. RCSI works hard to ensure that students get an opportunity to avail of electives and placements. The University is always seeking to develop links with healthcare professionals and their organisations.
If you or your organisation are currently in a position to offer a clinical elective or placement to an RCSI student, please register an expression of interest via the volunteer form.
If you are unsure what is required or whether you/your organisation are in a position to offer a clinical elective or placement, please contact Ann Hopkins for further information.
Time requirement: Ongoing
Organise alumni events
Why not get involved in the organisation of events for RCSI alumni both nationally and internationally? Whether for an alumni talk, networking reception or the annual Alumni Gathering, we value the input of alumni in the design, promotion and delivery of events.
Time requirement: 6 hours per event
Contribute to alumni communications
Alumni eNews and the annual RCSI Alumni Magazine are always packed full of interesting alumni stories and features. We rely on alumni to share their stories, reflect on their experiences and provide us with updates. Let us know if you would consider contributing to a feature or even suggest some interesting alumni to be profiled.
Advise early-career alumni
The alumni community provides an important network through which individuals can seek and provide advice and guidance. Please let us know if you are open to connecting with early-career alumni to share your experiences of career development, training programmes or specialty pathways.
Share your story with students
Whether via the website or in RCSI's prospectus, students love reading about those who have gone before them. If you have a story to share, consider volunteering to include it online or in the University's publications.
Attend open days
RCSI holds many open days, both in Ireland and internationally. The University is always looking for alumni to represent RCSI and to attend these in-person or online events talk about your own experiences with prospective students and their families.
Time requirement: varies depending whether online or in-person
Meet and greet new students
Every year, new and prospective students look to connect with alumni by email and/or phone call to hear your experiences of studying at RCSI, living in Dublin, making friends and carving out your career pathway.
Create content for social media
Do you know your TikTok from your Twitter? If so, you should think about putting your creative talents to use by producing content for use across RCSI and RCSI alumni social channels.
Time requirement: 15-30 minutes
Participate in research or surveys
Whether a student project team, academic staff or indeed the alumni team, RCSI regularly aims to seek alumni views and input. Surveys are a quick and easy way to have your say and make a contribution.
Time requirement: 15-30 minutes

Our volunteer impact in numbers
In the academic year 2021/22, we piloted the alumni volunteer programme for the first time. Over the course of the year, we tracked 366 alumni who volunteered in a variety of different roles, from online mentors to guest speakers to content creators. Their efforts generated approximately 725 hours volunteering time and were hugely beneficial to our students.
Current opportunities
We are currently recruiting alumni to participate as Student Mentors, Alumni Ambassadors, Storytellers and Micro Volunteers for the academic year 2022/23.
How to register
There are many ways to get involved in a way that suit your interests and availability.
Becoming part of the alumni volunteer programme is a very straightforward and user-friendly process.
If you would like to volunteer for existing opportunities or or would like to hear from us about new roles as they develop, you can register your interest below.
Register now
What our participants say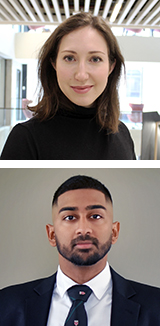 Sarah Colbert-Kaip, RCSI student
"I organised a a webinar series to promote rural general practice in Canada. The students gave excellent feedback, and learned a lot about rural residency programmes and thought the tips were very helpful. Hearing from alumni is always appreciated because you've been through the same institution and can give more personalised support to students. It is also very inspiring and exciting to see where alumni have gone in their careers."
Dr Javed Machikan, alumni volunteer
"I volunteered in the hope that I might be able to guide students and alleviate some of their worries. I am a firm believer in giving back to the student body and supporting those who are developing their careers. Apart from the aforementioned benefits, I am very cognisant of the fact that these very students will be the ones treating me or my family in the future and as such, whatever guidance and kindness we can invest now, will be returned tenfold in the time to come."⁠