Fundraising appeal launched to mitigate against face mask skin irritation among ICU staff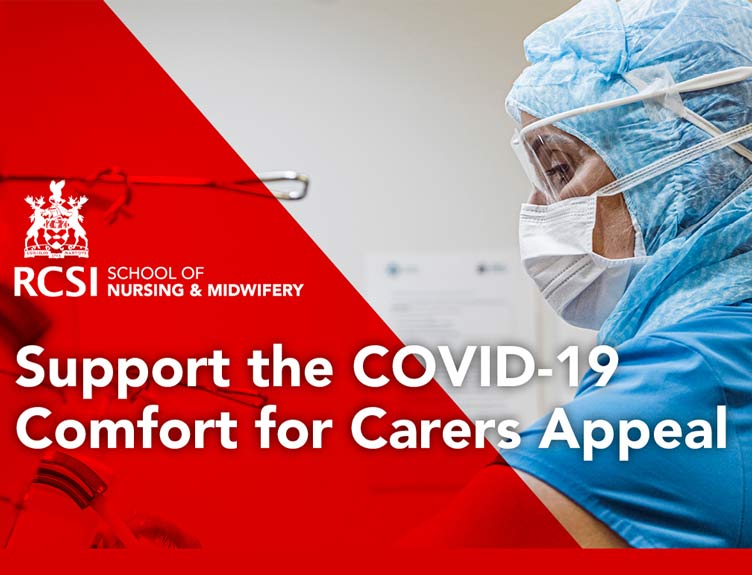 RCSI has launched a fundraising appeal aimed at making protective face masks more comfortable to wear for intensive care staff providing care to COVID-19 patients.
The appeal will support the provision of Wound Care Kits created by RCSI School of Nursing & Midwifery to help mitigate the occurrence of face mask skin irritation.
As a result of wearing of protective face masks for prolonged periods, many ICU staff are incurring facial pressure ulcers, bruises and skin tears. When a break in the skin occurs, it places staff at significant risk of infection, including COVID-19. Once infection is identified, staff have to leave ICU and be placed on quarantine, thereby, reducing the capacity of staff available to treat patients.
According to Professor Zena Moore, Head of RCSI's School of Nursing & Midwifery: "We are acutely aware of the skin abrasions and pressure ulcers experienced by ICU teams as a result of wearing PPE for prolonged periods on a daily basis. Our aim is to provide Wound Care Kits to help mitigate the occurrence of face mask skin irritation. Each Wound Care Kit consists of a set of instructions, moisturiser, tape and wipes. These Wound Care Kits have been developed by the RCSI School of Nursing & Midwifery, as a preventative measure and we aim to capture data over 12 weeks to document the impact of the kits."
Professor Moore said: "This year has been designated by the World Health Organisation as year of the nurse and midwife. Never before has the professionalism and commitment of our nursing staff been so visible to the public. I want to thank them, and all of our frontline workers, for their selfless dedication to patient care. The RCSI School of Nursing & Midwifery stands shoulder to shoulder with you. I urge members of the public to support this important appeal. A €20 donation will provide a Wound Care Kit for one ICU staff member for one week."
The campaign aims to raise €10,000. The project will initiate in Beaumont Hospital, Dublin, and will roll out to other hospitals if successful.
If you are a taxpayer, we may be able to grow your gift at no extra cost to you. Under the tax effective giving scheme, RCSI can claim tax relief on gifts that total €250 or more in a calendar year at a rate of 45%.