Established in 2007, the REACH RCSI programme is a dedicated community engagement and access programme. Promoting recreation, education and community health, the initiative is aimed at encouraging and facilitating participation and enhancing opportunities for those traditionally underrepresented in higher education.
As part of our RCSI Engage Strategy, REACH RCSI works in partnership with primary and post-primary schools, youth and community groups on the design and delivery of educational initiatives. One such initiative is a Junior and Leaving Certificate Grinds Club, which offers free one-to-one academic support to secondary level students from our local community.
REACH RCSI Grinds Club aims to facilitate access to academic support in a safe and informal environment to those who would be otherwise unable to access such support. The club is breaking the cycle of educational disadvantage and, by fostering a positive view of education, RCSI is raising the aspirations for the next generation of third level students.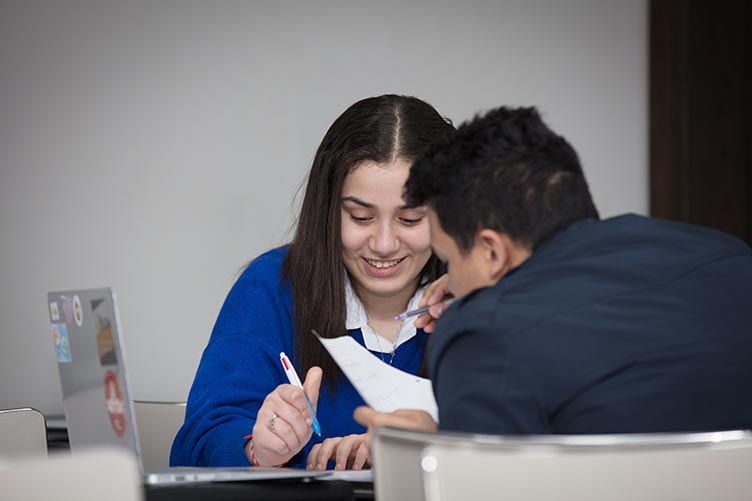 At a local level, it connects RCSI with our community and through the programme we facilitate a range of educational supports and create inspiring experiences for students.
The volunteer contributions of RCSI staff and students are pivotal to the success of the programme. RCSI's dedicated staff and students offer up their time to work with a learner to provide career guidance, study skills, exam techniques, mock interviews and assistance with college and grant applications.

What some participants had to say:
"They helped with topics we had already finished in school, and helped me understand them more and feel more comfortable answering the questions."
"My tutor used easy methods to help me study complicated chapters."
"It was lots of fun and a great opportunity to help students in the community achieve academic success!"
RCSI is committed to achieving a better and more sustainable future through the UN Sustainable Development Goals.