Doctors deal with death and bereavement all the time, but how prepared are they for this part of the job?
At RCSI, 'Death, Dying and Bereavement' is a new optional module that helps prepare students for a topic that many of us would rather avoid, while also reflecting on their own mortality.
Offered as part of the first year medical programme, 25 students took part in the week-long module, which was developed by RCSI lecturer Eric Clarke and 4th year student Meghan Gipson as part of the RCSI Student Engagement and Partnership (StEP) programme.
During the week, students on the module took part in a death cafe, which was facilitated by Valerie Smith of Irish Hospice Foundation (IHF).
Founded by the late Jon Underwood, death cafes are a not-for-profit idea that began in the UK in 2011, and have since spread to over 80 countries. At a death cafe, participants meet up for tea, coffee and cake, and to discuss life's only inevitability: death.
People talk about their individual preferences and ideas on what they would like for the end of their own life, as well as their funerary preferences.
The events are held in an accessible, respectful and confidential space, with the ultimate goal of increasing awareness of death with a view to helping people make the most of their finite lives.
Better clinicians
Many of us are – understandably – fearful of death or discussions of death, but IHF embraces the death cafe concept because it can make death less stressful, whether facing our own mortality, dealing with grief and loss or, in the case of health professionals, when they encounter it in their work.
During the module, students discussed how they are likely to be confronted with death at acute times in their career, and usually in a clinical setting. They learned how more discussion and preparation for death and bereavement can help them be more supportive, better-equipped and, ultimately, better informed as clinicians.
Future doctors
RCSI's death cafe – believed to be the first of its kind held by a medical school in Ireland – included two senior medical students who spoke of their own insights and experiences facing death.
Because RCSI's student body comes from different countries, cultures and religions across the world, participants were able to learn from their peers about different death and funerary practices. As future doctors, this enhanced cultural competency will help them to better support patients and their families experiencing death or bereavement.
There were a number of other elements to the module. Students visited the mortuary in Dublin's Beaumont Hospital, where they met with Gillian Rufli, End-of-Life Care Coordinator at the hospital.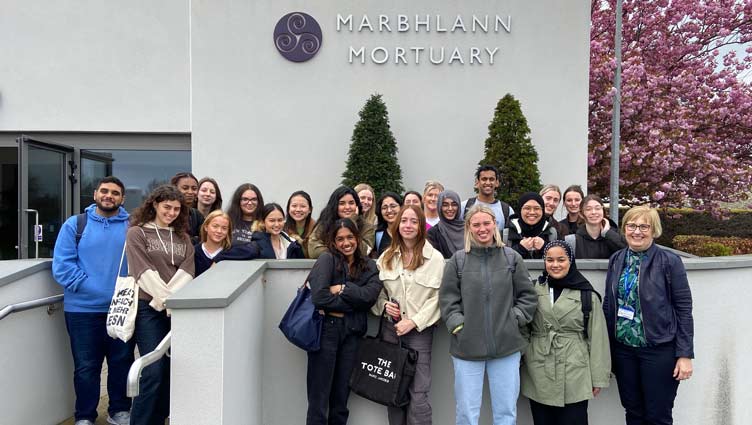 Welcoming spaces
Rufli explained how over 40% of all deaths in Ireland occur in hospitals, with all deceased patients brought to the hospital mortuary before leaving the hospital. She also explained about the Irish Hospice Foundation/HSE's Design and Dignity programme, which is transforming mortuaries around Ireland from often cold, clinical places into warm, welcoming spaces that help support bereaved families and friends.
Students met with Gus Nichols, managing director of Nichol's Funeral Directors, who spoke about the funeral process and the formalities of how decisions are made.
They also heard from Dr Lisa Mellon, a health psychologist and lecturer at RCSI, on prolonged grief and how they can support their patients.
Ultimately, the death cafe, and the RCSI module, is a first step. Many of us are not ready to dive headlong into the topic, but may be able to slowly dip a toe into the waters and gradually, slowly, start this crucial conversation.
IHF has produced Think Ahead, a practical and customisable guide for advance care planning and end of life, helping people to document their own healthcare choices and personal wishes.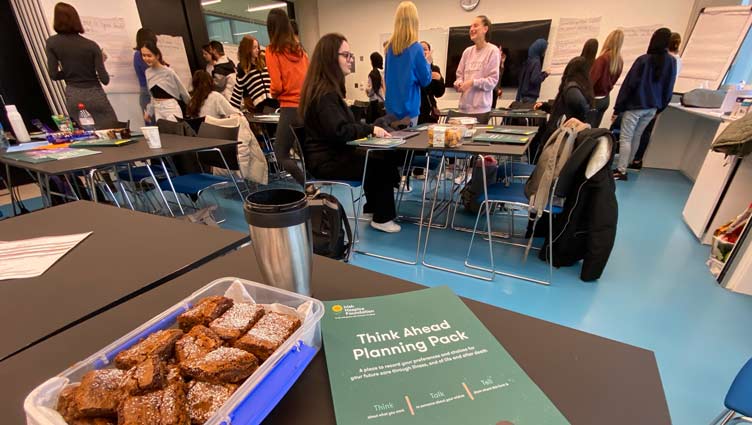 ---
RCSI is committed to achieving a better and more sustainable future through the UN Sustainable Development Goals.