World-class resources
Our independent status allows us to set our own agenda in the pursuit of excellence in medical education, training and research. We set the pace that others follow.
World-leading clinical simulation
Our investment in opening Europe's largest clinical simulation centre ensures that we can continue to graduate healthcare professionals with superior clinical skills. Our simulation centre contains a virtual hospital, with wards, outpatients' clinics, birthing suite and a full operating theatre and trauma facility. This allows us to train our students using safe, structured and repeatable teaching models so students can develop their skills before engaging with real patients in the hospital setting.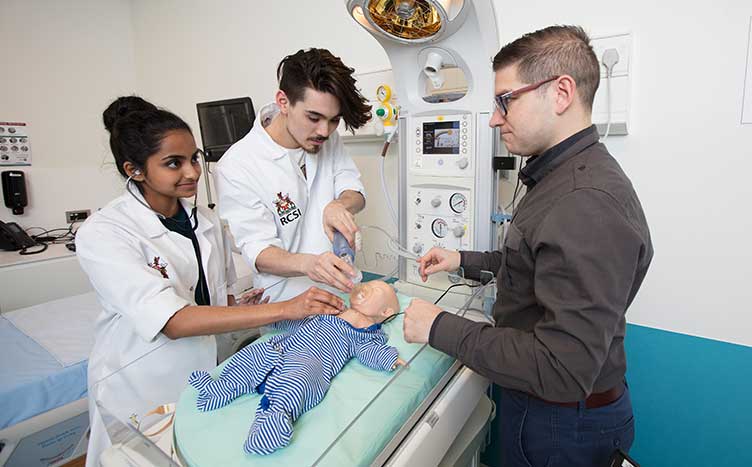 Technology-enhanced learning
The use of digital technologies is a core pillar of our goal of delivering a best-in-class education experience to students and positioning them to thrive in the fast-paced, increasingly high-tech healthcare fields they will graduate into.
We use digital technologies to promote active engagement and provide experiential learning opportunities that bridge the gap between campus and hospital-based learning.
Our bespoke virtual patient platform integrates videos of patient cases with a decision path structure affording students an opportunity to learn the basics of healthcare professional-patient interaction in a psychologically safe and confidential space, right from the very early stages of their programme.
Inter-professional learning and professional identity
Inter-professional learning is at the heart of our teaching philosophy. Students get exposure across the disciplines of medicine, pharmacy, physiotherapy and nursing during their time with us. This sharing of learning, communication and teamwork prepares RCSI graduates to work as part of multidisciplinary healthcare teams as they advance through their careers.
Our goal of teaching professionalism is to promote the development of this personal identity, so that our students graduate as a 'good physician'.