Scroll Down
RCSI Strategy 2023-2027
RCSI is the highest ranked* university in the world for our contribution to good health and well-being, the third UN Sustainable Development Goal. Everything we do is shaped by our mission: 'To educate, nurture and discover for the benefit of human health'. Through our new strategic plan we set out a roadmap for how we will enhance our contribution and innovate for a healthier future.
*Times Higher Education Impact Rankings 2023
Innovating for a Healthier Future
PDF | 10361.9 KB
With a strong focus on health and societal impact we will work with others to make a positive and lasting impact on the health and well-being of individuals and communities in Ireland and around the world.
Download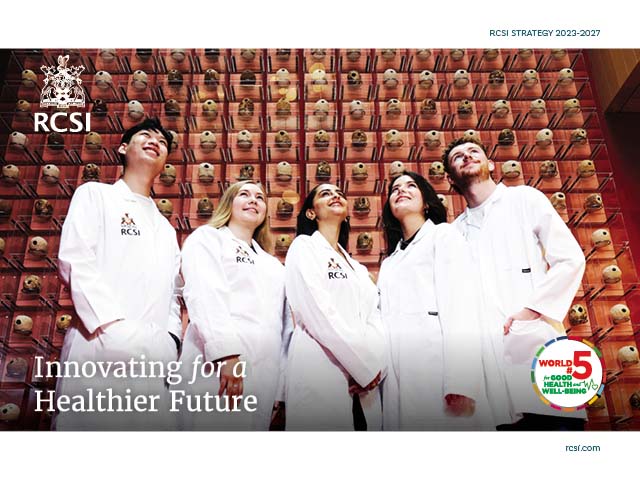 Supporting health and societal well-being
Our commitment to health and societal impact is rooted in our identity as a health sciences-focused institution, recognising the profound influence of healthcare on individuals and communities.
---
Education and student success
We are dedicated to addressing healthcare workforce demands and delivering a transformative education. Through our innovative curricula and inclusive university environment, we will prepare students to make a difference for patients.
With our future-focused curricula, we are equipping our students with the skills and confidence to succeed, lead and thrive in all aspects of their lives.
Educating healthcare leaders
At RCSI every student is an individual and their journeys are unique. We provide tailored education pathways to help them achieve their goals.
An individualised focus
Beyond academic studies and rigorous training, the personal growth opportunities available to RCSI students are an integral part of their journey.
A vibrant life on campus
---
Leading impactful research
We're advancing our research excellence in key areas, fostering collaboration and accelerating clinical translation. Innovation is essential to this, driving breakthroughs that will address evolving healthcare challenges.
Robust infrastructure is the backbone of delivering excellent research. We're investing in the tools and supports for our scientists to make a meaningful impact.
Making research discoveries
Complex healthcare challenges require diverse expertise. Collaboration between scientists, industry leaders, patients and clinicians is at the heart of our research.
Solving health challenges
Our research clusters showcase our strengths as well as allowing us to foster specialised expertise and invest in innovative fields of research.
Clusters of research excellence
---
Creating foundations for sustainable impact
Our commitment to sustainable impact can only be achieved through investment in our people, infrastructure and operations. We are dedicated to integrating equality, diversity and inclusion while providing an enhanced campus and digital facilities.
Sustainable impact will be powered by the RCSI community. By embracing our values and committing to continuous improvement we lay the foundation upon which sustainable impact is realised.
Investing in our people

Learn more about RCSI
Sign-up to our newsletters to learn more about pioneering developments in health sciences research and education.
Sign up

Sign up