2019 Institute of Leadership Awardee: Mr Martin Dunne
Class of 2015, MSc Leadership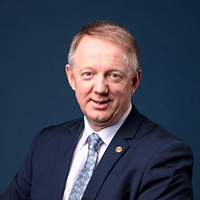 Country of residence: Ireland
Professional title: Director, National Ambulance Service at Health Service Executive
Mr Martin Dunne holds the position of Director of the National Ambulance Service (NAS) of Ireland and is Chairperson of the NAS Leadership Team. He is accountable for the strategic and operational direction of the NAS and responsible for ensuring the efficient and effective delivery of pre-hospital and intermediate care services to the population of the Irish State.
He oversees a budget of €200 million, with the National Emergency Operations Centre (NEOC) across two sites, 500 vehicles, 2,000 staff managing 1,000 calls per day in 102 locations covering a population of 4,809,419 and an area of 68,890km2.
Martin credits his 2015 MSc in Leadership for the leadership skills necessary to meet the future needs of the NAS, including the development of the strategic plan 2016-2020 and implementation of a significant reform agenda. Through recent improvements, the NAS now has the highest rate of bystander CPR in the world at 84%, and the youngest ambulance fleet in Europe. Ireland is also the only country in the world that is an Accredited Centre of Excellence from the International Academy of Emergency Medical Dispatch. The NAS has also successfully trained more than 20,000 health professionals across Pakistan with the help of local certified instructors.
With the MSc in Leadership at RCSI designed to develop leadership skills and the ability to be innovative in a healthcare environment that has limited resources, increased demands and significant budget restrictions, Martin is a deserving recipient of an Alumni Award which he accepted in the presence of his wife, Carina, and their three daughters, Ciara, Shauna and Aoife.