2019 School of Medicine Awardee: Dr Daniel Briscoe
Class of 1987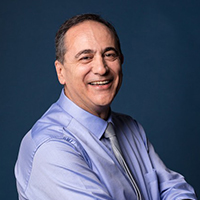 Country of residence: Israel
Professional title: Consultant Ophthalmologist, Emek Hospital
Dr Daniel Briscoe, from the well-known Dublin family, runs one of the largest oculoplastic orbital surgical services in Israel and the largest ophthalmology residency programme in Northern Israel.
In 2018, he was elected as a member of the International Orbital Society, considered the most prestigious society in the field of orbital surgery with only 30 members worldwide. Election is based on a recognised clinical and academic reputation and is by invitation only. Daniel is the first Irishman (the first Israeli also) and the first RCSI graduate to be elected to society membership in its 42 years of existence.
Daniel is Ophthalmology Department Chairman at Emek Hospital in Northern Israel, and Senior Lecturer at the Technion School of Medicine in Haifa. He was Head of the Israeli Society of Oculoplastic and Reconstructive Surgery twice, and has trained Ophthalmologists in Oculoplastic Surgery from Greece, Burma, Turkey, Mexico and China in his fellowship programme. He served on the International Council of Ophthalmology, Subspecialty Curriculum Taskforce Committee, and the Israeli Scientific Council Board for Professional Examinations. Daniel also works with holocaust survivors.
Daniel's wife Nava, who accompanied him to the Alumni Awards dinner along with other family members, is Israeli but has Irish citizenship. They have three children one of whom is studying medicine.
In 2018, Daniel started a Whatsapp group with his Class of 1987, he says: "We continue to be connected, there are conversations every day".