2019 School of Postgraduate Studies Awardee: Dr Kelly Aylward
Class of 2005, PHD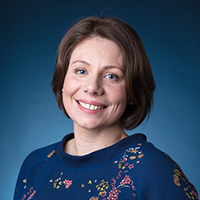 Country of residence: Belgium
Professional title: Chief Operations Officer, MINT Europe
Dr Kelly Aylward was recruited to the first Irish structured PhD programme at RCSI in 2001.
During her PhD, she established new research techniques, mentored Undergraduate students, demonstrated her capacity as a strong and effective research leader. She presented at international conferences and published her work in high-quality journals.
After gaining her PhD in 2005 she took up two short postdoctoral positions at INSERM in Paris and at Katholiek Universiteit Leuven in Belgium.
Kelly identified a niche market to support companies in acquiring grants and incentives for research and development. Together with two colleagues, she set up Mint Europe in early 2009. Mint is now the largest independent subsidy consultancy company in Belgium with a team of 25 consultants including ten PhD scientists. Mint's focus is on the provision of subsidy advice relating to innovation and strategic business development in sectors including pharmaceutical, energy, IT and manufacturing, and also in management consultancy. Mint's clients include start-ups, SMEs and multinationals. As part of EU-funded collaborative projects, Mint also supports organisations at EU level. Kelly is both the scientific/technical partner of Mint's management board and the company's Chief Operations Officer.
She says RCSI has had a huge impact on her life and career, not least because she credits RCSI with meeting her husband Dr Hans Ulrichts. They live in Belgium and have three children.