2020 Lifetime Achievement Award: Professor Mary Leader
Class of 1976, RCSI School of Medicine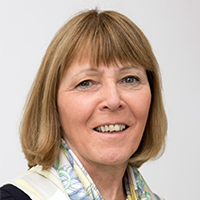 Country of residence: Ireland
Professional title: Head of Department of Pathology, RCSI
Professor Mary Leader entered the hallowed halls of RCSI in 1970, at the age of 16, following in the footsteps of her father and three siblings. She received her Membership in Medicine in 1978 and then pursued a career in histopathology, in the Royal London and in the Westminster Hospital. She completed her MD and in 1986, aged 32, she was appointed to the Chair in Pathology in her alma mater and the Richmond Hospital, later to become Beaumont Hospital.
Mary developed a highly successful clinical pathology teaching programme in RCSI for which she has received numerous teaching awards. She has over 200 research publications and has delivered numerous teaching programmes and scientific papers throughout the world.
With her colleagues, Mary established a research laboratory in RCSI – one of the first in Ireland to develop a tissue bank and a molecular pathology research and diagnostic facility. A cytology screening service was initiated, the first to be accredited in the country.
Over the last 30 years, Mary has been very involved in postgraduate pathology and surgical training, visiting sub Saharan Africa biannually to deliver pathology training in the RCSI COSECSA programme.
Mary has served on numerous national and international committees. She recently served as President of the British Division of the International Academy of Pathology. She was Vice President of the IHCA and President of the Irish Society of Surgical Pathology. She was a founder member of Beaumont Foundation, a fundraising charity for Beaumont Hospital.
Mary continues to live and work in Dublin. She is married to Dr Frank Keeling, a radiologist, having met as RCSI students. They have two children, Elizabeth (RCSI class of 2015), a dermatology trainee, and Francis, a postgraduate dentistry resident in the US.
Mary says she has loved RCSI since the day she entered as a shy medical student from Cork. She credits its supportive and visionary environment for allowing her thrive and develop her career in pathology. She continues to have a very special relationship and wonderful admiration for our medical students and alumni throughout the world.