2020 Research and Innovation Award: Professor Sanjay Haresh Chotirmall
Class of 2012, School of Postgraduate Studies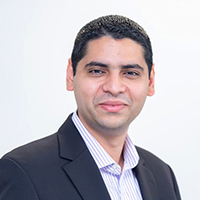 Country of residence: Singapore
Professional title: Assistant Professor and Provost's Chair in Molecular Medicine, Principal Investigator, Translational Respiratory Research Laboratory, Nanyang Technological University
Professor Sanjay Haresh Chotirmall graduated from RCSI with an honours degree and the gold medal in Microbiology. He completed his early clinical training at Beaumont Hospital Dublin, while attaining memberships of the Royal College of Physicians of Ireland (MRCPI) and the United Kingdom (MRCP UK). Following this, he completed higher specialist training in Respiratory and Critical Care Medicine across multiple hospital sites in the Republic of Ireland.
In 2007, Professor Chotirmall was awarded a prestigious Molecular Medicine Ireland Clinician Scientist Fellowship (MMI-CSF). During this fellowship, he completed a PhD investigating the role of estrogen in cystic fibrosis. This work led to high impact publications in the American Journal of Respiratory and Critical Care Medicine (AJRCCM), as well as the New England Journal of Medicine (NEJM).
Professor Chotirmall has been awarded the Royal Academy of Medicine of Ireland (RAMI) Doctor award on two occasions (2010 & 2013), the Irish Thoracic Society Award (2011), the Dublin Center for Clinical Research (DCCR) Young Investigator Award (2011), the MMI-CSFP Medal (2011), the Royal College of Physicians William Stokes Award for research (2010) and the American Thoracic Societies International Award (2009). Additionally, his work has been recognised by the Faculty of 1000 Biology and Medicine, an online research service that highlights critical papers published in the biological sciences, as recommended by distinguished faculty.
In 2015, as an internationally recognised clinician-scientist, Professor Chotirmall established the Translational Respiratory Research Group at the Lee Kong Chian School of Medicine at Nanyang Technological University (NTU), Singapore. His group has since performed and published key high impact work focused on infection, inflammation and immunity, in the context of chronic inflammatory respiratory diseases affecting Asian populations, in particular bronchiectasis, a permanent and irreversible dilatation of the airway, a lung disease of high prevalence across Asia.
In 2018, he established and now leads The Academic Respiratory Initiative for Pulmonary Health (TARIPH), a Singapore-wide research initiative to align strategic academic expertise across Singapore in a formal way to benefit Singaporeans suffering with lung disease through research. This has developed strong national, regional and international partnerships including the formation of the Singapore Initiative Respiratory Consortium (SIRC), an academic respiratory partnership between NTU, National University of Singapore (NUS), Imperial College London, Karolinska Institutet (KI), the University of British Columbia (UBC) and the University of Newcastle, NSW. In the same year, he was conferred as Fellow of the Royal College of Physicians in Ireland (FRCPI) and a Fellow of the American College of Chest Physicians (FCCP) and, in 2019, appointed Provost's Chair in Molecular Medicine at NTU.
Having published numerous peer-reviewed papers and several book chapters to date, he is regularly invited as chair and speaker at regional, national and international meetings. He remains an active member of committees at the International Society of Human and Animal Mycology (ISHAM), the European Respiratory Society (ERS) and the American Thoracic Society (ATS). Professor Chotirmall is an Associate Editor at AJRCCM and Section Editor for Infectious, Rare and Idiopathic Pulmonary Disease at BMC Pulmonary Medicine. He additionally participates in editorial roles at the European Respiratory Journal, the American Journal of Physiology-Lung Cellular and Molecular Physiology, Respiratory Research, Respirology and PLos One. Professor Chotirmall regularly participates as an investigator for key multi-centre clinical trials in the field of respiratory medicine, while continuing to educate undergraduates and postgraduates through formal teaching and supervision at the bench and bedside.
The rest of his time is most importantly spent as husband to Dr Amandeep Kaur Mann-Chotirmall, who he met at RCSI, and as father to Siya Chotirmall, who will always be the greatest gift he has ever received.