2021 Positive Global Impact Award: Dr Subashnie Devkaran
Class of 2007, Institute of Leadership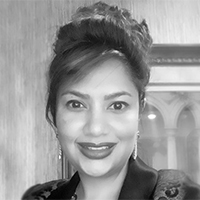 Country of residence: USA
Professional title: Director, Accreditation, Enterprise Quality and Patient Safety, Cleveland Clinic
Dr Subashnie Devkaran is an international leader in quality, accreditation and patient experience with the Cleveland Clinic Health System based in Ohio, USA. Cleveland Clinic is ranked as one of the world's top hospitals by U.S. News & World Report (2020-2021). Subashnie has served on various regulatory committees and leadership societies in the Middle East and internationally, including as President of the American College of Healthcare Executives, MENA.
A lifelong learner, Subashnie has a PhD from Edinburgh Business School (Scotland). With a Masters in Healthcare Management from RCSI, she also serves as a lecturer with the University. Subashnie acquired her clinical degree in Physical Therapy in South Africa and received recognition as Certified Professional in Healthcare Quality (CPHQ) from the Healthcare Quality Certification Board based in Washington D.C. Subashnie received the Harvard Medical School certificate in safety, quality and informatics leadership. She is a Fellow of the American College of Healthcare Executives (FACHE) and a Fellow of the International Society for Quality in Healthcare (FISQua).
One of the principle contributions that Subashnie has made to the healthcare community is the development of a robust analytical methodology to evaluate the impact of quality interventions such as accreditation. Subashnie's innovative study design can be seen as highly significant in healthcare, as it was replicated in various settings globally including Denmark, Brazil, Saudi Arabia, Hungary, Turkey, Australia, Jordan, Rwanda, United Kingdom, United States etc. Additionally, she serves as reviewer for prestigious healthcare quality journals.
In addition to her full-time role at Cleveland Clinic, Subashnie is also an International Consultant with the Joint Commission. Subashnie frequently speaks at international conferences and has published research papers on healthcare quality, patient safety and high reliability. Passionate about reducing the knowledge gap in healthcare quality and patient safety internationally, Subashnie continues to pursue research in these areas.
This award was generously sponsored by Bon Secours Health System.