Digital Certificates
Starting as of May 2021, to help our graduates receive and store their certificates issued by the University onto a secure digital platform and be able to share them with their employers or third parties with a simple click, RCSI Bahrain adopted the process of issuing graduation certificates through a tamper-free, blockchain-secured platform called Blockcerts.
Digital Certificate Tutorial: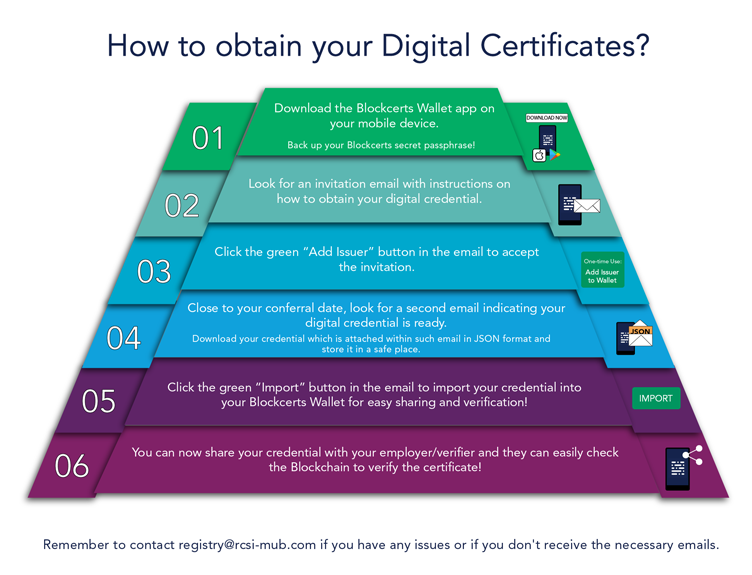 FAQs for RCSI Bahrain graduates
The Blockcerts mobile app works like a private folder, to which only you have access, and is cryptographically secured with a password. Make sure you save your unique password in a secure place. This will let you regenerate your app and prove you own your credentials if you ever delete your app or lose your phone.
Having your certificate on the blockchain means that your original record is always in your possession. You can choose to share your certificate publicly on a social media profile (Facebook, LinkedIn, etc.), or send it privately by email or text message. You can also include links to your certificate on your resume, public portfolio, or applications, to allow your potential employers to verify your qualifications easily.
Once a record is on the blockchain, it's there forever.
If your certificate was issued in error, it may be revoked, meaning that you will always have it in your possession; However, it can no longer be verified as a valid certificate by your employer.
As long as you have your password, you can import your certificate to a new app at any time and still prove that it belongs to you. The password is also what allows you to maintain ownership of your certificates across multiple devices. So, for example, you can enter the password into the Blockcerts app you download on your tablet or another phone, then import the same certificate to that app too.
If you lose your password, however, there is no way to prove ownership of your certificates. Therefore, you will need to download the app again, get a new password, and contact Blockcerts to help in re-issuing your certificates.
If you have more questions about your blockchain certificate app or the issuing process, please contact the ICT Helpdesk on helpdesk@rcsi-mub.com or call (+973)16660060.
FAQ for Employers and Third Parties
Blockcerts will allow you as an employer to instantly verify any certificates or records you receive from an RCSI Bahrain graduate through a mobile device or web browser.
The verification process guarantees that the certificate you receive wasn't tampered with by comparing hashes with what is registered on the blockchain. It also ensures that the certificate wasn't revoked through a convention that relies on spending transaction outputs.
This codebase allows the issuer and the recipient to make cryptographically strong claims: if either side possesses the certificate's issued-by or issued-to address, then they can also sign a statement with their corresponding private key. Only the owner of the corresponding private key can do this. The mobile app and issuer software will provide a capacity to prove ownership if requested.
Currently, the issuer provides a link to their credentials in the certificate and the standard validation process performs a cryptographic check that the public key at that link actually signed the certificate.
Yes, the blockchain is an immutable and distributed store of transactions, with each block building upon the last. When a certificate is issued, its data is compressed into a hash and logged on the blockchain. This generates a "receipt" that can always be checked at a later date. The verification service validates the signature of the issuer and the certificate data; it also ensures that the certificate status has not expired or been revoked.
The friendly version of the certificate displayed online may shift visually, depending on the device displaying it. For instance, it may appear one way in a mobile app and slightly differently in a web browser. While this display may be optimised for different circumstances, the data within the certificate can never be changed.
Certificates are unchangeable and cannot be updated. The issuer may revoke a certificate that has errors and issue another one.
If you have more questions about your blockchain certificate app or the issuing process, please visit Blockcerts website.