RCSI Bahrain and American Mission Hospital team up for Hypertension Awareness campaign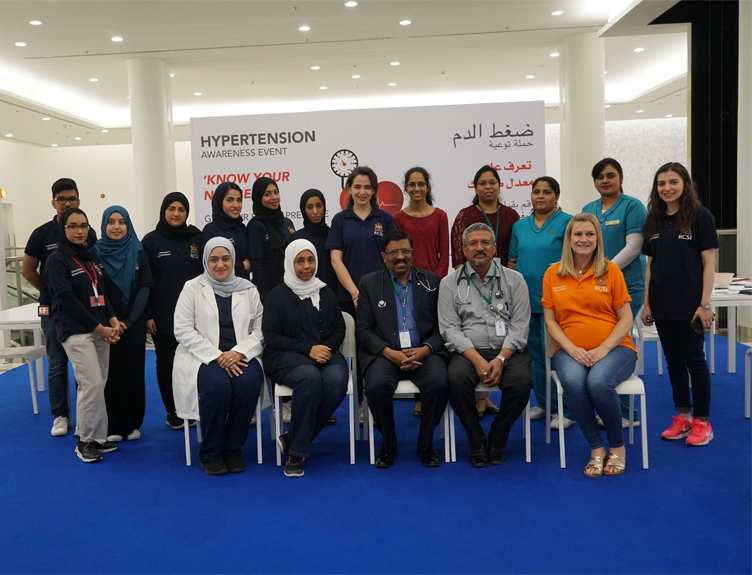 RCSI Bahrain in partnership with private healthcare provider American Mission Hospital (AMH), hosted a Hypertension Public Health Awareness event in Seef Mall, Muharraq.
Over 20 staff and students from the University participated in the event along with 10 staff members from AMH.
Organised by the University's Community Engagement department and its School of Nursing and Midwifery, the programme provided nursing and medicine students the opportunity to work as part of an inter-professional team alongside AMH nurses and doctors, including a cardiologist and a nutritionist, to help educate the public on hypertension, taking participants' history, providing them with their BMI and providing a free blood pressure and blood sugar check-up.
Coinciding with Hypertension International Awareness day on May 17th, the event aimed to educate the public on the risks and symptoms of hypertension, how and when to get blood pressure checked and the preventative methods to avoid high blood pressure. Over 320 individuals visited the event, with more than 50 being identified as having abnormal readings.
According to the World Health Organisation, more than one in five adults worldwide have high blood pressure - a condition that causes around half of all deaths from stroke and heart disease (WHO, 2015).
With Community Engagement being one of three strategic pillars of RCSI Bahrain - along with Research and Teaching and Learning - the University is committed to establishing collaborative partnerships with communities both in Bahrain and further afield.
RCSI Bahrain is a constituent university of RCSI, which was established in Dublin, Ireland in 1784. Licensed as an independent private university, RCSI Bahrain is a not-for-profit health sciences institution focused on education and research to drive positive change in all areas of human health worldwide.