British Ambassador visits RCSI Bahrain campus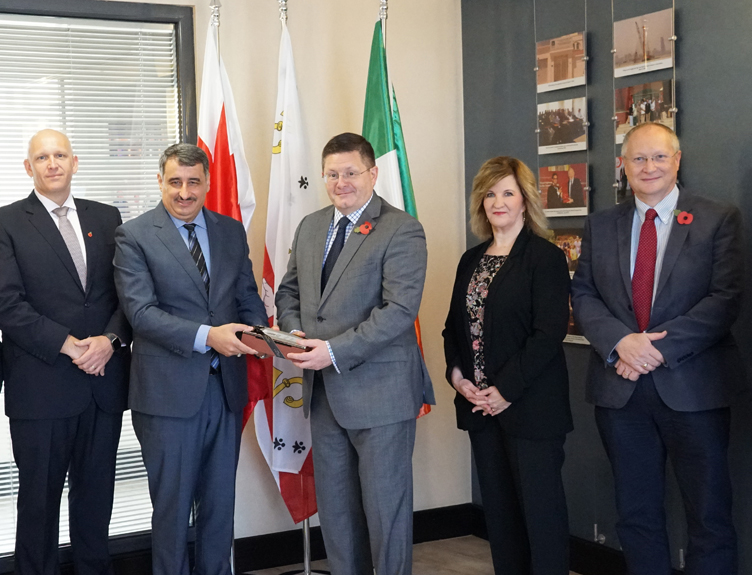 The British Ambassador to the Kingdom of Bahrain, His Excellency Roderick Drummond, visited RCSI Bahrain campus to meet with senior officials, including RCSI Bahrain President - Professor Sameer Otoom, Chief Operating Officer - Mr Stephen Harrison-Mirfield, and Professor Alf Nicholson – Vice President for Academic Affairs/Head of School of Medicine.
The Ambassador was provided a presentation which included information on local and international opportunities available to students through the RCSI Bahrain Research Summer School, including Keele University in the UK, and the new partnership with the Higher Education Academy.
At the end of the visit, HE Ambassador Drummond thanked Professor Otoom for the informative meeting and discussions, and stated that he looks forward to future possible collaborations between both parties to expand postgraduate training opportunities for RCSI Bahrain graduates in the UK.
RCSI Bahrain graduates have performed very well on the UK licensing examinations with a pass rate of 83% on the PLAB 1 examination. Due to an increased interest from students on postgraduate training opportunities in the UK, the University regularly invites alumni from the UK to speak to students on training opportunities.
More than 40 RCSI Bahrain graduates are currently training and employed in the UK.