RCSI Bahrain celebrates students and alumni achievements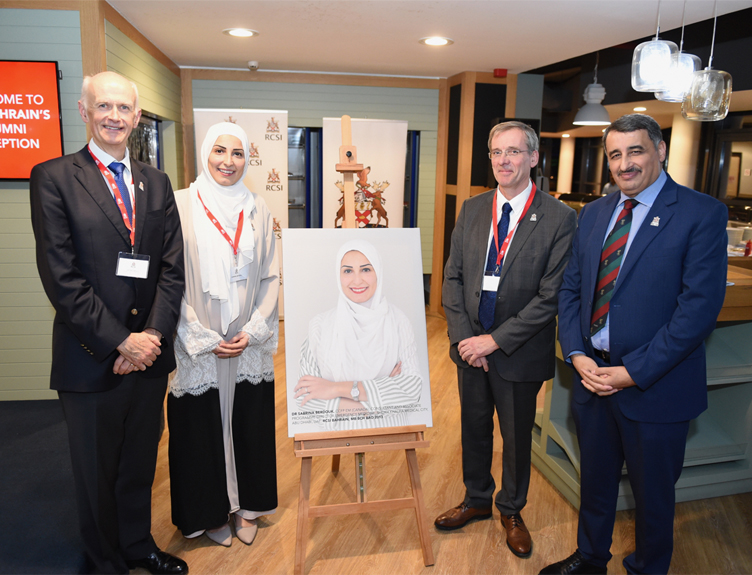 RCSI Bahrain hosted its annual Alumni Reception at the University's St. Stephen's Green restaurant in its campus.
Over 90 guests attended the Alumni Reception event, with cohorts of RCSI in Dublin, RCSI Bahrain and Institute of Leadership (IOL) alumni from the very first graduating class of 2010, right up to the most recent – and biggest ever – class of 2019, in attendance.
After a reception and the opportunity to catch up with friends and former classmates, RCSI Chief Executive/Registrar, Professor Cathal Kelly, welcomed the guests and provided former students with an overview of University updates.
The event also witnessed the presentation of the latest recipient of RCSI Bahrain's Inspiring Excellence Initiative. This entails showcasing portraits of distinguished graduates around the campus, to inspire current students and visitors to the University, all while representing the RCSI Bahrain tagline 'RCSI Bahrain developing healthcare leaders who make a difference worldwide'.
The Inspiring Excellence Initiative was launched at last year's Alumni Reception with three portraits of 2010 graduates currently displayed in the University atrium.
This year's portrait was unveiled by RCSI President, Mr Kenneth Mealy, RCSI Bahrain President, Professor Sameer Otoom, and RCSI Chief Executive, Professor Cathal Kelly, and was presented to Class of 2013 graduate – Dr Sabrina Berdouk - Consultant Emergency Medicine and Associate Programme Director of the Emergency Residency Programme at Sheikh Khalifa Medical City in Abu Dhabi UAE, who was also valedictorian of her class.
Also during the event, the National University of Ireland (NUI) Dr Henry Hutchinson Stewart Medical Scholarships and Prizes were presented to senior students Manar Husain and Nalin Mathur and 2019 graduate, Yousef Abousedu, for third prize in Microbiology, second prize in General Practice and third prize in Surgery respectively.
These prestigious awards are based on examination results in the respective faculties and schools of the constituent universities of NUI which include RCSI campuses in Dublin, Bahrain and Malaysia.
Since its foundation, the NUI has sought to honour the brightest minds and talents across its diverse community. Dr Henry Hutchinson Stewart was himself a graduate of RCSI and obtained his licence in 1829.