RCSI Bahrain's Diabetes Mobile Unit kicks off new academic year school visits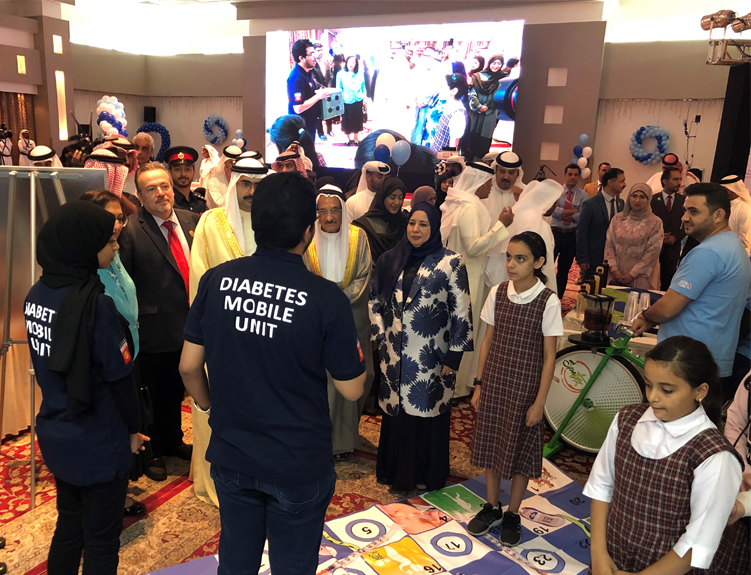 RCSI Bahrain kicked off its Diabetes Mobile Unit programme for the new academic year, with a trip to Safiyya bint Abdul Muttalib Primary Girls School in Hamad Town.
The visit was the first in a series of similar trips to schools around the country and featured students from the University's senior nursing class, raising awareness of type 2 diabetes and how to prevent the disease through a number of interactive educational games and activities.
Established in 2012, and formalised by a Memorandum of Understanding (MoU) in collaboration with the Bahrain Diabetes Society and renewed in 2016, the Mobile Unit is supported by the Rotary Club of Manama and was formed as part of a health awareness initiative led by the University's Community Engagement team and the School of Nursing and Midwifery.
In that time, the initiative has reached over 4,800 children and conducted over 80 school visits to raise awareness and provide education of what is one of Bahrain's most prevalent health issues. It has been a busy period for the Diabetes Mobile Unit, with students supporting the Combat Obesity and Diabetes Project, under the patronage of the Governor of the Southern Governorate, His Highness Shaikh Khalifa bin Ali Al Khalifa.
The project, driven by the Bahrain Petroleum Company (Bapco) along with Bahrain Diabetes Society and the Southern Governorate of Bahrain, aims to combat the issue of obesity and diabetes among children. RCSI Bahrain is a constituent university of RCSI, which was established in Dublin, Ireland in 1784. Licensed as an independent private university, RCSI Bahrain is a not-for-profit health sciences institution focused on education and research to drive positive change in all areas of human health worldwide.
With Community Engagement being one of three strategic pillars of RCSI Bahrain – along with Research and Teaching and Learning – the University is committed to to establishing collaborative partnerships with communities both in Bahrain and further afield.