RCSI Bahrain Hosts a Virtual Reunion for the Class of 2010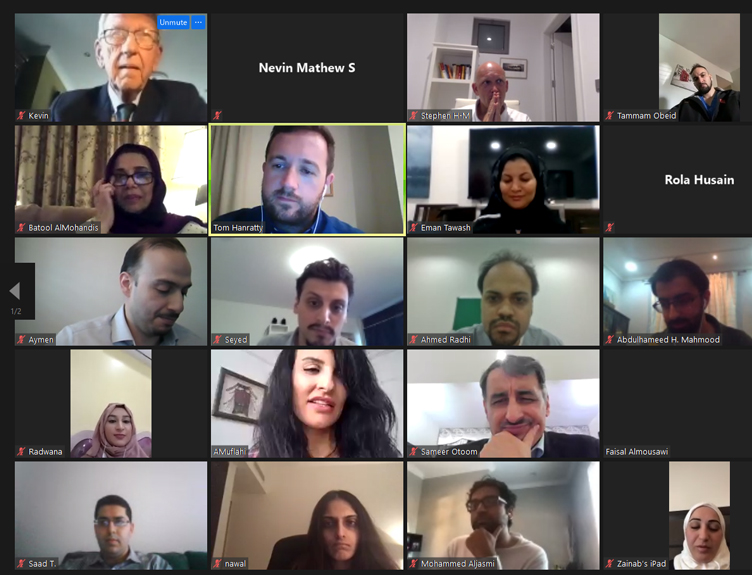 RCSI Bahrain hosted last month a Virtual Reunion for the Class of 2010 to celebrate the Tenth Anniversary of RCSI Bahrain's inaugural Conferring Ceremony.
The Virtual Reunion was hosted by President of RCSI Bahrain Professor Sameer Otoom, Chief Operating Officer Mr Stephen Harrison-Mirfield, faculty representatives and was organised by the Careers & Alumni Office. The virtual celebration was attended by 25 graduates from the Class of 2010, who had joined from all around the world, alongside former RCSI Bahrain Presidents, Professor Kevin O'Malley and Dr Faisal Al Mousawi and the former Head of the School of Nursing and Midwifery, Ms Batool AlMohandis.
Professor Otoom stated during his address to the alumni: "This Virtual Reunion is very important as it gives us the opportunity to connect with many of our graduates after a long time and update them with developments that have taken place at RCSI Bahrain over the years. It also gives the graduates the chance to reunite with their colleagues, former lecturers and other staff members. A decade ago, our university was paving its way, but today, our organisation and reach have grown and our alumni are widely spread throughout the globe in search for opportunities for growth, seeking knowledge and making an impact as healthcare leaders in their societies. I would like to thank all of you for your keen participation as well as the support you have always extended towards your alma mater."
Dr Kelechi Ofurum, one of the graduates from the Class of 2010 who attended the Virtual Reunion, commented: "It was a nice opportunity to meet colleagues again and know how each of us is getting on. It also helped to re-connect with those who we may have lost contact with. I was pleased to see that my classmates are doing very well in their chosen specialities and I was also happy to note the giant strides made in developing RCSI Bahrain. I look forward to visiting Bahrain and the University again."
Ms Eman AlJahmi, a Class of 2010 graduate from the School of Nursing and Midwifery, shared her thoughts on the event: "It was nice to see familiar faces after ten years since graduation and relive the memories of the good old days once again. This made me very proud to be an alumna of RCSI Bahrain and I hope to stay in touch with my classmates more after this."
The Virtual Reunion featured a highlights video of the 2010 Conferring, reflections by Professor Kevin O'Malley, Dr Faisal Al Mousawi and Ms Batool Al Mohandis, a 2010 flashback quiz and a brief presentation on updates at RCSI Bahrain delivered by Mr Stephen Harrison-Mirfield.