RCSI Bahrain Celebrates this Year's Winners of the Inspiring Excellence Award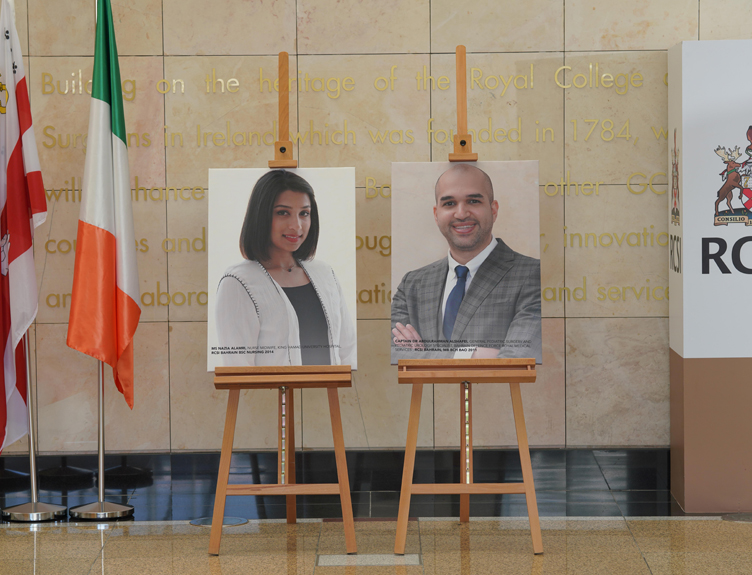 RCSI Bahrain announced the recipients of this year's Inspiring Excellence Award, which was launched in 2018 with the purpose of acknowledging and celebrating the achievements of its graduates and inspiring current students.
The recipients for this year's edition of the award are Captain Dr Abdulrahman Ebrahim Alshafei, School of Medicine class of 2011 graduate, who is currently a Paediatric Surgeon and Paediatric Urology specialist at the Bahrain Defence Force Hospital (BDF), and Ms Nazia AlAmri, School of Nursing and Midwifery class of 2014 graduate, who is a Team Leader and Registered Nurse-Midwife in the Labour and Delivery Department at the King Hamad University Hospital (KHUH).
The President of RCSI Bahrain, Professor Sameer Otoom commented: "I am delighted that Cpt. Dr Alshafei and Ms AlAmri, both Bahraini nationals, are the recipients of this year's Inspiring Excellence Award. Cpt. Dr Alshafei obtained his Master of Surgery (MCh) from RCSI in Dublin and has contributed to numerous research publications, and Ms AlAmri obtained her Fellowship of the Faculty of Nursing and Midwifery from RCSI and has been recently appointed as Deputy of the Nursing Research Team at the Maternal and Child Division in KHUH. Both recipients have exhibited excellence through their outstanding achievements in their careers and I look forward to seeing more of their success in their future endeavours."
Vice President for Academic Affairs and Head of School of Medicine of RCSI Bahrain - Professor Alfred Nicholson, RCSI Bahrain's Chief Operating Officer - Mr Stephen Harrison-Mirfield, Head of Quality Enhancement and Interim Head of School of Nursing and Midwifery - Dr Kathryn Strachan, and Alumni Relations Specialist - Tom Hanratty congratulated the two award recipients in a small ceremony held at the University campus where their portraits were unveiled.
Cpt. Dr Alshafei commented on receiving the award: "It's an amazing feeling to have been selected to receive this award and to be alongside many distinguished RCSI Bahrain alumni and I hope to continue making everyone at the University proud." Ms AlAmri commented: "I am absolutely honoured to receive such a prestigious award, because it means that I am being added to the legacy of RCSI Bahrain and that our future students who join our campus can carry it on."
RCSI Bahrain showcases the achievements of the selected winners in the form of a gallery of portraits along the walls of the atrium as a visual representation of the University's commitment to nurturing outstanding healthcare professionals and advancing human health worldwide.