RCSI Bahrain Students Among Top Winners in the First National Research Competition for Undergraduate Students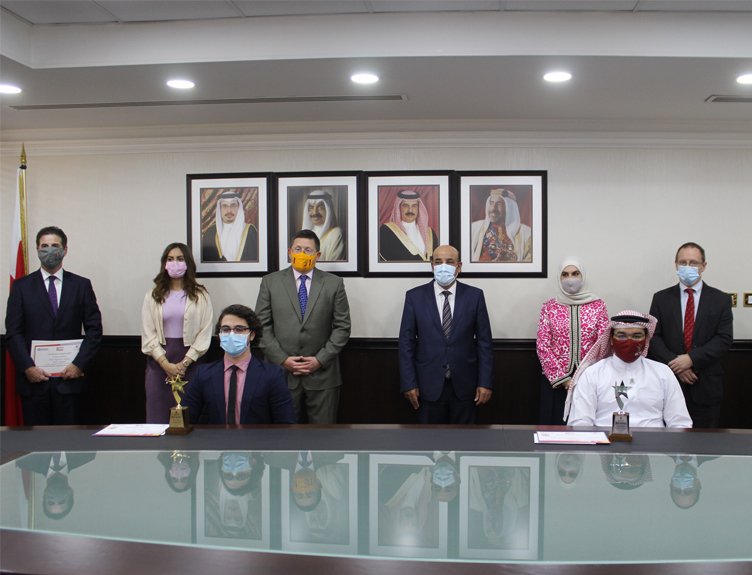 Two students from the Royal College of Surgeons in Ireland – Medical University of Bahrain (RCSI Bahrain) were among the top winners of the First National Research Competition for Undergraduate Students. Under the patronage of the Minister of Education and Chairman of the Higher Education Council (HEC), His Excellency Dr Majid bin Ali Al Nuaimi, the Ministry of Education hosted a virtual ceremony, in cooperation with the British Council and UK Science and Innovation Network (SIN), to announce and celebrate the winners of the competition.
The virtual celebration was attended by the (HEC) Secretary General, Dr Abdulghani Al Showaikh, who honoured RCSI Bahrain School of Medicine student, Saad Mallah, who won the first place in the presentation category for his research titled 'A Search for Optimisation: Dark-Field Microscopy for the Viewing of Cellular Structures' and School of Nursing and Midwifery student, Abdulrahman Sulaibeekh, who won second place in the poster category of the competition, for his research titled 'Assessing health literacy in primary care patients'.
The Head of School of Postgraduate Studies & Research of RCSI Bahrain, Professor Stephen Atkin also attended the virtual ceremony and said in his address to the attendees, "It is an honour to be able to thank His Excellency, Dr Majid bin Ali Al Nuaimi, His Excellency Secretary General Dr Abdulghani Al Showaikh, Director of Scientific Research, Dr Farzana Al Maraghi and the British Ambassador to the Kingdom of Bahrain, His Excellency Roderick Drummond, and their staff for undertaking this National competition for the University students of Bahrain. I am delighted to be able to congratulate all the winners of the competition and in particular, RCSI Bahrain's students: Saad Mallah and Abdulrahman Sulaibeekh. All the students are a credit to their Universities and to the standing of the Kingdom of Bahrain in the international educational area."
Professor Atkin also congratulated the Kingdom of Bahrain and His Excellency the Minister of Education on the unprecedented and outstanding educational achievements announced in the results of the Trends in International Mathematics and Science Study 2019 (TIMSS 2019) exams, which reflect the high quality of education and the great efforts made by the Ministry.