RCSI Bahrain Faculty Members Awarded International Fellowships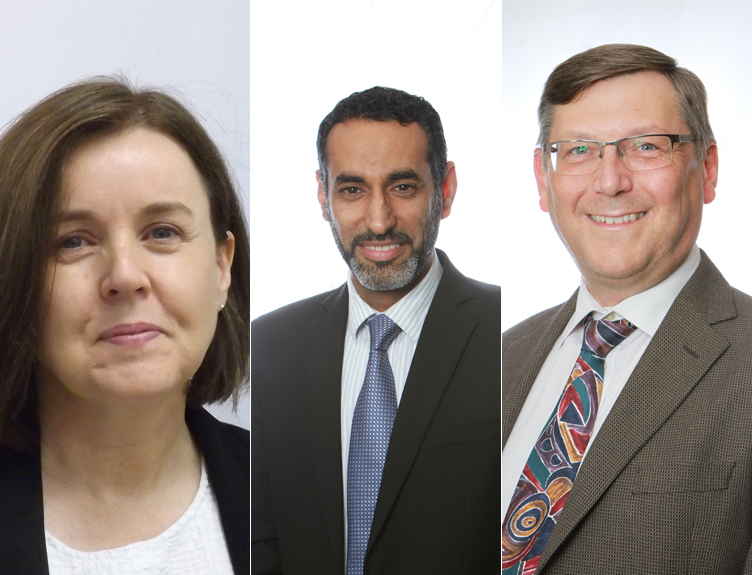 Three faculty members from the Royal College of Surgeons in Ireland – Medical University of Bahrain (RCSI Bahrain) have recently received appointments as Fellows from esteemed institutions, in acknowledgement of their significant contributions in the fields of Pharmacology and Nursing and Midwifery.
RCSI Bahrain's Associate Professor of Pharmacology in the School of Medicine, Professor Steve Safrany was awarded a Fellowship by the British Pharmacological Society, a leading scientific professional body in the field of pharmacology, giving him the post-nominal of FBPhS- Fellow of the British Pharmacological Society in recognition of his contribution to the field of pharmacology and his work with the Society over the past 26 years. Professor Safrany joined RCSI Bahrain in November 2015 to teach within both the School of Medicine and School of Nursing and Midwifery undergraduate programmes and is currently a member of the Clinical Research Ethics sub-committee for private health institutions as part of the National Health Regulatory Authority (NHRA). Professor Safrany has conducted research in different subjects including inositol phosphates and sigma receptors and has facilitated student participation in numerous undergraduate research projects under the Research Summer School (RSS).
From the School of Nursing and Midwifery, Dr Ann Donohoe, and Dr Hussain Nasaif, bothSenior Lecturers in Nursing, received the award of Fellowship by Examination of the Faculty of Nursing and Midwifery (FFNMRCSI) from the RCSI Dean of the Faculty of Nursing and Midwifery, Dr Michael Shannon and the Surgery and Post Graduate Faculties Board at the Royal College of Surgeons in Ireland (RCSI). The Fellowship by Examination is a distinguished award that is granted to expert registered nurses and midwives who have made developments and contributions in several areas such as Professional and Clinical Leadership, through their own clinical, research and leadership experiences.
Dr Donohoe joined RCSI Bahrain in 2017 and has over 20 years of experience in higher education through which she worked on the development, coordination and delivery of a wide range of programmes at undergraduate and graduate levels. She has a broad spectrum of clinical experience and has conducted research on the use of blended and e-learning strategies that are specifically designed to help students engage in reflective practice.
Dr Nasaif joined RCSI Bahrain in 2009 and is considered to be the first male nurse in the Kingdom of Bahrain to obtain a doctoral qualification in nursing. Dr Nasaif's areas of research include testing and evaluation in nursing education, men's health, the development of Advanced Practice Nursing (APN), awareness of Colorectal and Prostate Cancer and instrument psychometric testing. Dr Nasaif currently supervises master's and PhD students and is a reviewer and member of the editorial boards of several peer-reviewed international nursing journals.
President of RCSI Bahrain, Professor Sameer Otoom commented, "My sincere congratulations to Professor Safrany, Dr Donohoe and Dr Nasaif for being appointed as Fellows in their respective fields. These awards are a testimony to the importance of their contributions and their academic expertise, which reflect on the quality of knowledge and support that they provide as experienced faculty members to our students at RCSI Bahrain. We at the University look forward to their future research projects and valuable contribution to enhancing human health in Bahrain and beyond."
RCSI Bahrain is committed to advancing healthcare through innovative research, endeavour and collaboration in education and is equipped with experienced and passionate faculty members to ensure that the quality of teaching provided to the students is on par with the international reputation it has acquired.