RCSI Bahrain Celebrates the Transition of 302 Students to Clinical Training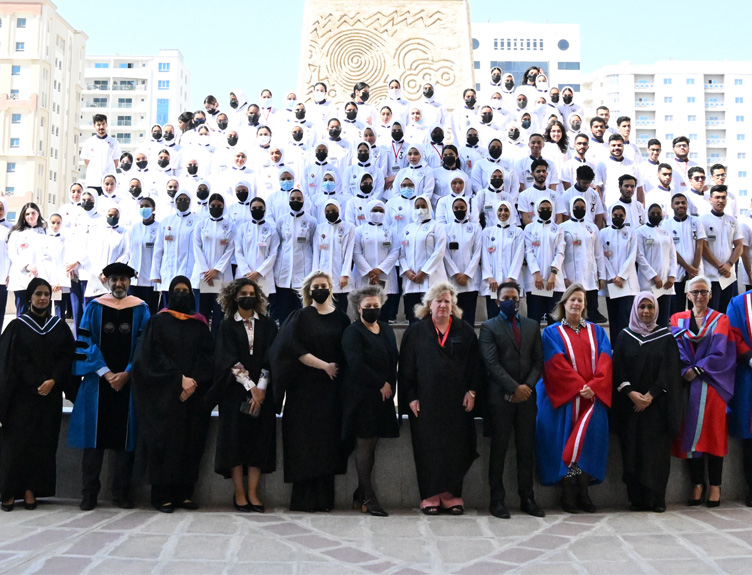 During the month of March, RCSI Bahrain celebrated the progression of its Medical and Nursing students into their clinical training years, during the Annual White Coat and White Uniform Ceremonies, held at its campus in Busaiteen.
The ceremonies witnessed the transition of 181 medical students and 121 nursing students into the clinical training phase of their academic journeys, with faculty and alumni in attendance. With early clinical engagement at our partner hospitals, students have the opportunity to learn from jointly-appointed RCSI Bahrain and hospital doctors from all over the world, which provides them with the development and competence needed to transform into work-ready graduates.
President of RCSI Bahrain, Professor Sameer Otoom, commented, "Congratulations to our students from the School of Medicine and School of Nursing and Midwifery who have taken a significant step forward in their journeys to becoming future healthcare leaders. As a health sciences University, the principle of patient care is embedded into our teaching and curriculum, creating medical graduates who will make a difference in healthcare."
The events featured addresses by RCSI Bahrain's Vice President for Academic Affairs and Head of School of Medicine, Professor Alfred Nicholson, who addressed medical students during the White Coat Ceremony, and Head of School of Nursing and Midwifery, Professor Rebecca Jester, who addressed the nursing students during the White Uniform ceremony, where they highlighted the significance of wearing the white coat and white uniform and the responsibilities associated with them. Students in both ceremonies were also addressed by their senior colleagues, who shared their advice, experiences and memorable moments when they embarked on their clinical training.
The Annual White Coat and White Uniform Ceremonies are symbolic events based around the presentation of the students' white coats and white uniforms and conclude with the students' recital of the professional declaration, through which they vow to maintain professional attitudes and behaviours in work and relationships with classmates, teachers, patients and the community.