Professor Alqahtani appointed as RCSI Bahrain's Founding Head of the Microbiology Department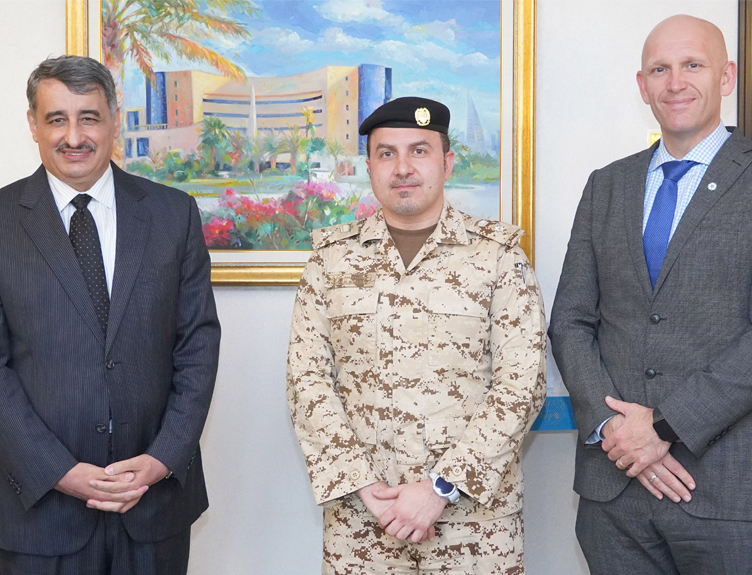 RCSI Bahrain announced that Professor Manaf Alqahtani, Clinical Professor in Microbiology, has been appointed as the founding Head of the Microbiology Department under the School of Medicine, in recognition of his various contributions, including research impact at national and global level, for the past two years.
President of RCSI Bahrain, Professor Sameer Otoom commented, "My sincere congratulations to Professor Manaf Alqahtani for his new role of Head of Microbiology. We at RCSI Bahrain value our expert faculty members such as Professor Alqahtani, who has accomplished numerous worthwhile achievements, both at the University and through his role as a member of the Bahrain National Taskforce for Combatting the Coronavirus (COVID-19). We look forward to Professor Alqahtani's contributions to RCSI Bahrain and enhancing the experience of our students, and we wish him success in his new role."
With the onset of the pandemic in 2020 and through his role as a member of the Bahrain National Taskforce for Combatting the Coronavirus (COVID-19), Professor Alqahtani has completed a total of 43 research projects related to COVID-19 in Bahrain, of which 20 were conducted in collaboration with RCSI Bahrain faculty, alumni and students, with a focus on Epidemiology and Public Health, diagnostics, vaccines and clinical and treatment projects.
In addition, with RCSI Bahrain's sponsorship and in collaboration with the Bahrain Defence Force Hospital – Royal Medical Services and the Ministry of Health, Professor Alqahtani participated in conducting two randomised Clinical Trials, the first of their kind in the history of Bahrain and the University, which have led to establishing data-driven prevention and control policies for Bahrain's response to COVID-19.
Professor Alqahtani commented, "Microbiology research is a rapidly-changing field and has been impacted by events that shaped medical students' and the public's perception of microbes, such as the emergence of globally significant diseases, threats of pandemic, increasing failure of formerly effective antibiotics and therapies to treat infectious diseases. By educating our students of today, who will become the researchers of tomorrow, on the new tools being developed, technological advancements in the field and improved communication between physicians and clinical microbiologists, will lead to a better understanding of biology and how clinical microbiologists work."
RCSI Bahrain is a not-for-profit health sciences institution focused on education and research to drive positive change in all areas of human health worldwide.
About Professor Manaf Alqahtani
Professor Alqahtani is a North America doubly-qualified Infectious Diseases and Clinical Microbiologist Physician and currently holds the position of Senior Infectious Diseases Consultant and Clinical Microbiologist at the Royal Medical Services of the Bahrain Defence Force (BDF). He obtained his Royal College of Surgeons in Ireland in Dublin (Class of 1999) with distinction Honours degrees and was awarded the licentiate of the Royal College of Physicians and Surgeons in Ireland (L.R.C.P). Professor Al Qahtani then completed his Internal Medicine Residency Programme training at the University of Toronto, Canada and successfully obtained the Diplomate American Board certification in Internal Medicine (DABIM) as well as the Canadian Board Certifications in Internal Medicine.
Professor Alqahtani was also awarded the Fellowship of the Royal College of Physicians and Surgeons of Canada (FRCPC), after which he pursued his training in Infectious Diseases followed by training in Medical Microbiology and Infection Control at University of Toronto, Canada. In 2009, Professor Alqahtani received his American Board Certification in Infectious diseases (ABIM-ID) and later also obtained his Master's degree in Medical Management in 2010 (MMM) from Tulane University, School of Public Health & Tropical Medicine.
Adding to his list of achievements, in 2017, Professor Alqahtani was awarded The First-Class Medal of Competence and in 2021 he was honoured by His Majesty King Hamad bin Isa Al Khalifa with the 'Prince Salman bin Hamad Medal for Medical Merit' for his achievements in healthcare for the Kingdom of Bahrain. He is also affiliated to several professional international organisations such as American Board of Internal Medicine and Canadian Medical Protective Association and on a national level, he is a member in Bahrain Medical Society and Bahrain National Tuberculosis Society. Professor Alqahtani is also currently an Editor in the Journal of Antimicrobial Chemotherapy (AMR-UK).