RCSI Bahrain unveils the portrait of the latest winner of its Inspiring Excellence Award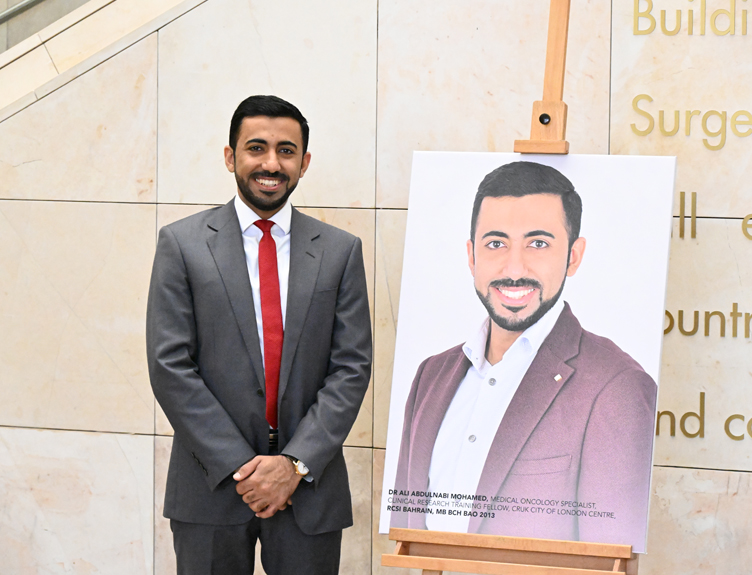 RCSI Bahrain held a portrait unveiling ceremony at its campus in Busaiteen, to announce the recipient of the 2021 Inspiring Excellence Award.
Vice President for Academic Affairs and Head of School of Medicine, Professor Alfred Nicholson; Chief Operating Officer, Mr Stephen Harrison-Mirfield; Head of Recognition, Careers & Alumni, Mr Fadi Ghosn; Careers & Alumni Manager, Ms Anusha Sundaram and Alumni Relations Specialist, Ms Loreen Bahour congratulated Dr Ali Abdulnabi in a ceremony to unveil his portrait, placed alongside the portraits of previous winners of the award.
President of RCSI Bahrain, Professor Sameer Otoom, commented: "Congratulations to Dr Ali Abdulnabi for being the recipient of the 2021 Inspiring Excellence Award. Dr Abdulnabi has produced and contributed to numerous research publications both during and since his time with us at RCSI Bahrain. He has also given back to the RCSI Bahrain community by taking part in a series of 'Alumni Talk' events to share his insights and experiences with students. Dr Abdulnabi has exhibited excellence through his outstanding achievements thus far and we all look forward to seeing more of his success in his future career."
Dr Ali Abdulnabi, a School of Medicine Class of 2013 graduate, was selected from a shortlist of outstanding candidates, by a panel comprising of Mr Stephen Harrison-Mirfield, Professor Nicholson; Head of School of Nursing and Midwifery, Professor Rebecca Jester; Head of School of Postgraduate Studies and Research, Professor Stephen Atkin and Communications Manager, Ms Celine Durand. The panel highlighted Dr Abdulnabi's career progression in medical oncology, his extensive work in research and his efforts in giving back to the University, as key factors in his selection.
After graduating in 2013, Dr Abdulnabi took part in the UK Foundation programme in Malta, followed by Core Medical Training at Northampton General Hospital. He completed his specialty training in medical oncology at the University of Leicester, UK, where he also worked as an Honorary Research Fellow, before moving to London to divide his time between a Clinical Research Training Fellowship with Cancer Research UK (CRUK) and the role of Honorary Specialist Registrar, at Guy's and St Thomas' Hospital, UK.
During his time in the UK, Dr Abdulnabi also obtained a Postgraduate Certificate (PGCert) in Internal Medicine through the University of Edinburgh, the Diploma from the Royal Colleges of Physicians of the United Kingdom (MRCP - UK) and Master of Research (MRes) in Clinical Sciences from the University of Leicester.
Dr Abdulnabi commented on receiving the award: "I feel tremendously honoured to receive such a prestigious Award from RCSI Bahrain. This Award reflects the excellent clinical education and research at the University, which continues to inspire students and fellow alumni in Bahrain and around the world. I would also like to thank the Alumni Office at RCSI Bahrain for their enormous efforts in connecting with and supporting the University alumni all over the world."
Launched in 2018, the Inspiring Excellence Award aims to inspire students and visitors to the University by showcasing the outstanding achievements of the winners in the form of a gallery of portraits along the walls of the atrium as a visual representation of the University's commitment to nurturing outstanding healthcare professionals and advancing human health worldwide.