RCSI Bahrain Hosts its 13th Conferring Ceremony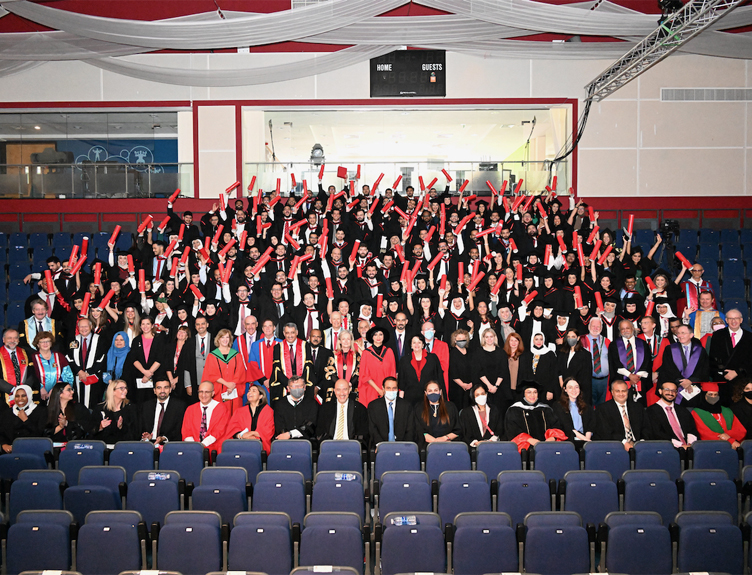 Under the patronage of His Royal Highness Prince Salman bin Hamad Al Khalifa, the Crown Prince and Prime Minister, His Excellency Lieutenant General Dr Shaikh Mohammed bin Abdulla Al Khalifa, Chairman of the Supreme Council of Health, attended the 13th conferring ceremony of RCSI Bahrain at its campus in Busaiteen, which witnessed the graduation of 157 medical graduates and 61 graduates from the undergraduate and postgraduate nursing programmes.
Addressing the assembled attendees, newly elected RCSI President, Professor Laura Viani, expressed her gratitude and appreciation to HRH the Crown Prince and Prime Minister for his patronage of the conferring ceremony. Professor Viani congratulated the graduates on their achievements and dedication throughout the years and praised the ongoing relationship and strong ties between RCSI and the Kingdom of Bahrain.
RCSI Bahrain President, Professor Sameer Otoom also took the opportunity to congratulate the graduates and extended his gratitude to the friends and family members who had supported them in their achievements, wishing them continued success.
It was a particularly special day for multiple award-winning graduate and class valedictorian, Dr Taibah Aladraj, who won the Degree Award Gold Medal, the Highest Aggregate Marks Gold Medal, Medicine Overall Gold Medal, the Senior Cycle Silver Medal, the Professor Niall O' Higgins Prize in Surgery, the Professor John Murphy Prize in Obstetrics & Gynaecology, the Professor Charlotte Kamel Prize in Psychiatry, the Professor Joe McMenamin Prize in Paediatrics and the Professor David Whitford Prize in General Practice. The Professor James Finucane Prize in Medicine was awarded to Dr Ali Shaat and the Senior Cycle Bronze Medal was awarded to Dr Fathi Moustafa.
In the School of Nursing and Midwifery honours, the BSc Nursing Gold Medal was awarded to the valedictorian, Ms Noor Al Ain Bukhari and the Rufaida Alaslamia Prize in Nursing was awarded to Ms Abeer Alnoaimi.
RCSI Vice Chancellor, Professor Cathal Kelly, and a number of senior officials also attended the ceremony.
Since hosting its first Conferring Ceremony in 2010, RCSI Bahrain has produced more than 2,600 graduates in medicine, nursing and postgraduate studies who are now working in 30 countries across the world.