One-on-one with Dr Taibah Aladraj: RCSI Bahrain Class of 2022 Valedictorian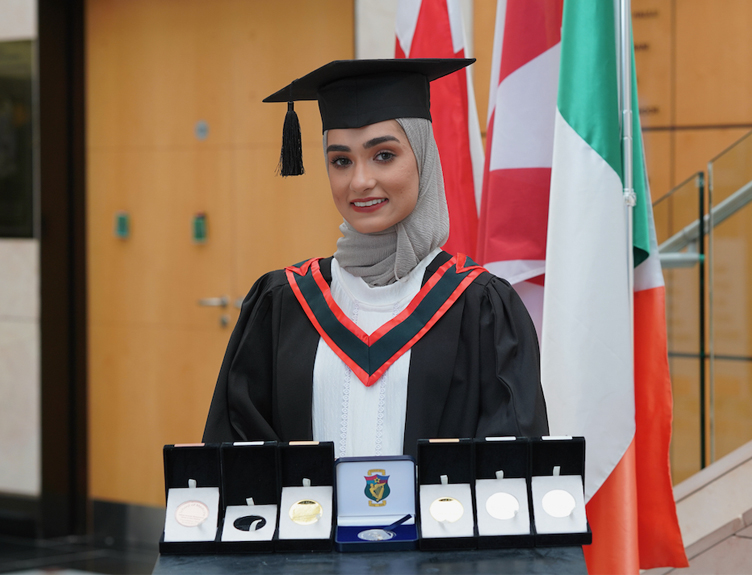 RCSI Bahrain recently witnessed the graduation of its medical and nursing cohorts, with class valedictorian, Dr Taibah Aladraj reaping nine awards for her success throughout her academic journey. In this one-on-one, Dr Taibah shares her experience during her time at RCSI Bahrain.
How would you describe your overall experience at RCSI Bahrain?

RCSI Bahrain helped me grow personally and professionally into a well-rounded physician and I believe feel that I am well equipped for life after graduation. We were provided with high quality education in a holistic approach and there was a strong emphasis on ethics and communication skills, which are essential in clinical practice. Research skills were also an integral part of the curriculum, and I personally managed to participate in many research projects and publications as a student. What really encouraged me to study medicine is the idea that I can help other people feel better by applying what I have learnt. The RCSI Bahrain community is diverse, and I am grateful that I had the opportunity to meet friends and colleagues from different cultural backgrounds.

During your clinical placements, did you have a specific learning experience that made an impact on your educational journey?

One of the great opportunities at RCSI Bahrain is being able to work closely with leading professors and doctors. A key memory in my clinical placement years was during my obstetrics/gynecology rotation with Dr Basma Darwish, Consultant in Obstetrics and Gynaecology at Bahrain Defence Force Hospital and RCSI Bahrain Part-time Clinical Medical Lecturer. Initially, I was timid, but Dr Basma was a great mentor and encouraged me to step out my comfort zone with confidence. I remember the first time I scrubbed in with her in the operation theatre and assisted in a hysteroscopy.

What impact did the COVID-19 pandemic have on your educational journey?

Over the past two years, my colleagues and I have spent our clinical years in the shadow of a global pandemic. However, RCSI Bahrain ensured that we meet our learning needs through online sessions, focused group teaching on campus and simulated clinical environment, where we can safely practice vitals skills. Despite these challenging times, we showed resilience and determination to finish our programme on time.

Have you participated in any student activities or clubs and societies? If so, how do you think they shaped your RCSI Bahrain experience?

During my time at RCSI Bahrain, I was part of the community engagement team as well as the pediatric society. Student activities are great; they give you the opportunity to expand your network and meet new people with different perspectives and ambitions.

What are your future goals? Do you have a specialisation in mind that you would like to pursue?

In August, I will be starting my internship year at Salmaniya Medical Complex, and I am interested in pursuing a specialisation in Paediatrics. I am also very passionate about medical education, and I am planning to pursue becoming a tutor at a medical school.

What is a piece of advice you can give to students who want join RCSI Bahrain to study medicine?

Although your medical school journey might be difficult at times, it is very rewarding. Medicine is not just a six or seven-year course, it is a continuous process, and you become a lifelong learner. Therefore, try to enjoy the journey and find the life-work balance. RCSI Bahrain will provide you with wide range of opportunities in research, volunteering and many more, therefor try to make good use of it. Also, your doctors and fellow senior students are always there to support you, therefore, always ask for help when you need it.