Students Participate in Keele RCSI Bahrain Nursing Student Exchange Programme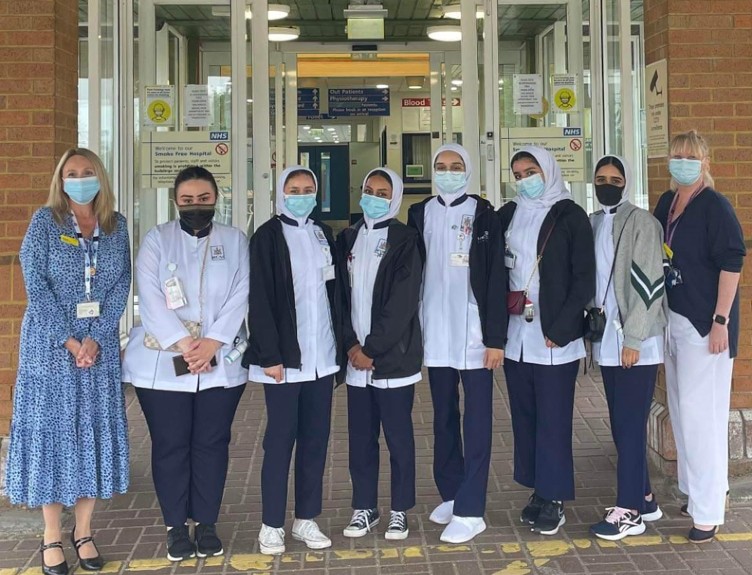 As part of RCSI Bahrain's first nursing exchange programme, a group of six Nursing Year Three students participated in a three-week exchange placement at Keele University in the United Kingdom, organised by Professor Rebecca Jester, Head of School of Nursing and Midwifery.
Professor Jester commented, "The aim of the exchange programme with Keele University is to provide RCSI Bahrain nursing students with the opportunity to gain insights into nursing education and the healthcare system in the UK, enrich their education experience by immersing them in a diverse healthcare environment and support them in building international professional relations through interaction with Keele nursing students and staff. This exchange placement opportunity prepares our students to become well-rounded and competitive nurses who are ready to work in an international context."
During the three-week programme, RCSI Bahrain students were introduced to various postgraduate nursing specialists and advanced practice roles such as Admiral Nurses who specialise in supporting people with dementia. In addition, they experienced different teaching methods and modes of curriculum delivery at Keele University, including simulated community practice facilities.
Ms Hanan Faraj, one of the students who joined the programme, commented, "The sessions we attended were very similar to what we have at RCSI Bahrain; nonetheless, it was interesting to explore the way Keele delivers the information and the teaching approaches they use to prepare students to make a change and improve their country's healthcare system. It was also interesting to learn how the healthcare system in the UK runs and how nursing education in the UK requires students to choose a specialisation in advance, for example., to select child, adult, mental health or learning disability field of the undergraduate programme."
The students also had the opportunity to visit different hospitals and healthcare facilities, attend workshops, attend community nursing home visits and witness how much more care and treatment is delivered by community nurses in patients' own homes in the UK. In addition, students met with nursing practitioners and participated in virtual reality simulations sessions with their counterparts at Keele University.
Nursing student Ms Sana Sameer commented on the differences and similarities between patient care in Bahrain and the UK, "We were given the chance to visit the North Staffordshire Combined Healthcare NHS trust, which introduced many ideas that are new to us in Bahrain, such as having an Accident and Emergency department specifically for psychological issues, to lift some of the patient load off the main Royal Stoke Hospital. Community nursing care was also very different in the UK because unlike in Bahrain, nurses make home visits all week, including emergency calls when needed. However, the cases and care provided were quite similar to my experience in Bahrain."
As part of the exchange programme, RCSI Bahrain is looking forward to welcoming a number of nursing students from Keele University for their four-week placement, later this month.