RCSI Bahrain Student wins Two Bronze Medals in West Asian Karate Championship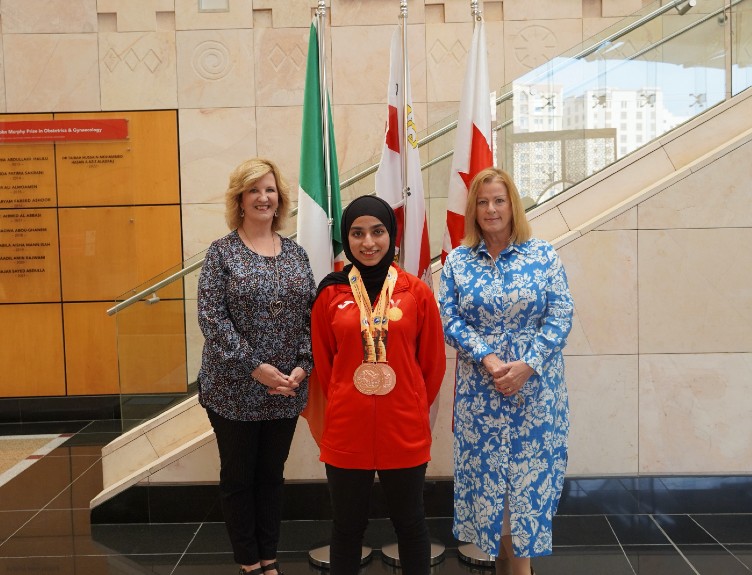 Nursing Year Two Bahraini student, Ms Fatema Falamarzi, from RCSI Bahrain has won the Bronze Medal for the Under 21 years category and Senior category at the 2022 West Asian Karate Championship (WAKC), held in late November.
Ms Fatema was congratulated by Professor Rebecca Jester, Head of School of Nursing and Midwifery and Dr Wendy Maddison, Head of Student Development and Wellbeing. Dr Wendy Maddison commented, "We extend our sincere congratulations and praise to Ms Fatema Falamarzi for her outstanding achievement of winning two bronze medals at the 2022 West Asian Karate Championship, whilst studying at RCSI Bahrain to become a nurse. It takes great determination, commitment and resilience to be an award-winning athlete, and these traits will definitely serve Ms Fatema well as a future nurse. We at RCSI Bahrain look forward to her future accomplishments and we wish her every success both academically and in her chosen sport of karate."
President of RCSI Bahrain, Professor Sameer Otoom, expressed his appreciation to His Highness Shaikh Khalid bin Hamad Al Khalifa, First Deputy Chairman of the Supreme Council for Youth and Sports, Chairman of the General Sports Authority and President of Bahrain Olympic Committee, for his patronage of the martial arts; His Highness Shaikh Salman bin Mohammed Al Khalifa, Vice President of the General Sports Authority, Chairman of the Bahrain Martial Games Council, and CEO of the Public Sports Authority, for his support of all sports federations, especially the Karate Federation, which has led to the achievement of significant results by the national team.
After starting her journey in karate in 2018, Ms Fatema was selected to join the national team and participated in the 2019 West Asian Karate Championship, where she won two bronze medals, followed by another bronze medal in the 2020 Arab Women Sports Tournament Championship.
Ms Fatema shared remarks on her experience to date: "I joined RCSI Bahrain as a nursing student in 2020 and initially, training in karate and studying at university was challenging; however, with time I learned to prioritise and manage my time between studying and training. This year's championship was competitive, but as a team we trained well, and we were up to the challenge. During my journey in karate, I learnt about teamwork, self-control and respect for others, which I discovered are great attributes for any healthcare practitioner. I would advise all students to continue pursuing their hobbies and dreams, as it will have a significant impact on their self-development and helps them learn how to overcome various challenges."