RCSI Bahrain Hosts Nursing Careers Day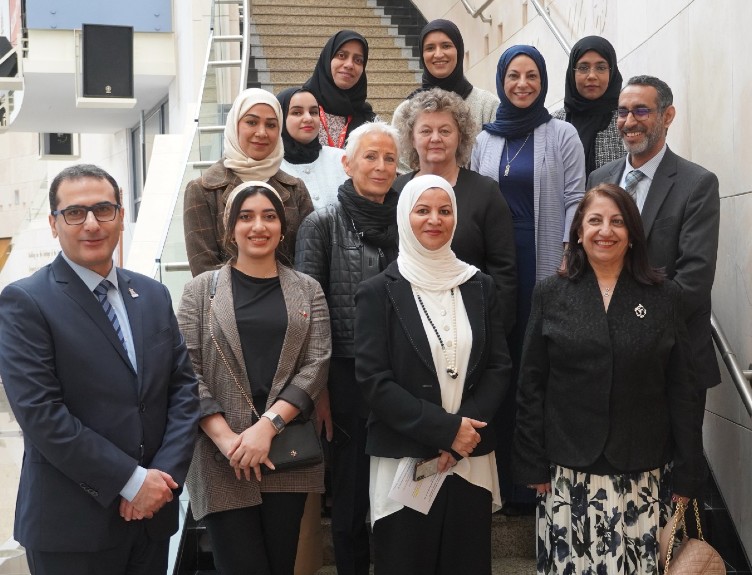 Under the Patronage of Her Excellency Dr Mariam Al-Jalahma, Chief Executive Officer, National Health Regulatory Authority (NHRA), RCSI Bahrain hosted an array of guests on the occasion of Nursing Careers Day to prepare final year nursing students for immediate employment and various career development opportunities.
The meeting was attended by Dr Zubaida Al Shaikh, Medical Consultant and Chief Health Profession Regulation, NHRA, on behalf of Her Excellency Dr Mariam Al-Jalahma. The annual event is a collaboration between the School of Nursing and Midwifery and the Careers and Alumni Office, to provide senior nursing students with information about career progression in the field of nursing and midwifery and future educational opportunities.
The day started with an opening speech by Professor Alfred Nicholson, RCSI Bahrain Vice President for Academic Affairs and Head of School of Medicine, in which he addressed over 120 senior nursing students who will soon be graduating to join the workforce. Professor Nicholson commented, "Upon graduation, RCSI Bahrain nursing students are equipped with the knowledge and skills to succeed and make a positive impact in healthcare. The Nursing Careers Day provides our students with the opportunity to gain insights from experts in the nursing field and better prepare themselves for a specialist career in nursing."
Dr Fariba Al-Darazi, Nursing and Health Workforce Development Consultant, delivered the keynote speech during which she discussed major milestones of her career and emphasised the importance of lifelong learning and professional development, work-life balance and the importance of interprofessional collaborative practice and care.
This was followed by a presentation by Dr Hussain Nasaif, RCSI Bahrain Director of Undergraduate Nursing programme and Senior Lecturer, on advice and strategies for students to develop their nursing careers. The event also featured a presentation by Mr Ahmed Faraj, Nursing Profession Registrar, NHRA, on the topic of 'NHRA Nursing Licensing Examination in Bahrain' and the process students should follow to obtain their license to practice after graduation.
To discuss the postgraduate learning opportunities, RCSI Bahrain Nursing alumna Ms Fatima Ebrahim (Class of 2015) and Dr Khadija Matrook, RCSI Bahrain Lecturer in Nursing and postgraduate alumna of RCSI in Dublin, shared their experiences on pursuing a postgraduate degree after having received respectively the Fulbright and Dilmun Scholarships. Ms Kashwer Reza, BSc in Nursing Class of 2022 alumna, also returned to RCSI Bahrain to share her experience and preparation advice on the NHRA examination.
The careers day concluded with a session by Ms Rita Feghali, Senior Customer Success Manager at LinkedIn MENA, focused on CV writing, networking and how students can utilise LinkedIn to advance their careers.
Graduates of the BSc in Nursing programme of RCSI Bahrain have access to employment opportunities in Bahrain and abroad, with a combined employment ratio of 96.4%, besides those pursuing higher education.