RCSI Bahrain Students support Paediatric Surgeries in Vietnam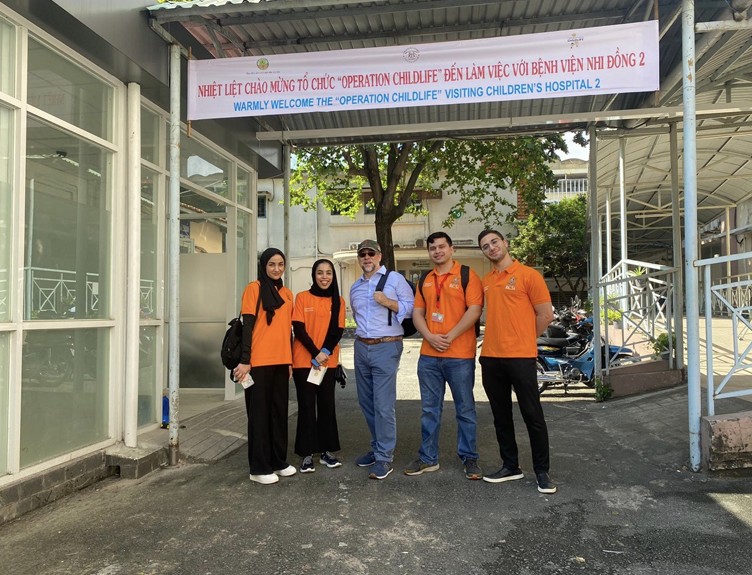 RCSI Bahrain recently supported a cohort of student volunteers to travel to Vietnam as part of the university's International Community Engagement programme in partnership with Operation Childlife (OCL).
RCSI Bahrain's Head of Department of Surgery, Professor Martin Corbally, led the student volunteers Mr Saad Mallah, Mr Faris AlMadi, Ms Hend Anwar and Ms Zainab Alderaz from the Undergraduate Medicine programme (Senior Cycle Two Class) and the Undergraduate Nursing programme (Nursing Year 4 class).
The team volunteered at two hospitals in Vietnam's capital Ho Chi Minh and attended complex paediatric surgeries with the support of Operation Childlife, a charitable organisation aiming to provide optimal surgical, anaesthetic, medical and nursing care to infants and children in developing countries.
Mr Saad Mallah, SC2 medical student, commented on his experience: "This experience was very rewarding on a personal level and provided an insight into healthcare in Vietnam, where we also discovered different cases of non-communicable diseases prevalent in the country. I hope that the work completed by my group during this trip has made impactful changes to the patients' lives".
Upon their return, Professor Corbally, who is a founding member and Director on the Board of Operation Childlife, shared his feedback: "I praise the students for their enthusiasm, motivation and cultural engagement whilst on the trip and I applaud their medical knowledge and contribution. This joint effort between RCSI Bahrain and Operation Childlife brings an invaluable healthcare offering and experience to the communities we support. I look forward to continuing this collaboration in the future."
RCSI Bahrain would like to thank everyone who supported this project and looks forward to more successful International Community Engagement collaborations with Operation Childlife.