RCSI Bahrain Nursing Students support Al-Shurooq Diabetes Camp for Children
General news
Community
Students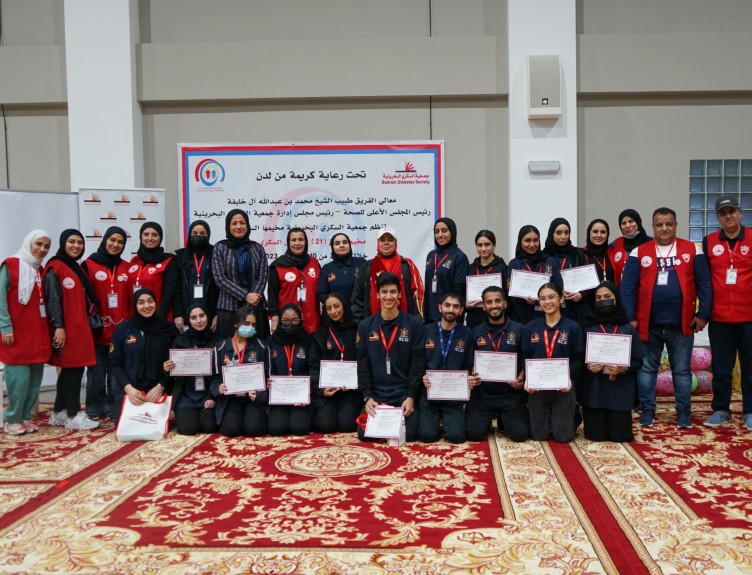 RCSI Bahrain participated at the 21st Al-Shurooq Diabetes Camp for children, held Under the Patronage of His Excellency Lieutenant General Dr. Shaikh Mohammed bin Abdulla Al Khalifa, Chairman of the Supreme Council of Health, and President of the Bahrain Diabetes Society (BDS).
The Al-Shurooq Diabetes Camp supports children diagnosed with Type-1 Diabetes by developing their self-care management skills through educational activities. The event held on February 10th, and 11th in the Hamad Town Youth Centre was organised by the Bahrain Diabetes Society in collaboration with local healthcare facilities and community organisations, including our Diabetes Mobile Unit.
The RCSI Bahrain Nursing Year 4 students, supervised by qualified nurses, joined the group of volunteers made up of a number of healthcare practitioners from various hospitals in Bahrain. Over the course of the event, the volunteers delivered a fun interactive programme to a group of 80 children about blood glucose monitoring, preparing and administering insulin, injection site rotation, carbohydrate count, and managing hypo/hyperglycemia through songs, games, and activities.
RCSI Bahrain President, Professor Sameer Otoom, commented on the collaboration: "RCSI Bahrain's longstanding partnership with the Bahrain Diabetes Society and our commitment towards the national health programme of Bahrain, enable our volunteers from the Diabetes Mobile Unit to actively contribute and participate in educating young people about the health risks and management of diabetes. I am proud of our senior nursing students and their current and future contribution to diabetes management in the community."
Through the partnership between BDS and RCSI Bahrain, the Diabetes Mobile Unit of the university played an active role in this year's camp. RCSI Bahrain Lecturer in Nursing and Nursing Year 1 Level Director, Ms Danah Smith developed a training programme for the Al-Shurooq Diabetes Camp volunteers, which was delivered on campus on February 4th, in collaboration with the Assistant Undersecretary for Public Health and Bahrain Diabetes Society Vice President, Dr Mariam Al-Hajri and a number of BDS healthcare team leaders.