Bahrain Diabetes Society presents new book to RCSI Bahrain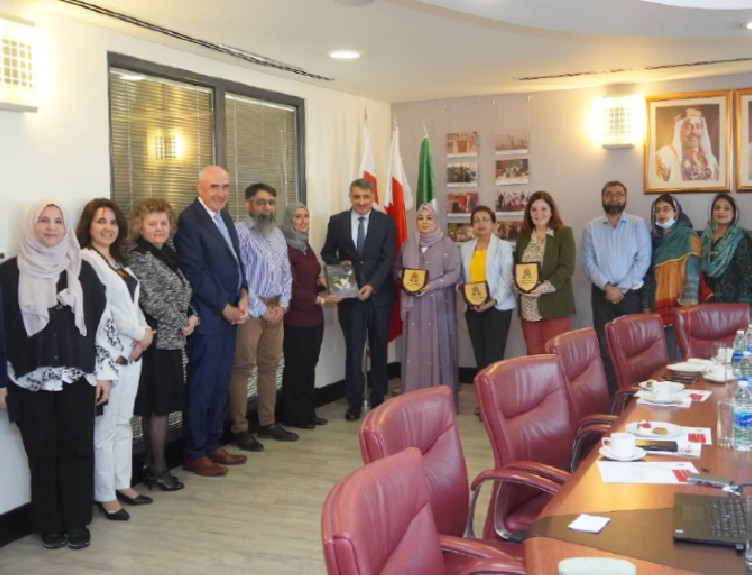 The President of RCSI Bahrain, Professor Sameer Otoom, and senior executives from RCSI Bahrain welcomed a delegation from the Bahrain Diabetes Society (BDS), led by Her Excellency Dr Mariam Al-Hajri, Vice President of Bahrain Diabetes Society.
During their meeting, Mr Stephen Harrison-Mirfield, RCSI Bahrain Managing Director, presented on key developments and campus advancements RCSI Bahrain has witnessed across the years, followed by a presentation by Ms Danah Smith, Lecturer in Nursing and Nursing Year 1 Level Director, on the RCSI Bahrain Diabetes Mobile Unit (DMU) initiatives.
Members from the Bahrain Diabetes Society, including Professor Dalal Al Romaihi, Consultant Endocrinologist and Clinical Associate Professor of Medicine at RCSI Bahrain, along with Professor Shabeen Naz Masood, Consultant Gynaecologist; Dr Muhammad Owais Fazal, Associate Professor of Medicine at Faisalabad Medical University; and Dr Hina Ayesha, Consultant Gynaecologist at Advanced International Hospital, Pakistan, presented Professor Otoom with a copy of their new book "Diabetes and Pregnancy: A journey into the past, present and future of care", which was launched at the Maternal and Child Health Conference, under the patronage of His Excellency Lieutenant General Dr Shaikh Mohammed bin Abdulla Al Khalifa, Chairman of the Supreme Council of Health and President of the Bahrain Diabetes Society.
Professor Otoom commented, "RCSI Bahrain congratulates the Bahrain Diabetes Society for their tremendous efforts in authoring and publishing their new book and providing important insights on the care and management of pregnant diabetic patients. We look forward to the Society's future impactful publications."