RCSI Bahrain Honours First StEP Awards Winners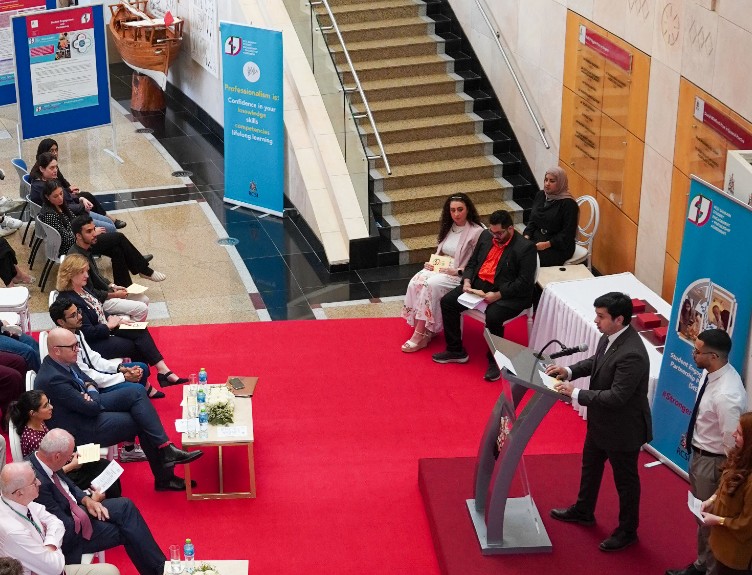 RCSI Medical University of Bahrain honoured the achievements of its staff and students who have made significant and tangible contributions toward the StEP (Student Engagement and Partnership) programme during the first StEP Awards and Showcase event.
Co-developed by RCSI Medical University of Bahrain students and staff, the StEP programme aims to promote and implement a culture of partnership and inclusivity, where the expertise and perspectives of both staff and students are equally valued. The StEP projects enable students and staff to work together towards shared goals and aim at enriching the students' university journey by promoting guiding principles that RCSI consider to be best 'PRACTICE' (Professional, Reciprocal, Authentic, Community, Trust, Inclusive, Collaborative, Empowering).
At the event, several StEP Champions and Supporters presented their project outcomes, while many StEP project achievements were showcased as a poster exhibition. Dr Wendy Maddison, RCSI Medical University of Bahrain's Head of Student Development and Wellbeing and StEP programme Lead, commented: "We are proud of the achievements made to date with nearly 100 staff and students involved in 28 StEP projects. Since the launch of the StEP programme in academic year 2021-22, all StEP projects have positively impacted the student and staff experience and have driven change of benefit to the overall university. The success of StEP supports key objectives within the university's strategic plan and contributes to enhancing our students' profiles with relevant personal and professional skills."
The first StEP Student Partnership Awards (nominated by staff) were presented to Mr Faris AlMadi, final year medicine student, for his role in developing the Student Mentorship Programme and Ms Zarish Hussain, Med3 student, for her extensive work on five StEP projects, namely the student professionalism campaign, embedding mindfulness within the organisational culture, the faculty research directory, the designated research site and the Research Summer School programme.
Ms Zarish Hussain, Med3 student and StEP Award winner, declared: "The StEP Programme fosters a culture of teamwork, innovation, and trust among the staff and students of RCSI Medical University of Bahrain. I have enjoyed working on StEP projects which have led to improving our student experience and stimulating change. Involvement in the StEP projects are rewarding, enjoyable, and certainly contributed to my learning, as well as my personal and professional development."
The first StEP Staff Partnership Award (nominated by students) was presented to Ms Ejlal Ahmed, Student Clinical Coordinator in the Student Academic and Regulatory Affairs department. Ms Ahmed and her team developed the Collegiate Networking Platform (CNP) between hospital clinical lecturers and students, to improve communication and the students' clinical experience. The platform also functions as an information repository for students in their clinical years and features an e-portfolio for their records and reflections.
The second StEP Staff Partnership Award was presented to Ms Donna Rice, Occupational Health Officer, who was involved in four StEP projects, namely the student professionalism campaign, the roll-out of the 'Headspace' application for students and staff, the first influenza vaccination and awareness campaign on campus and the planning of the 'Movement Project' to encourage students and staff to take short breaks throughout the day to improve their health, wellbeing and performance.