RCSI Bahrain inaugurates its Solar Project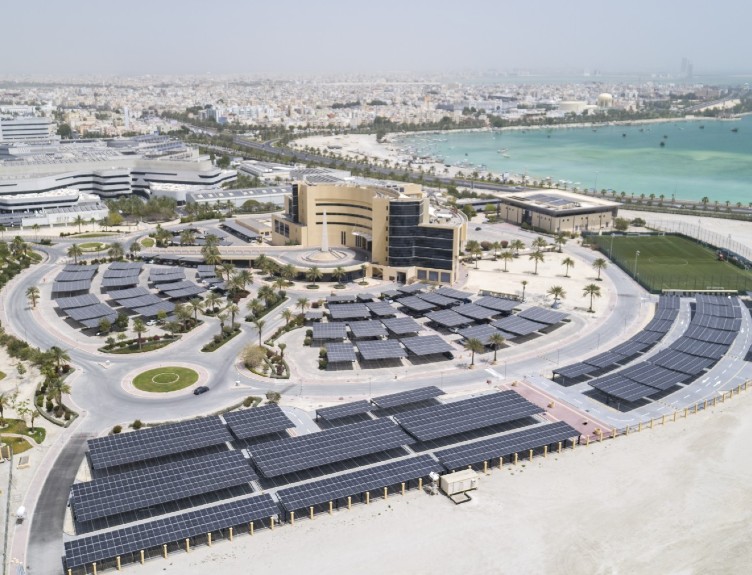 RCSI Bahrain inaugurated its Solar project in the presence of His Excellency Mr Yasser bin Ibrahim Humaidan, Minister of Electricity and Water Affairs, Her Excellency Dr Shaikha Rana bint Isa bin Duaij Al Khalifa, Former Secretary General of the Higher Education Council and Deputy Chairperson of the Higher Education Council Board of Trustees, His Excellency Brigadier Abdulla Khalifa Al Jeeran, Muharraq Deputy Governor, Dr Tasnim Atatrah, Head of WHO Representative Office, officials, members of the university's Board of Governors, and Executive Committee, students and staff members.
His Excellency Mr Yaser bin Ibrahim Humaidan, Minister of Electricity and Water Affairs stated, "We believe that the Medical University of Bahrain's move towards renewable energy by investing in the solar energy project, which achieves about 65% of the annual electrical energy needed by the university, deserves praise. Moving towards implementing more renewable energy projects and moving away from traditional energy sources that depend on fossil fuels is extremely important, out of a sense of shared responsibility with the international community in mitigating environmental impacts and reducing greenhouse gas concentrations, as well as facing the demand for current energy resources."
His Excellency added, "The Ministry of Electricity and Water Affairs is in contact with all other educational institutions and encourages them to move quickly towards benefiting from renewable energy projects and seek technical support provided by the Department of Renewable Energy at the Ministry".
The inauguration event was led by Mr Stephen Harrison-Mirfield, Managing Director of RCSI Bahrain, who made the inaugural speech highlighting the importance of this solar project: "The completion and commissioning of our solar farm is a milestone in the history of our campus since its opening in 2009. At RCSI Bahrain, we are proud of being one of the early adopters of Solar power and we are thrilled with our contribution toward the environmental sustainability of Bahrain and the 7th Goal 'Affordable and Clean energy' of the UN Sustainable Development Goals. On this occasion, I would like to extend my sincere thanks and appreciation to the Electricity and Water Authority (EWA) for their fantastic cooperation, and also thank all our stakeholders for their support with this project."
The 2.72MW solar project is producing 3.664 million Kwh of electricity annually, which represents between 60% and 65% of the university's annual electricity needs. Thanks to this renewable energy source, we are reducing our carbon footprint by 2,247 metric tonnes per year, which is the equivalent of taking 927 cars off the road every year. A total of 4,993 solar panels were installed over the campus parking, thus providing 681 shaded car parks, which is a bonus for our students, staff and visitors.
Professor Sameer Otoom, President of RCSI Bahrain, commented, "At RCSI Bahrain, we feel particularly proud of the progress achieved with the environmental sustainability of our campus for the benefit of the people of Bahrain. With the inauguration of the RCSI Bahrain Solar Project, I extend my congratulations and thanks to Mr Stephen Harrison-Mirfield, Managing Director of RCSI Bahrain, Mr Mohamed Abdullah, Head of Estates & Support Services for their efforts, as well as all parties who have contributed to the execution of this project."