Participation in Bahrain Diabetes Society workshop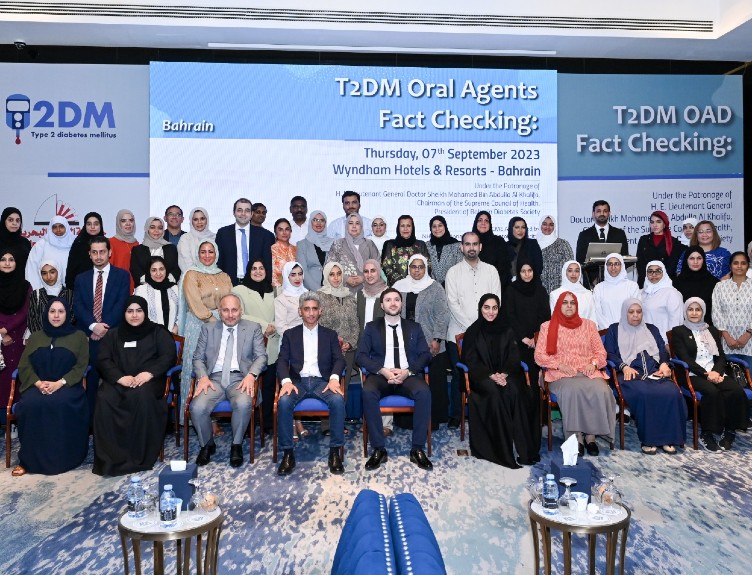 Early September, under the patronage of His Excellency Lieutenant General Dr Shaikh Mohammed bin Abdullah Al Khalifa, Chairman of the Supreme Council of Health and President of Bahrain Diabetes Society, the Bahrain Diabetes Society held a workshop highlighting to healthcare workers the latest developments in treating type 2 diabetes.
Dr Mariam Al-Hajiri, Vice President of the Bahrain Diabetes Society, explained that the prevalence of diabetes in Bahrain and globally is considered one of the biggest health challenges threatening the quality of life of those affected, as well as increasing the healthcare cost. The prevalence of diabetes has reached 15% of the population among citizens and residents as recorded in the National Health Survey held in Bahrain in 2018. As a result, the Scientific Committee prepared this training programme for healthcare workers in the public and private sectors. Dr Al-Hajri added that diabetes treatments are constantly evolving as per the latest health research and studies, and healthcare workers should follow evidence-based medical directives and continue to gain knowledge to ensure that the best treatments are provided to diabetic patients in Bahrain.
The speakers included Professor Dalal Alromaihi, Consultant Endocrinologist and Clinical Associate Professor at RCSI Medical University of Bahrain and Professor Naji Alamuddin, Consultant Endocrinologist and Deputy Head of School of Medicine at the university.
The Bahrain Diabetes Society is proud of its joint programmes with the NHRA and International Diabetes Federation (IDF). This workshop was conducted as part of a cooperation agreement with Servier, which includes a series of joint initiatives and projects to improve community health, reduce the risk of cardiovascular disease, and improve diabetes care in Bahrain.