Undergraduate Students Pursue Research Opportunities
General news
Research
Students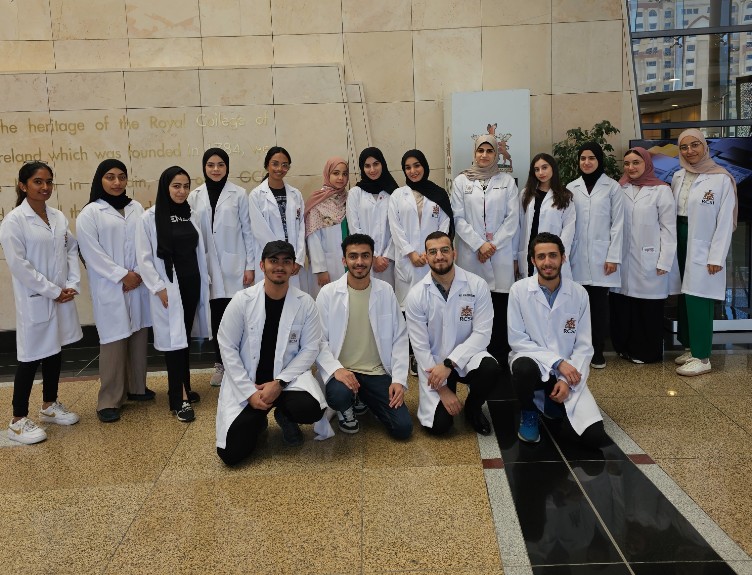 RCSI Medical University of Bahrain honoured the achievements of its students in the field of undergraduate research as they expand their academic horizons, contribute to innovative projects, get involved in research that has the potential to address real-world challenges and take concrete steps towards becoming future researchers and healthcare leaders.
Students at RCSI Medical University of Bahrain are encouraged to get involved in research to expand their academic horizons and contribute to innovative projects that have the potential to address real-world challenges. This summer, under the guidance of Dr Maikki Cullen, Academic Director of Undergraduate Research, 63 students also participated in the RCSI Bahrain Research Summer School (RSS). Students engaged across 23 projects to develop their research skills and gain hands-on experience in different research disciplines under the mentorship and guidance of 15 faculty members from the Schools of Medicine, Nursing & Midwifery and Postgraduate Studies & Research, including alumni.
Among the projects, students participated in investigating novel biomarkers of pancreatic β-cell stress that can lead to type 2 diabetes, under the guidance of Dr Abu Saleh Moin, Postdoctoral Research Fellow.
Dr Maryam Alaradi, Senior Lecturer in Nursing and Dr Eman Tawash, Senior Lecturer in Nursing and Year 4 Director, mentored students in completing an integrative review of the literature investigating the Effects of Toluene Exposure on the Health of Workers and thoroughly enjoyed the experience and enthusiasm of the students.
Professor Fryad Henari, Emeritus Professor and Dr Roshan Deen, Lecturer in Chemistry, worked with students on the development of highly fluorescent gold nanoparticles for glucose detection, silver nanoparticles for environmental remediation in addition to other topics.
Dr Bedoor Sami, medicine graduate (Class of 2011), also mentored students on a project titled "Audit of Completeness and Appropriateness of Radiology Request and Adequacy of Clinical Information on Radiology Request", which has been accepted for an oral presentation at the 1st Radiology Highlights Conference to be held in October, in Dubai.
Under the 2030 Bahrain Vision, Research and Development in universities is being encouraged to create the platform for a knowledge-based economy. RCSI Medical University of Bahrain promotes research cooperation between students, academics, alumni and our research teams to equip students with the knowledge and expertise to excel in their academic and professional journeys.
We extend our thanks to Professor Steve Safrany, Professor Michael B. Keogh, Professor Alexandra Butler, Professor Fryad Henri, Professor Rafiea Jeddy, Professor Warren Thomas, Dr Edwina Brennan, Dr Roshan Deen, Dr Maryam Alaradi, Dr Eman Tawash, Dr Abu Saleh Moin, Dr Jeremiah Stanley, Dr Manjula Nandakumar, Dr Ammar Hassan, Dr Bedoor Sami and Ms Fatima Al Hannan on their terrific guidance of our undergraduate students in research.