President Mary McAleese honoured at RCSI Faculty of Radiologists meeting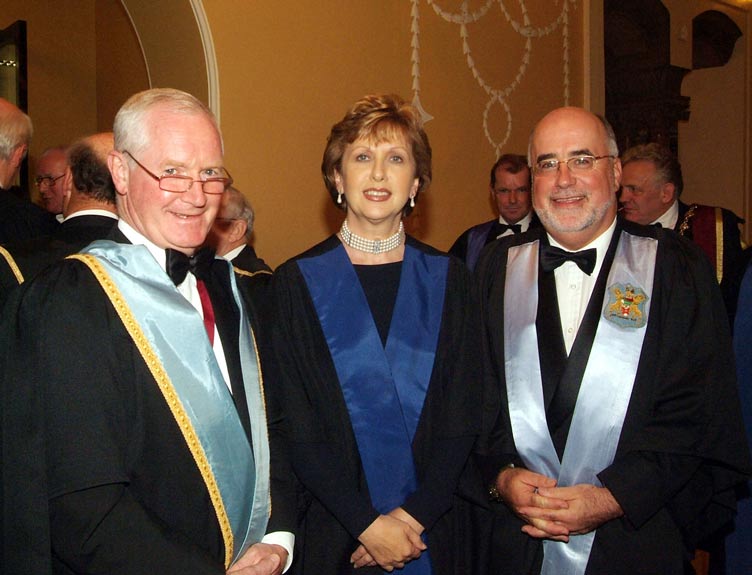 The Faculty of Radiologists at RCSI bestowed its highest honour on President of Ireland Mary McAleese during its three-day Annual Scientific Meeting.
The people's President Mary McAleese was conferred with an Honorary Fellowship of the Faculty together with world-renowned consultant radiologist, Professor Nicholas Gourtsoyiannis of Crete, President of both the European Society of Radiology and the European Association of Radiology and Radiation Oncologist Professor Thomas Keane from the University of British Columbia, Vancouver, Canada.
This is the fourth occasion that President McAleese has been celebrated by the RCSI, reflecting the very highest level of esteem and affection she holds throughout the College. She received an Honorary Fellowship of the College in May 1998, an Honorary Fellowship of the Faculty of Nursing a year later in 1999 and in 2003 was conferred an Honorary Fellow of the Faculty of Dentistry.
The RCSI Faculty of Radiologists is the Professional and Academic Body Clinical Radiologists in Ireland. It offers specialist training and postgraduate examinations. The Faculty's objectives are to advance the science, art and practice of Radiology and its allied sciences and to promote education, study and research in the area.