Research Day 2012 highlights the latest advances in health research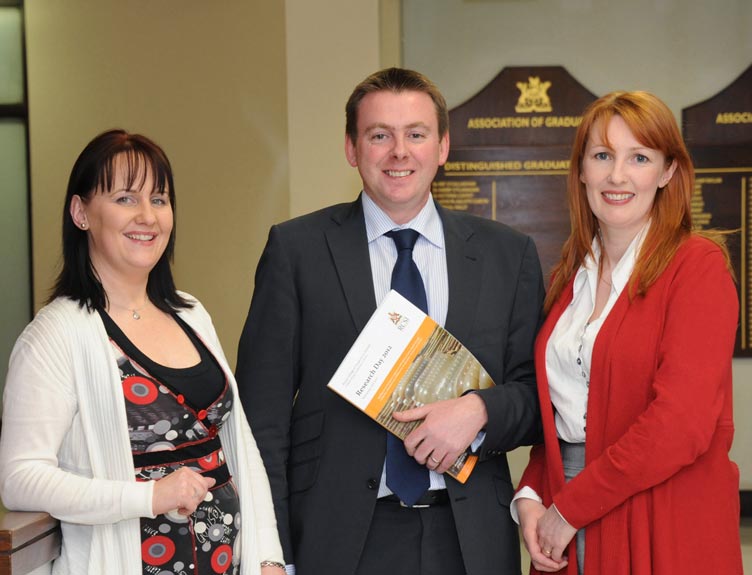 The latest research on breast cancer, cystic fibrosis, bone tissue engineering, cyberpsychology and sexual health were just some of the topics featured in studies which were presented at the Royal College of Surgeons in Ireland (RCSI)'s annual Research Day which took place on Wednesday, 25 April.
Over 300 researchers attended this annual forum which provides RCSI scientists with the opportunity to showcase their most recent research findings and emphasises the importance of research within the College.
The emphasis for the day was on oral and poster presentations by Investigators early in their career, Post-doctoral Fellows, Post-graduate and Undergraduate Scholars and Academic Staff. All oral presentations and posters were judged and awards for the best presentations were presented at an evening ceremony.
Professor John Kelly, Director of Research at RCSI, said: "Research has a vital role in this institution and the annual Research Day recognises the varied areas of research across the different disciplines in RCSI. As one of Ireland's premier research institutions, the educational activities of the College also benefit greatly from the exposure to world-class research which enables us to develop and train new generations of researchers."
The John J. Ryan Distinguished Guest Lecture was delivered by Professor Michael Berndt who spoke on the subject of 'Diversity, Diagnostics and Disease: The BDI Experience'. Prof. Berndt is currently Director of the Biomedical Diagnostics Institute (BDI) at Dublin City University and Professor of Experimental Medicine at RCSI.
Some of the highlights from the 2012 RCSI Research Day included:
RCSI to conduct the first international study on self-generated 'inappropriate material' on the internet - research in collaboration with the London Metropolitan Police and INTERPOL to improve child safety on the internet
The latest developments in tissue engineering including the development of gene-activated matrices for bone tissue regeneration
Rare hereditary emphysema (Alpha-1 Antitrypsin) mutations in the Irish Population
The use of Solar Disinfection of Drinking Water (SODIS) enhancement technologies for treating household harvested rain drinking water
Low uptake of sexual health services in Irish women following sexual assault