RCSI hosts Women in Surgery meeting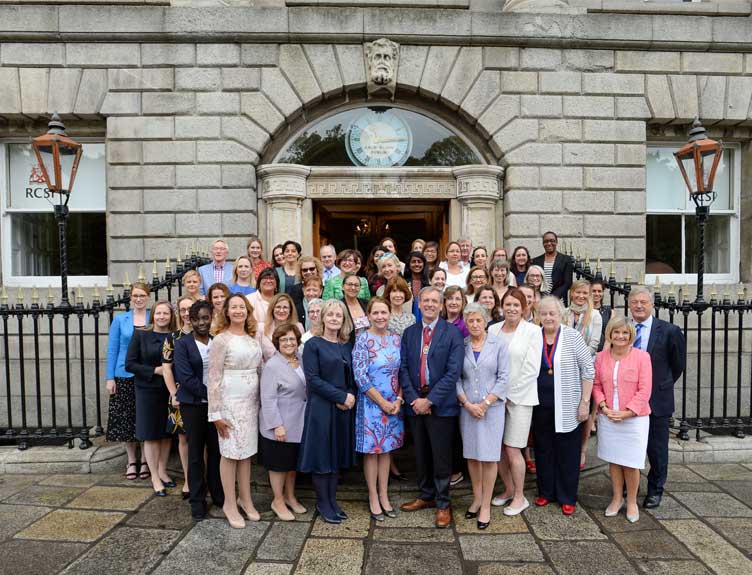 RCSI will today host the first Women in Surgery meeting to take place in Ireland. The Women in Surgery meeting will focus on the experience and evolution of gender equality in surgery in the United States, Ireland and Africa.
The Association of Women Surgeons held the first Women in Surgery meeting in the United States in 1981 and now has 2000 members across 21 countries.
The meeting will involve a panel discussion on women in surgery in the US with contributions from Dr Barbara Lee Bass, President of the American College of Surgeons, Dr Patricia Numann, founder of the Association of Women Surgeons and Celeste Hollands, paediatric surgeon at Texas Tech University. At a session on women in surgery at RCSI, former RCSI President Professor Eilis McGovern will discuss women in surgery in Ireland, Professor Deborah McNamara will provide an overview of RCSI's PROGRESS report on gender diversity in surgery and Ms Agneta Odera, Chair of Women in Surgery Africa (sponsored through an Irish Aid RCSI grant), will discuss the issues from an African perspective.
The meeting will also address issues including flexible working, burnout and resilience and the role of mentorship.
In July 2017 RCSI published a report on gender diversity in surgery highlighting the barriers to female entry to and progression in surgical careers. The report, 'PROGRESS: Promoting Gender Equality in Surgery', made a series of recommendation to address these barriers, including building a culture supporting female surgical trainees including mentoring and improving fellowship options for women, consideration of the needs of trainees who are parents to ensure training time is flexible and the establishment of part-time surgical appointment options, specific programmes for female Fellows.
Speaking ahead of today's Women in Surgery meeting, RCSI President Mr Kenneth Mealy said: "I am delighted to welcome the Association of Women Surgeons to RCSI. Research published last year by RCSI showed that while more than 49% of medical graduates are female, just 34% of surgical trainees are women and less than 7% of consultant surgeons are women. Today's meeting provides an important opportunity to reflect on the progress made to date in advancing gender diversity in surgery and to focus on the challenge that lies ahead in restructuring surgery as a career to ensure it supports women who wish to progress as surgeons."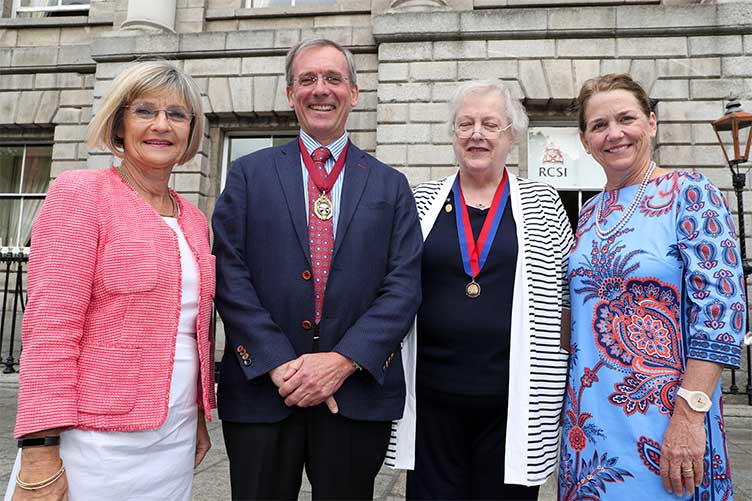 Pictured (L-R): Professor Eilis McGovern; Mr Kenneth Mealy, RCSI President; Dr Patricia Numann and Dr Barbara Bass
The RCSI Equality, Diversity and Inclusion Unit, led by Dr Avril Hutch, underlines the College's commitment to nurturing and supporting equality and diversity. This Unit has led RCSI's Athena Swan Gender Diversity Bronze Award application, embedding equality, diversity and inclusion across the College so that staff and students can work and learn in an environment which is defined by dignity and respect.
RCSI is ranked among the top 250 (top 2%) of universities worldwide in the Times Higher Education World University Rankings (2018) and its research is ranked first in Ireland for citations. It is an international not-for-profit health sciences institution, with its headquarters in Dublin, focused on education and research to drive improvements in human health worldwide. RCSI is a signatory of the Athena SWAN Charter.